The best places to live in Leeds
When it comes to the different areas and suburbs in Leeds, new arrivals will have a wide array to choose from, each with its own unique charm and character. 
Although property and rental prices in Leeds are quite steep for Northern England, the city is still considerably more affordable than the likes of London. With excellent public transport links and Park and Ride facilities throughout the city making for easy commutes, house hunters can widen their search to include outlying areas. 
We've listed some of Leeds' most popular areas and suburbs below.
---
Central areas of Leeds

Headingley
Located two miles (4km) from Leeds city centre, Headingley is a thriving and trendy student hub that is becoming increasingly popular among young professionals thanks to its fantastic amenities and transport links. The nightlife, sport and culinary scenes in Headingley are lively, making it perfect for gourmands, sports lovers and partygoers alike.
Leeds Waterfront
A formerly derelict industrial area in the city centre, the Leeds Waterfront has been regenerated with modern luxury flats and vibrant waterside cafes and bars. Flats in the area boast picturesque views of the Leeds Dock and Granary Wharf, while the Royal Armouries Museum and the Leeds Art Gallery are a short walk away.
Holbeck
One of the popular up-and-coming neighbourhoods in Leeds, Holbeck is currently undergoing redevelopment and is home to many of the city's creative businesses, tech start-ups and a sizeable student population. Thanks to the young demographic in Holbeck, eccentric bars and quirky restaurants dot the canal for residents to enjoy.
---
Family-friendly areas in Leeds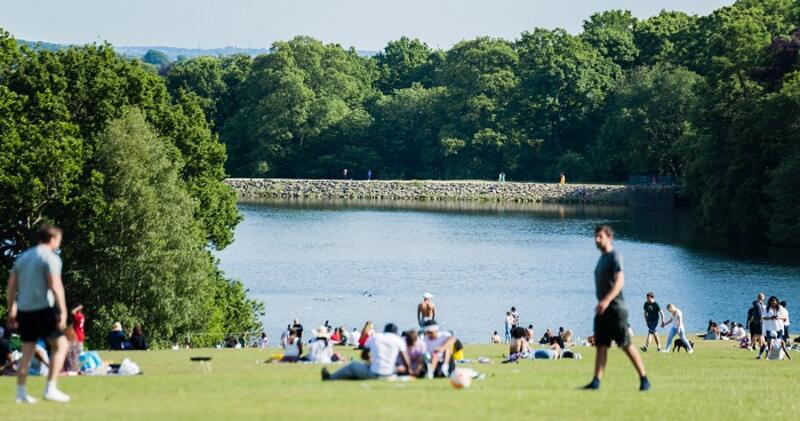 Horsforth
Families will feel right at home in Horsforth thanks to its many green spaces, strong sense of community, and numerous independent shops. Horsforth is well connected with efficient public transport links and a nearby airport. Families love the suburb not only for its splendid amenities at the Horsforth Hall Park, but also for its many high-quality primary schools.
Roundhay
Surrounded by 700 acres of parkland, Roundhay is an affluent suburb not far from the city centre and a haven for young families with children. Residents have access to a lively assortment of independent bars, pubs and restaurants, while shopaholics will love the quaint shops on Street Lane.
Bramhope
One of the most sought-after and priciest postcodes in Leeds, Bramhope boasts grand homes with spacious plots and swathes of parkland encircling a large lake, making it great for families. Bramhope also has some of the best schools in Leeds. The village offers countryside living with access to shops, restaurants, and a pub dating back to the 1700s, all within a 20-minute drive from Leeds city centre.
---
Further reading
► Read Accommodation in Leeds to learn more about finding a home in the city
Image credits: Leeds Waterfront by Gary Butterfield; Roundhay Park by Lison Zhao. Both via Unsplash
Are you an expat living in Leeds?
Expat Arrivals is looking for locals to contribute to this guide, and answer forum questions from others planning their move to Leeds. Please contact us if you'd like to contribute.
Expat Health Insurance
Cigna Global Health Insurance - 10% off any plans bought in November and December 2023

With Cigna, you won't have to rely on foreign public health care systems, which may not meet your needs. Cigna allows you to speak to a doctor on demand, for consultations or instant advice, wherever you are in the world. They also offer full cancer care across all levels of cover, and settle the cost of treatments directly with the provider. Cigna is currently offering a 10% discount for seniors (over 60) on their Silver package.
Moving Internationally?
International Movers. Get Quotes. Compare Prices.

Sirelo has a network of more than 500 international removal companies that can move your furniture and possessions to your new home. By filling in a form, you'll get up to 5 quotes from recommended movers. This service is free of charge and will help you select an international moving company that suits your needs and budget.

Get your free no-obligation quotes from select removal companies now!