Public transport in Helsinki is comprehensive and efficient, allowing people to commute easily to and from the suburbs and around the city centre for work and school. Most expats living in Helsinki elect not to buy a car, as parking is limited and expensive. 
Public transport is generally faster and more cost-effective, making getting around in Helsinki a breeze. Not only does it include buses, trains, trams and the metro but also the ferry around the Helsinki archipelago.
---
Public transport in Helsinki
The city has an integrated public transport network coordinated by the Helsinki Region Transport Authority (HSL). This means that tickets are valid on buses, commuter trains, metro, trams and the Suomenlinna ferry. 
Tickets can be bought from a kiosk or ticket machine and online through the website and HSL app. Expats who plan to commute regularly should get a reloadable travel card. 
Helsinki public transport is split into four zones (A, B, C and D), covering not only Helsinki but also Espoo and Vantaa. Expats should buy their tickets according to the zones they will be travelling in and can look up more information on the HSL website. Holders of the Helsinki travel card can use public transport in zones A or B or A/B/C for free.
HSL operates an honesty system when boarding trains, trams and the metro, but inspectors do random checks and those caught without a valid ticket face a hefty fine.
Travelling at night using public transport can be tricky because most trains and trams stop running at midnight. While there is a limited night bus network, journeys can be slow.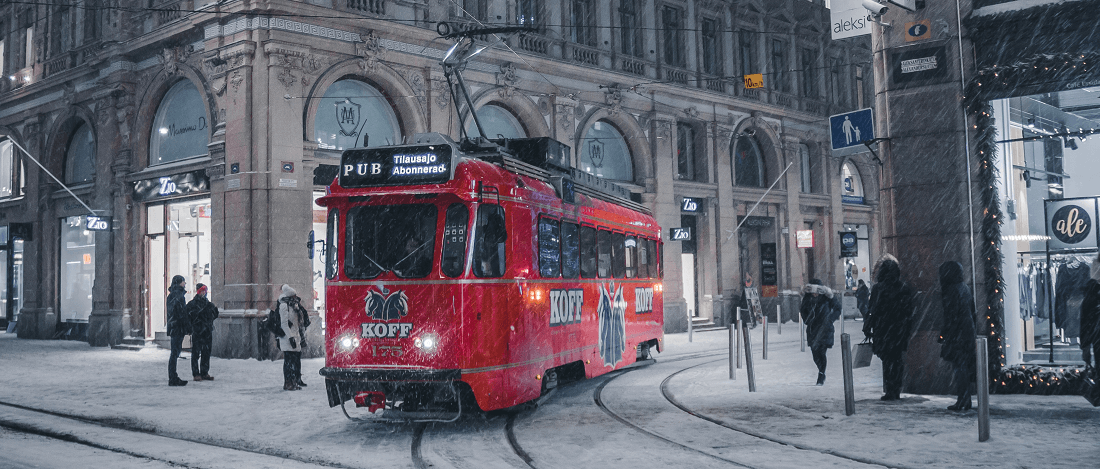 Trams
Helsinki's tram network provides a scenic means of transport within city limits. It's one of the main forms of transport around the city centre and is popular with tourists too. Trams offer new arrivals an excellent opportunity to get to know their new home, sightseeing and exploring the city's architecture. Expats should note that tickets cannot be purchased from drivers on trams, so they should ensure they are well-prepared for their tram rides. 
Buses
The bus network is extensive, reaching areas and suburbs further away from the city centre and around the capital region, which private bus companies operate across. The main hubs are at Eliel Square, Railway Square (Rautatientori) and Kamppi Center. Long-distance buses can be found at the Kamppi bus terminal, and the Finnair City Bus runs every 20 minutes between the airport and the city centre at Eliel Square.
Buses run regularly on most routes, and it's best to check the HSL website when planning a journey. 
Metro 
Helsinki's metro line is extensive, reaching outside the city centre. The line runs from Matinkylä, Espoo to Helsinki's city centre and its eastern suburbs. There are two main lines, Matinkylä–Vuosaari and Tapiola–Mellunmäki, and they run quickly and efficiently with short waiting times, especially during peak hours. For expats commuting between Espoo and Helsinki, the recently extended metro line provides a useful mode of transport. Holders of the Helsinki Card are eligible for free travel on the metro. 
Trains
Suburban trains leave from the Central Railway Station and branch out in three directions. There is the Tampere line, running from Riihimäki via Tikkurila; the Turku line, from Kirkkonummi via Espoo; and a line from Vantaankoski via Myyrmäki.
While the Helsinki Card and HSL tickets are valid around the greater capital area, a commuter train ticket is needed when travelling further afield beyond Helsinki's municipalities. 
Boats and ferries
Helsinki is a coastal city facing an archipelago of over 300 islands. HSL-issued public transport tickets and the Helsinki Card are valid for use on the Suomenlinna ferry that moves around various islands, where expats and locals enjoy the natural scenery and can find things to do for kids and family. Other ferry companies, such as the JT-Line, operate different routes and timetables and separate tickets must be bought.
Useful links
---
Taxis in Helsinki
Taxis are readily available and generally easy to find in Helsinki. Available taxis, shown with the yellow light on their roof, can be hailed from the street at various taxi stands including Helsinki Central Station and around Senate Square, Esplanade Park and ferry terminals. 
Ridesharing apps such as Uber and Lyft are available too. Taxis are a pricey means of getting around, and fees vary across taxi companies and drivers. 
---
Driving in Helsinki

Driving in Helsinki's city centre is not recommended. It is easier to walk, cycle and use public transport. Avoiding congestion and keeping pollution to a minimum are prioritised, so drivers coming into Helsinki from further away are encouraged to use Park and Ride facilities at various public transport stations to continue the commute by other modes. 
Parking is charged on most city-centre streets during the week and in the CBD on Saturday, quickly adding up. Fees vary depending on the parking zone.
To get out and about and see more of the region and country, many expats rent a car from one of the many international car rental companies. Drivers should remember to use headlights and appropriate tyres in winter months, and that traffic flows on the right-hand side of the road. In some cases, an International Driving Permit may be needed. 
Expats from places such as Hong Kong and Taiwan and others who have ratified the Geneva or Vienna Road Traffic Convention can simply exchange their valid foreign driving licence for a Finnish licence within two years of moving to Finland. 
Those who are not from EU/EEA countries or states that have reciprocal agreements with Finland will need to pass a theoretical and practical driving test to obtain a Finnish driving licence. They will also need a medical certificate proving their physical health. 
Useful links
Expats over the age of 18 can obtain a driving licence permit and get information on the requirements for it by visiting the Traficom website or their driving school.
---
Cycling in Helsinki
Avid cyclists will be pleased to know that Helsinki has an extensive network of bike lanes that are marked with blue signs. Cyclists are required to stay in their designated lane, and cycling is allowed on pedestrian streets if the bike is fitted with a bell. 
The most popular cycling route in Helsinki is the Baana pedestrian and cycling corridor, with a 746-mile (1,200 km) network of cycle paths. Expats who don't own a bike will find plenty of outlets that offer rentals for a small fee, including yellow Helsinki City Bikes, Greenbike and Ecobike.
Useful links
---
Walking in Helsinki
Helsinki is a highly pedestrianised city with a relatively even landscape. Walking is one of the easiest ways of getting around the city – it's free, healthy, and allows new arrivals to see some of the city using their own two feet.
What do expats say about public transport in Helsinki?

"Public transport is quite convenient in the capital area and it has a variety of options, including bus, subway, train, tram and sharing bikes. They run regularly and are usually not that crowded. When I took an intercity train in the early morning, I was the only one in the car." Daiki is a Japanese expat in Finland. Check out his interview with Expat Arrivals where he talks about his experiences in Helsinki.
---
Further reading
►Find out more about living in Finland
Photo credits: Tram in Helsinki by Alexandr Bormotin; Cars in Helsinki by Tapio Haaja; Man cycling on city road by May Lawrence. All sourced from Unsplash.
Are you an expat living in Helsinki?
Expat Arrivals is looking for locals to contribute to this guide, and answer forum questions from others planning their move to Helsinki. Please contact us if you'd like to contribute.
Expat Health Insurance
Cigna Global Health Insurance - 10% off any plans bought in November and December 2023

With Cigna, you won't have to rely on foreign public health care systems, which may not meet your needs. Cigna allows you to speak to a doctor on demand, for consultations or instant advice, wherever you are in the world. They also offer full cancer care across all levels of cover, and settle the cost of treatments directly with the provider. Cigna is currently offering a 10% discount for seniors (over 60) on their Silver package.
Moving Internationally?
International Movers. Get Quotes. Compare Prices.

Sirelo has a network of more than 500 international removal companies that can move your furniture and possessions to your new home. By filling in a form, you'll get up to 5 quotes from recommended movers. This service is free of charge and will help you select an international moving company that suits your needs and budget.

Get your free no-obligation quotes from select removal companies now!