Turkey is a large country with huge variability in climate. Along Turkey's coast, the weather is influenced by the adjacent sea, with the Mediterranean Sea producing its famed hot summers and mild winters. Areas close to the Black Sea have cooler summers and less extreme ranges in temperature. Weather in Turkey's interior features a greater contrast, with hot summers and cold winters. 
The capital, Ankara, has warm and dry summers with averages of 68°F (20°C). The winters in Ankara are cold and snowy with January, the coldest month, having an average temperature of 30°F (-1°C). Ankara's rainy season is in spring and it's particularly wet during May.
The majority of expats choose to settle in Istanbul. The city can be windy throughout the year. Summer in Istanbul is from June to September. It features hot and humid weather when the temperature averages 82°F (28°C). Summers are also generally dry, but there may be rain all year round. Winters, which begin in December and end in March, are characterised by cold, wet and occasionally snowy weather. However, temperatures rarely reach a freezing point.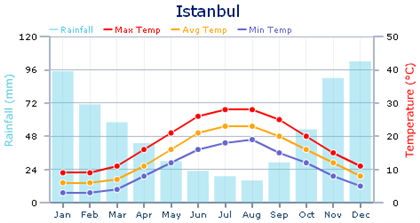 ---
Are you an expat living in Turkey?
Expat Arrivals is looking for locals to contribute to this guide, and answer forum questions from others planning their move to Turkey. Please contact us if you'd like to contribute.
Expat Health Insurance
Cigna Global

With 86 million customer relationships in over 200 countries, Cigna Global has unrivalled experience in dealing with varied and unique medical situations and delivering high standards of service wherever you live in the world.
Moving Internationally?

Sirelo has a network of more than 500 international removal companies that can move your furniture and possessions to your new home. By filling in a form, you'll get up to 5 quotes from recommended movers. This service is free of charge and will help you select an international moving company that suits your needs and budget.