Romania has a continental climate with distinct seasons including mild springs, sunny summers, temperate autumns and chilly winters. Expats moving to Romania will be able to practice their skiing in winter. Snowfall is typical from December through to March throughout the country. Winter temperatures vary in the daytime from 32°F (0°C) to 41°F (5°C), with the potential for heavy winds which further increases discomfiture. 
Spring, which is from the end of March through to June, has cool mornings and nights. Spring gives way to Summer near the end of June, when the weather becomes warmer, with the country experiencing some rain. Generally, expats can look forward to summers spent in the sun, enjoying the Romanian countryside. Especially as daily temperatures range between 77°F (25°C) and 86°F (30°C).
Finally, autumn begins at the end of September, bringing both cool and dry weather.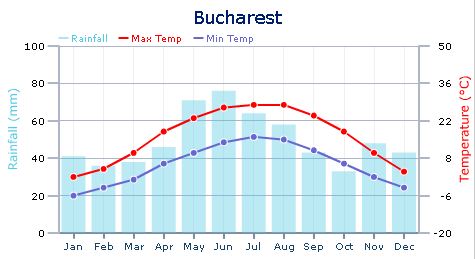 ---
Are you an expat living in Romania?
Expat Arrivals is looking for locals to contribute to this guide, and answer forum questions from others planning their move to Romania. Please contact us if you'd like to contribute.
Expat Health Insurance
Cigna Global

With 86 million customer relationships in over 200 countries, Cigna Global has unrivalled experience in dealing with varied and unique medical situations and delivering high standards of service wherever you live in the world.
Moving Internationally?

Sirelo has a network of more than 500 international removal companies that can move your furniture and possessions to your new home. By filling in a form, you'll get up to 5 quotes from recommended movers. This service is free of charge and will help you select an international moving company that suits your needs and budget.