On paper, South Korea may seem like an expensive country to live in. In 2019, Seoul ranked 4th out of 209 cities in the Mercer Cost of Living Survey. However, South Korea boasts competitive salaries. Employment contracts also frequently cover costs like accommodation and schooling, which saves expats a lot of money monthly. Overall, the cost of living for expats in South Korea is generally quite affordable.
There are many ways to keep expenses down. The cost of public transport is low. Eating Korean food is a lot cheaper than buying Western food. Shopping at markets and smaller shops is more cost-effective than shopping in tourist hotspots or at major department stores. 
It is also worth bearing in mind that prices between cities and smaller towns will differ. The cost of living in Seoul will, on the whole, be more expensive than in other cities.
---
Cost of accommodation in South Korea
Accommodation in large cities like Seoul or Busan will be more expensive. Generally, accommodation in South Korea is organised and paid for by an expat's employer. However, if a foreigner chooses to organise their own accommodation, they will be expected to pay 'key money', which is in effect a very large deposit that the landlord earns interest from. This will make accommodation more expensive.
Basic utilities like gas, electricity and uncapped WiFi tend to be affordable.
---
Healthcare in South Korea
Healthcare in South Korea is much more affordable than in most Western countries like the USA. The National Health Insurance programme is compulsory for all expats. Many companies will pay half the monthly fee, leaving the other half for expats to pay themselves.
Due to the affordability of healthcare, South Korea has become a medical tourist destination. This is especially true for cosmetic procedures and LASIK eye surgery. It's quite common for expats to get their eyesight fixed at the end of a contract before going home.
---
Cost of electrical goods in South Korea
Electrical goods such as televisions, DVD players, digital cameras, cell phones (particularly Samsung), computers and high tech gadgets are all relatively affordable in South Korea.
On the other hand, foreign manufactured goods from toiletries (deodorant, toothpaste containing fluoride) and English-language books through to Nikon cameras and Apple products are obviously more expensive than items made locally.
---
Cost of food in South Korea
Foodstuffs that are mostly taken for granted in Western countries, such as fresh produce and cheese, will generally cost more in South Korea than an expat would have paid back home. Most Korean stores also sell products in bulk, making groceries for a single person quite expensive.
Overall, dining out is inexpensive if one sticks to Korean food. This often makes eating out a better option over buying groceries, especially for single expats. Naturally, dining out at Western restaurants comes with a higher price tag.
---
Cost of living in South Korea chart 
Prices may vary depending on product and service provider. The list below shows average prices in Seoul for January 2020.
Accommodation (rent per month)

One-bedroom apartment in city centre

KRW 920,000

Three-bedroom apartment in city centre

KRW 2,420,000

One-bedroom apartment outside of the city centre

KRW 600,000

Three-bedroom apartment outside of the city centre

KRW 1,350,000

Shopping

Eggs (dozen)

KRW 3,500

Milk (1 litre)

KRW 2,550

Rice (1kg)

KRW 4,700

Loaf of white bread

KRW 3,200

Chicken breasts (1kg)

KRW 9,700

Pack of cigarettes (Marlboro)

KRW 4,500

Eating out

Big Mac Meal

KRW 6,500

Coca-Cola (330ml)   

KRW 1,700

Cappuccino

KRW 4,800

Local beer (500ml)

KRW 4,000

Three-course meal at a mid-range restaurant for two

KRW 40,000

Utilities

Mobile-to-mobile call rate (per minute)

KRW 140

Internet (uncapped ADSL or cable  – average per month)

KRW 26,000

Basic utilities (per month for a small apartment)

KRW 200,000

Transportation

Taxi rate (per kilometre)

KRW 800

Bus/train fare in the city centre

KRW 1,250

Petrol/gasoline (per litre)

KRW 1,600
---
Are you an expat living in South Korea?
Expat Arrivals is looking for locals to contribute to this guide, and answer forum questions from others planning their move to South Korea. Please contact us if you'd like to contribute.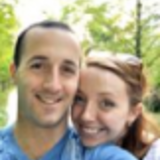 Andrea and Matt
Our Expat Expert
We're a (semi) newlywed couple who quit our jobs and left our home to travel the world, indulge our wanderlust, and document it every step of the way. We've spent the last year teaching English in Korea, and now we're off for a several-month tour of Southeast Asia. From there, who knows? We'll go wherever our hearts desire and our budget allows. Follow us around the world!
Expat Health Insurance
Cigna Global

With 86 million customer relationships in over 200 countries, Cigna Global has unrivalled experience in dealing with varied and unique medical situations and delivering high standards of service wherever you live in the world.
Moving Internationally?

Sirelo has a network of more than 500 international removal companies that can move your furniture and possessions to your new home. By filling in a form, you'll get up to 5 quotes from recommended movers. This service is free of charge and will help you select an international moving company that suits your needs and budget.