Gaby is a South African expat living in South Korea. Looking for a change and chance to travel, Gaby and her husband moved to Gumi when she was offered a position as a resident Native English Teacher. Despite the challenges of moving to Korea, not least of which has been culture shock and a formidable language barrier, Gaby has found it to be a rich and rewarding experience.
Read more about the country in the Expat Arrivals
South Korea guide
or more
expat experiences in South Korea
.  
About you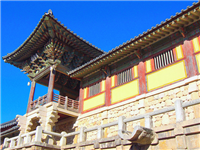 Q: Where are you originally from? 
A: Cape Town, South Africa
Q: Where are you living now? 
A:  Gumi, South Korea
Q: When did you move here? 
A:  February 2013
Q: Did you move here alone or with a spouse/family? 
A:  With my husband
Q: Why did you move to South Korea; what do you do? 
A:  Looking for a change and a chance to travel, I moved to Korea to work for EPIK (the public schools programme). After a lengthy application process, I arrived in Korea to complete a short orientation and then was placed in a school as the resident Native English Teacher.
Living in South Korea
Q: What do you enjoy most about Gumi? How would you rate the quality of life compared to your home country? 
A:  Gumi is a very industrial city and there isn't much to do here. However, public transport in Korea is excellent and Gumi's centrality makes it easy to get around. Daegu, a half hour to the west by train, is bigger and more cosmopolitan, with a vibrant nightlife.
The quality of life is difficult to compare, as it's so different. I miss Cape Town's great weather, outdoor culture, and nightlife. In comparison, South Korea is very safe and tame.
Q: Any negatives? What do you miss most about home? 
A:  Cheap wine, my friends and family, drinkable tap water, a moderate climate, and English-medium films, live music and theatre. 
Q: What are the biggest adjustments you had to make when settling into expat life here? Did you experience any particular elements of culture shock?
A: And how! I'd never lived anywhere besides South Africa and South Korea is extremely different. Besides the formidable language barrier, there's plenty to get used to: squat toilets, not flushing toilet paper (!), the drinking culture (beer at school sports days!), strange food, different clothes and fashions, not wearing shoes indoors, and so on...
Q: What's the cost of living compared to home? What is cheap or expensive in particular? 
A:  The cost of living seems similar to me. Food is cheap if you buy local and in season – eating out in little Korean restaurants is cheaper than cooking Western-style meals at home. Utilities are cheaper here. Clothes, some Western food, and electronic goods are much the same. Cars are cheaper, but space is limited and so housing is very expensive. Luckily those who move here to teach are usually provided with accommodation. 
Q: How would you rate the public transport in Gumi? What are the different options? Do you need to own a car?
A: Cars are cheap here and having one is useful for getting to out of-the-way beaches and the like, but with the high cost of insurance, congestion, and notorious Korean driving, a car is more trouble than it's worth! Public transport here is great. Taxis are plentiful and affordable, the trains that run along the main north-south artery are clean and efficient, and for everywhere else there's the fantastic inner- and inter-city bus system, which requires just some very basic Korean to master.
Q: How would you rate the healthcare in Gumi? Have you had any particularly good/bad experiences with regards to doctors and hospitals? Are there any hospitals you would recommend?
A: A friend has had some trouble with his teeth and has paid a small fortune for several root canals. Many foreigners here don't realise that some dental care is not covered by the national health insurance. Other friends have had mixed experiences with the health system. On one hand, it's easy and affordable to see a doctor or specialist because part (but not all) of the cost is paid for by the national health insurance. On the other hand, doctors are usually pressed to see as many people as possible and tend to rush through an examination and over medicate.
Q: What are the biggest safety issues facing expats living in South Korea? Are there any areas expats should avoid?
A: Nope. Korea is very safe.
Q: How do you rate the standard of housing in South Korea? What different options are available for expats?
A:  Teachers are usually provided housing but the standard can vary widely. Those in big city centres will likely get tiny matchbox-sized apartments, although those on the outskirts or in rural areas might get larger apartments or, very occasionally, a house. In Gumi, the same applies - housing depends on the area but you can expect a small, functional apartment.
Q: Any areas/suburbs in Gumi you'd recommend for expats to live in?
A:  The city centre is closer to public transport hubs, although as the city is surrounded by hills and forests, living on the outskirts can make it easier to find places to go for a walk.
Meeting people and making friends in South Korea
Q: How tolerant are the locals of foreigners? Is there any obvious discrimination against particular religions or women etc.?
A: Koreans are very polite to foreigners but many people are too shy to try out their limited English ability on you and risk losing face. It is difficult for any foreigner to ever be fully accepted into Korean society, no matter how long you stay. 
There is no obvious discrimination against women, although Korea is fairly conservative when it comes to dress – in particular, Western women should avoid showing cleavage at all (although short skirts are fine!). Unfortunately, there is also a fair amount of racism here and this might affect job prospects if you are hunting for teaching jobs, particularly if you're hunting outside the government school system (which has a diversity policy).
Q: Was it easy meeting people and making friends in South Korea? How did you go about meeting new people? 
A: I live on the outskirts of the city and in my suburb there are just a handful of foreigners. Most people make friends through expat Facebook groups (where you can find everything from pub quizzes to Frisbee tournaments) or just at the local foreigner bar, where foreigners tend to congregate.
Q: Have you made friends with locals or do you mix mainly with other expats? What advice would you give to new expats looking to make friends? Any social/expat groups you can recommend?
A: If you work in a big hagwon (private academies) with other teachers, this is a good place to start – otherwise the local foreigner bar or your city's Facebook group for expats are a good place to start. Waygook.org also lists expat events. Expats here are generally very friendly and keen to meet new people.
Working in South Korea
Q: Did you have a problem getting a visa or work permit for South Korea? Did you tackle the visa process yourself or did you enlist the services of an immigration consultant?
A:  I went through Teach Korea, which is based in Simonstown, Cape Town. They work directly with the Korean government to recruit English teachers and helped me with the arduous process of gathering all the documents I needed.
Q: What's the economic climate like in Gumi? Do you have any tips for expats looking to find a job there? Which resources did you find most useful?
A: It's difficult to find work in Gumi on your own steam as the city is not all that big. Daegu and other major centres like Seoul and Busan are better bets. For teaching jobs, you could approach EPIK directly or apply through their affiliates (like Teach Korea) in your country. 
There are also plenty of hagwons who operate through recruitment companies. Many of these jobs are as good or better than a public school job, but beware shady recruiters and schools – a good tip is to ask for contact details of the teacher you're replacing to find out more. Try Waygook.org or Dave's ESL Café for direct job postings or recruitment company details.
Q: How does the work culture differ from home? Do you have any tips for expats doing business in South Korea?
A:  If you're coming in for a business trip, read up on Korean business culture and etiquette if you're not familiar with the East! When in doubt, bow (always with your hands to your side), don't put your hands in your pockets or fold them, and always let older people go first. Always give and take items with two hands. And learn how to take a shot of soju properly: with your body turned away from the table, with one palm on your chest.
Family and children
Q: Did your spouse or partner have problems adjusting to their new home? Do you think there are any specific challenges for a trailing spouse?
A:  In my case, it has been difficult for my husband to find fulltime work. The EPIK programme doesn't accept applications for particular cities, and there haven't been many hagwon openings. People on a spouse visa in Korea cannot legally work full time, although part time work teaching English (at hagwons or tutoring privately) is legal and usually easy to find. Many people prefer being on a spouse visa because it is more flexible. In my case, my visa is tied to my job and it is difficult for me to change jobs.
And finally…
Q: Is there any other advice you would like to offer new expat arrivals?
A:  Don't underestimate culture shock! Do as much reading as you can to prepare for the change. Start with a general guide like Expat Arrivals and then move on to local Facebook groups and forums like Waygook.org for specific information. I knew many people who had been to Korea before I came myself, and it has helped tremendously knowing what to expect. Although nothing can fully prepare you for the challenges of creating a new life for yourself in a different country, it is an experience worth having.
~ Interviewed October 2013
> Are you an expat living in South Korea? We'd love to hear your story so please 
contact us
about sharing your experiences of life in South Korea.