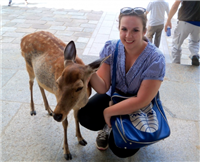 Jenna came to Busan in early 2010 to teach English, and started blogging as a way to keep her family and friends up to date while she did so. She's since fallen in love with blogging, and in 2012 returned to South Korea to continue teaching. Read her advice on the best areas to stay in Busan and her opinions on the healthcare, public transport and cost of living in South Korea.
Read more about South Korea in the Expat Arrivals Seoul city guide and South Korea country guide or read more expat experiences of South Korea.
About Jenna
Q: Where are you originally from?
A: I grew up in Crown Point, Indiana; it's a small-ish town about an hour from Chicago.
Q: Where are you living now?
A: I currently live in Busan, South Korea.
Q: How long have you lived here?
A: I lived in Busan from February 2010 to February 2011 and then came back in February 2012; so in all, a little over a year and a half.
Q: Did you move with a spouse/children?
A: Nope, just me.
Q: Why did you move; what do you do?
A: I moved to Busan to be an ESL teacher; I am the Head Foreign Teacher of an English Kindergarten.
About Busan
Q: What do you enjoy most about Busan, how's the quality of life?
A: I love how much there is to do in Busan. From the beach and hiking, to museums and shopping, there's such a wide variety of things to do that I really love. The quality of life is great. Even though I've been here for over a year I still find new things to do.
Q: Any negatives? What do you miss most about home?
A: Other than missing my family and being far from home, I would say my stomach gets homesick most easily and food is what I miss most about home. I do wish I had an oven, but overall there isn't anything too major that I miss.
Q: Is the city safe? Are there any areas expats should avoid?
A: Busan and Korea in general are VERY safe. I feel a lot safer here as a single woman than when I lived in Chicago or even other places in America. Most areas are really safe, but I guess if I had to pick somewhere, Texas Street has a notorious red light district and might get a bit dicey late at night.
Q: How would you rate the public transport in Busan? What are the different options? Do you need to own a car?
A: Public transport is really great here. The subways and buses are inexpensive to ride and plentiful. The subway is easier to navigate than the buses (especially if you don't read Korean).  As a single adult, I don't need a car here at all. Taxis are very inexpensive as well so if I have a buy a lot of things at the store taxis are an easy option.
Q: How would you rate the healthcare in Busan?
A: The healthcare is good, and it's nice to have health insurance. It is different in some respects to America, but overall the system is user-friendly and affordable.
About living in Busan
Q: Which are the best places/suburbs to live in Busan as an expat?
A: As an expat the places that are most expat friendly are near the beaches on the east part of town, namely the neighbourhoods of Haeundae and Gwangan. The Kyungsung University is a very popular hangout for younger expats.
Q: How do you rate the standard of housing in Busan?
A: Housing provided by a school is often fairly small, but they usually provide a lot of amenities. Many apartments, instead of insurance, require 'key money' as a deposit, which can be expensive. The monthly rent is reasonable, but it is the 'key money' that can cost a lot.  
Q: What's the cost of living compared to home? What is cheap or expensive in particular?
A: The cost of living overall is cheaper than America. The 'key money' for apartments is expensive, but things like going out to eat and taking taxis are much cheaper than at home. Prices of some things like clothes and other goods is comparable to home, although I have noticed fresh produce can be more expensive here and things are much more seasonal.
Q: What are the locals like; do you mix mainly with other expats?
A: Most Koreans I have had the pleasure of meeting are very friendly and helpful. As for expats, I do socialise with them often, but not exclusively.
Q: Was it easy meeting people and making friends in Busan?
A: My first year I had an orientation, and it was very easy to make friends and meet people. Also, Busan is quite a large city and there are a lot of social events both in the city overall, and also for fellow teachers. If you're willing to go out and be sociable, it is easy to meet people.
About working in Busan
Q: Did you have a problem getting a work visa/permit for South Korea?
A: It definitely takes quite a bit of paperwork to get a work visa for teaching, but once you complete that it's not too difficult.
Q: What's the economic climate like in the city, is there plenty of work?
A: For teaching English as a native speaker, there is quite a bit of work. As for other areas, I know the economic climate is stronger than America and some other countries. Overall it's pretty strong.
Q: How does the work culture in South Korea differ from home?
A: Korean employees work very hard, and a lot is expected of them. Sick days are frowned upon here, and I know a few Korean teachers who have never taken one. Korean culture is about hard work, but there are quite a few holidays throughout the year and Koreans know how to relax and let loose too.
Q: Did a relocation company help you with your move to South Korea?
A: No, I did it all on my own.
Family and children in Busan
Q: What are the schools like, any particular suggestions?
A: As a teacher, I think the schools are very good, especially within the more affluent areas of town. I know that my school, like other private schools, does accept foreign students. There is also a foreign elementary school in the city.
And finally…
Q: Is there any other advice you like to offer new expat arrivals?
A: Have fun and immerse yourself as much as possible. Absorbing the culture and doing things outside your comfort zone will really be rewarding and enhance your experience here. Allow yourself to do things you normally wouldn't or eat things you might not try at home. It will really change your perspective on a lot of things.
~ Interviewed September 2012