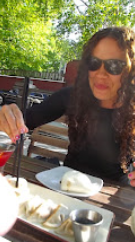 Maggie is an ESL teacher in Seoul, South Korea, who travelled to the country to teach and to play and coach rugby. She's had a hard time finding some Western hair products, but otherwise is loving the great food, the easy-to-use public transport and the opportunities to make new friends in South Korea. Read about work culture, housing, where to look for a job and other advice about living in Seoul.
Follow Maggie's adventures in South Korea on her blog, Maggie Moo Does Korea.
Read more about South Korea in the Expat Arrivals Seoul city guide and South Korea country guide or read more expat experiences of South Korea.
About Maggie
Q: Where are you originally from?
A: Madison, Wisconsin
Q: Where are you living now?
A: Jung-gu Seoul, South Korea
Q: How long have you lived here?
A: Since August 2012
Q: Did you move with a spouse/children?
A: No
Q: Why did you move; what do you do?
A: I moved to teach middle school and to coach and play rugby.
About Seoul
Q: What do you enjoy most about your host city, how's the quality of life in Seoul?
A: I love the food! It is so spicy and delicious! There is fried chicken everywhere and the area I live in is often called Topokki town and is famous for their Topokki or cylinder shaped rice cakes in spicy sauce!
Q: Any negatives? What do you miss most about home?
A: I have gotten pretty used to be stared at everywhere I go, although occasionally it does make me a bit self-conscious. I have naturally curly hair, so what I miss most are ethnic, American hair products. They are quite difficult to come by here.
Q: Is Seoul safe? Are there any areas expats should avoid?
A: Seoul is pretty safe, but just like anywhere else it's best to always be aware.
Q: How would you rate the public transport in Seoul? What are the different options? Do you need to own a car?
A: The transport is excellent! The subway is so fast and efficient and the buses are easy to use.  I can't imagine using a car here.
Q: How would you rate the healthcare in Seoul?
A: To be honest I don't know much about this topic yet, but from my understanding it is quite easy and affordable once you have your ARC or Alien Registration Card. I have friends who have had procedures done in South Korea and they were quite happy with the outcome. Particular types of birth control can be a bit hard to find, but the pill is available and widely accessible.
About living in Seoul
Q: Which are the best places/suburbs to live in Seoul as an expat?
A: There are loads of great places. My personal favourites are Jung-gu, Hondae and Gangnam but you will find expats all over South Korea! Especially Itaewon, which is the foreigner capital of Korea.
Q: How do you rate the standard of housing in Seoul?
A: The housing is much smaller than we are used to by Western standards, but I personally love my apartment. It has everything I need and even has heated floors. Also, it's just quite cute and compact and I have a great view of the city.
Q: What's the cost of living in Seoul compared to home? What is cheap or expensive in particular?
A: The cost of living isn't much different food-wise and alcohol is dirt cheap here. The most expensive thing I've found in Korea are Western-style flat sheets and bedding! 
Q: What are the locals like; do you mix mainly with other expats?
A: The locals are very curious about foreigners and many of the younger people are eager to test out their English on me. It takes a while to get used to being stared at everywhere I go, but now I just smile and wave.
Q: Was it easy meeting people and making friends in Seoul?
A: It is so easy to make friends here because there are loads of social groups and plenty of organised outings for foreigners in South Korea. You can find resources and outings on Waygook.org or even through the Expats in Korea facebook page. Personally I know there are a lot of opportunities to get involved with sports in Korea, for example I will be playing rugby for a women's team in Seoul and I have heard of Ultimate Frisbee and many soccer teams here as well.
About working in Seoul
Q: Did you have a problem getting a work visa/permit for South Korea?
A: My permit was organised through the Department of Education and I was given detailed instructions for application, so the process was pretty simple.
Q: What's the economic climate like in the city, is there plenty of work in Seoul?
A: I can't speak much outside of education, but there are so many jobs for ESL teachers in South Korea. Again, you can check out waygook.org, Dave's ESL Cafe or even learn4good.com. The jobs are updated often and they have many different starting dates. English speakers are in high demand in Asia, both in public and private schools.
Q: How does the work culture in South Korea differ from home?
A: People work very hard in Korea! It is not uncommon to see people leaving for work at 6am and returning in the evening. No wonder I see so many businessmen cracking open a soju or heading to a Noraebang (Karaoke Bar) and I don't blame them. They work just as hard as they play.
And finally…
Q: Is there any other advice you would like to offer new expat arrivals?
A: My biggest advice would be to not expect your life in South Korea to be the same as it is at home. Isn't that the point of travelling - to live in  new home and see things from a new perspective? South Korea has so many traditions different from Western culture and it is so interesting experiencing them on a daily basis.
~ Interviewed September 2012