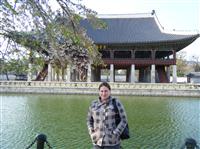 Amy is an English teacher in Suwon, South Korea, who originally hails from down south. Read her advice on how to choose a school in South Korea, read about what she misses about home, and find out what she loves and hates about living and working in South Korea.
Follow her adventures on her blog, Kiwigirl in Ilsan.
Read more expat experiences in South Korea or explore the South Korea country guide.
About Amy
Q: Where are you originally from?
A: New Zealand
Q: Where are you living now?
A: Suwon, South Korea
Q: How long have you lived here?
A: About 19 months
Q: Did you move with a spouse/children?
A: No
Q: Why did you move; what do you do?
A: I got a job teaching English.
About Suwon, South Korea
Q: What do you enjoy most about Suwon, how's the quality of life?
A: I love that there is always something to do and everything is open really late. Quality of life is comparable to Western cities of the same size.
Q: Any negatives? What do you miss most about home?
A: I miss the snack food from home, a lot of the chips and things here are too sweet or are seafood flavour which I don't like. Also the perils of smoking have not really hit home over here yet, there is a really high rate of people who smoke especially males. They also don't have any laws about smoking in places where people work so you still get smokers in restaurants and bars which is hard after living in New Zealand where it has been banned for a few years now.
Q: Is Suwon safe? Are there any areas expats should avoid?
A: Suwon is really safe and Korea as a whole is a pretty safe country. It's always prudent to employ common sense wherever you are so as long as you are not silly you should be fine. When you move to a new city it's always a good idea to talk to your co-workers to find out if there are any places that you should avoid, but that really goes with any city or country. I've never heard of any places in Suwon that are bad neighbourhoods but that does not mean there are none.
Q: How would you rate the public transport in South Korea? What are the different options? Do you need to own a car?
A: Public transport is excellent, it's fast and reliable and pretty cheap too, although the price has been creeping up since I've been here. You don't need a car but some people get one if they are going to be here a while. Scooters are also a popular choice.
Q: How would you rate the healthcare in South Korea?
A: I haven't really used the healthcare system yet. Some of the hospitals can be expensive and they like to do lots of tests even just for basic things. People seem to use the healthcare system more over here than at home, where you only really go to the doctor if you are very sick and to the hospital only if there is no other option. Here, the kids in my classes seem to be taken to the hospital for the smallest things, and every time I am sick, my co-workers ask if I have been to the doctor yet.
About living in South Korea
Q: Which are the best places/suburbs to live in the city as an expat?
A: The most popular with expats are probably Ingye-dong, Young-tong and the Suwon Station area.
Q: How do you rate the standard of housing in Suwon?
A: I don't really have much experience with this; my apartment is provided as part of my job and is very small but nice.
Q: What's the cost of living compared to home? What is cheap or expensive in particular?
A: The cost of living is comparable to New Zealand. A lot of people think because it is Asia things like electronics are going to be really cheap, but that is not the case. Most electronics are the same or even more expensive that at home. Food can be cheap, however. There is a culture of eating out in the bigger cities, as most apartments are quite small and don't have much in the way of cooking facilities.
Q: What are the locals like; do you mix mainly with other expats?
A: Most Koreans are really friendly and happy to help you. If you look lost, often someone will stop and try to help you figure out where you are and where you should be going. Once you stop one person, others will also stop and try to help. I've even had them ring their children, who speak better English, to translate. There are well-established expat communities in Korea, and outside of work I mainly mix with other expats.
Q: Was it easy meeting people and making friends in South Korea?
A: For me it was a bit harder to meet people and make friends. I'm naturally quite a shy person when first meeting new people. I usually rely on work to meet people, but in my job I am the only foreign teacher, and this made things a bit harder. Most people meet their first friends through work because some schools have many foreign teachers. If you work for the public schools through the EPIK programme then you'll have an introduction/training week where all the new recruits get to meet and greet. Eventually I decided that I had to get out and meet some people – most of this is done online these days. There are some great social groups on Facebook and on Meetup.com.
About working in South Korea
Q: Did you have a problem getting a work visa/permit for South Korea?
A: No, it takes a bit of paperwork and effort but if you look on the internet there are plenty of sites that detail what to do and how to do it. As long as you take the time to get everything done then you will be fine. I think for Americans the thing that takes the longest to get is the Criminal Background Check through the FBI. In New Zealand, it only took about a week for my Criminal Check – they joys of living in a small country!
Q: What's the economic climate like in the city, is there plenty of work in Suwon?
A: Because teaching English is an itinerant kind of job there are often people coming and going. While the job market is not as abundant as it once might have been five to seven years ago, there are still plenty of jobs available.
Q: How does the work culture in South Korea differ from home?
A: In Korea work is very important and it's essential that you look like you are very diligent in your job. For that reason it is not very common for people to take holidays outside of those they are prescribed and most people only take sick days if they are bedridden or perhaps if they have been in a car crash. As a lot of expats work at schools, if you take a sick day it means that someone else has to cover your classes. You will find that often teachers and students come to class when they are sick with the flu – this of course means they spread it around whereas in the West we are encouraged to stay home for exactly this reason - to stop the spread of germs.
Q: Did a relocation company help you with your move?
A: No, I was not moving a household so I did not need it.
And finally…
Q: Is there any other advice you would like to offer new expat arrivals?
A: I think the main thing is to do your homework, I spent lots of time looking on the internet and finding all of the information I needed to make sure I was doing the correct things before I actually started looking for a job. There is so much information out there that it can be daunting, and sometimes you find contradictory information. But as long as you use common sense, you will be fine. Also, I would say be picky about your employer if you are coming over to South Korea to teach English. Take your time and look around and don't take the first thing offered to you if you aren't sure about it. There are a lot of dodgy companies out there but there are also a lot of great ones – if you are not sure, then it is not worth the risk. I think that sometimes people take the first job offered as they don't know they will get another offer or they are pressured in to it by the recruiters. I said no to a few jobs when I first started looking as I just was not feeling great about them after speaking with them for an interview. This turned out to be the correct choice for me as I am now with a great company and am doing my second year with the same school.
~ Interviewed October 2012