Indonesia has a tropical climate and the weather is hot and humid all year round, but cooler inland than along the coastal regions. The high temperatures and humidity are certainly something that takes getting used to for expats moving to Indonesia from cooler climates.
The country doesn't experience the four distinct seasons, with temperatures staying quite constant throughout the year; coastal regions average around 82°F (28°C) and the inland and mountain areas average around 79°F (26°C) year-round. The monsoon season from December to March brings heavy rains and can make travel around the country difficult. Tropical storms can also affect the country between September and December, causing major travel disruptions. The dry season, from April to October, is the most pleasant time of year and the best time to visit.
Lightweight clothing is sufficient throughout the year, and an umbrella or raincoat is essential to have on hand all year round.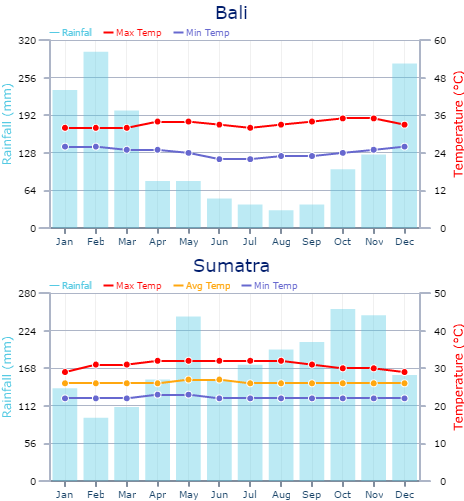 ---
Are you an expat living in Indonesia?
Expat Arrivals is looking for locals to contribute to this guide, and answer forum questions from others planning their move to Indonesia. Please contact us if you'd like to contribute.
Expat Health Insurance
Cigna Global

Cigna Global can tailor an international health insurance plan to perfectly fit the needs of you and your family. With 86 million customers in over 200 countries, Cigna Global has unrivalled experience in dealing with varied and unique medical situations and delivering high standards of service wherever you live in the world.
William Russell

William Russell is a boutique insurance company, that values itself on its great customer service and is underwritten by Allianz. They provide health, life, and income protection insurance for expats around the world. With a global network of 40,000 hospitals and doctors, their health insurance plans are designed so that they follow you to whatever country you move to next.
Moving Companies
Moving Internationally?

Sirelo has a network of more than 500 international removal companies that can move your furniture and possessions to your new home. By filling in a form, you'll get up to 5 quotes from recommended movers. This service is free of charge and will help you select an international moving company that suits your needs and budget.