Lidia is a Spanish expat who grew up in Sweden and now lives in Indonesia. She moved to Jakarta for an internship position at the Swedish Embassy and enjoyed her expat experience in Indonesia so much that she decided to stay on after the initial six-month contract ended. Lidia blogs about her experiences of expat life in Jakarta at Roy on the Run.
Learn more about Indonesia in the Expat Arrivals Indonesia guide or read more expat experiences in Indonesia.
About Lidia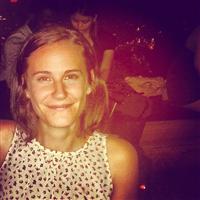 Q: Where are you originally from? 
A: I was born in Burgos, Spain, but grew up in Malmö, Sweden.
Q: Where are you living now? 
A: In Jakarta, Indonesia.
Q: When did you move to Indonesia? 
A: Moved here nine months ago.
Q: Did you move here alone or with a spouse/family? 
A: Alone.
Q: Why did you move to Indonesia? What do you do? 
A: I came to do my internship at the Swedish Embassy in Jakarta for six months, but when this was over, I just didn't want to leave. So I found a job working for an Indonesian company here in Jakarta.
Living in Jakarta
Q: What do you enjoy most about Jakarta? How would you rate the quality of life compared to your home country? 
A: The best thing about Jakarta is definitely the people. Both locals and expats are so friendly that it actually makes it hard to leave this city. Quality of life is...different. On the one hand, some things are just so much more difficult here, but on the other hand, you are living a couple of hours away from the most beautiful places you can imagine.
Q: Any negatives? What do you miss most about home? 
A: Jakarta is a very special and chaotic city, where pollution, traffic, dirty drinking water, a faulty (in many cases non-existent) waste disposal system, and non-existent sidewalks make your everyday life a bit more challenging. These issues definitely overwhelm you at times.
I would say I miss being outside the most – walking around the city, spending a day in the park, having dinner and drinks on an outside deck, walking to the store, to your friend's house, to the gym...
Q: What are the biggest adjustments you had to make when settling into expat life in Indonesia? Did you experience any particular elements of culture shock? 
A: The biggest adjustment was probably having to go by car everywhere. Not being able to walk is a pretty big change, and the crazy traffic definitely doesn't make it easier.
Q: What's the cost of living compared to home? What is cheap or expensive in particular? 
A: Being an expat makes things automatically more expensive. Not that I live the luxurious 'expat life' here in Jakarta, but still... Even when living a 'modest' expat life, housing location, choices of restaurants, shops and transport make the life of a 'semi-expat' cost around the same as it would do back in Europe. You can obviously go with the local options: eating on street warungs, shopping at local markets and bazaars, catching the bus (be prepared for long commutes...) etc. These options will definitely be much cheaper (if you know how to bargain, that is). But then again, it also means complicating your life in what is a pretty complicated city already...
Q: How would you rate the public transport in Jakarta? What are the different options? Do you need to own a car? 
A: For a Swede used to complaining as soon as the train/bus is a couple of minutes late, public transport in Jakarta is just unacceptable. Being a city housing over 10 million people (according to certain sources, even up to 15 million), public transport choices are too few, too slow, too crowded and too unreliable. This is definitely an issue which needs to be addressed.
Q: How would you rate the healthcare in Jakarta? Have you had any particularly good/bad experiences with regard to doctors and hospitals? Are there any hospitals you would recommend? 
A: I don't even want to go there. Let's just say I am not very pleased with Indonesian hospitals. However, when it comes to tropical diseases, such as dengue fever (yes, I had it; mosquitoes really love me here), they are experts in diagnosing and treating them.
Q: What are the biggest safety issues facing expats living in Jakarta? Are there any areas expats should avoid? 
A: Safety is not really an issue for me here in Jakarta. I felt more unsafe walking the streets of Malmö in the dark or even walking around Barcelona (where my things got stolen several times in the two years I spent living there) than I have ever done here in Jakarta. Some people like to hype the whole' terrorism issue' as well (following the hotel bombings in Jakarta and then Bali a few years ago), but if you listen to the experts, hard-line organisations in Indonesia are said to have very little interest in Western targets at this point.
Q: How do you rate the standard of housing in Jakarta? What different options are available for expats? 
A: Being a city of contrasts, housing standards obviously vary a lot. However, as an expat with an expat salary, you will have no problem finding an apartment or a house that suits you. If you are coming here as an intern, there are a few pretty good options too. You could either rent an apartment with a fellow intern or try living in a kost (kind of like a dorm for adults). Both apartments and kosts can be found in very different areas and at different price rates.
Q: Are there any areas/suburbs you'd recommend for expats to live in Jakarta? 
A: There are various areas with a high housing standard. Although, if I could choose, I would personally recommend the SCBD area, Kebayoran Baru and Senayan.
Meeting people and making friends in Jakarta
Q: How tolerant are the locals of foreigners? Is there any obvious discrimination against particular religions or women, etc.? 
A: Indonesians have always been extremely nice to me, and discrimination has never been an issue for me personally. I would almost say there is some kind of reversed discrimination, as Indonesians worship white skin (consumption of whitening products is frighteningly high). Also, don't be surprised if people stop you on the street to take a picture with you; Indonesians love it! And to be honest, it is a lot of fun! Ask them if you can take your own picture and keep a collection of pics with loads of different people; it's so much fun to look through!
Q: Was it easy meeting people and making friends in Jakarta? How did you go about meeting new people? 
A: As I said before, people here in Jakarta are really friendly, which makes it very easy to meet new people. Also, even though it is a huge city with a very big population, the expat community seems to be concentrated in certain places and areas. I was lucky enough to meet great people right from the beginning, who invited me along to parties and trips and introduced me to other great people.
Q: Have you made friends with locals, or do you mix mainly with other expats? What advice would you give to new expats looking to make friends? Are there any social/expat groups you can recommend? 
A: I have been very lucky, which means I have met great friends in this city. I would say a majority of them are expats, although I have some great Indo friends as well. Upon arrival, check out pages such as this one: an expat blog, Facebook groups like 'Interns in Jakarta', Internations, language exchange groups like 'Polyglot Jakarta' and groups alike. All expats here came alone at some stage; we all know how it feels to be the new girl/guy in a new city, which makes it very easy to get to know expat people. Also, Indonesians love meeting new people and practising their English!
Working in Jakarta
Q: Did you have a problem getting a visa or work permit for Indonesia? Did you tackle the visa process yourself, or did you enlist the services of an immigration consultant? 
A: As an intern, I had to renew my social visa on my own, although I was always 'sponsored' by my embassy. Let's just say it is not the most comfortable thing to do every month... The process for getting my work permit, on the other hand, was completely handled by my company.
Q: What's the economic climate like in Jakarta? Do you have any tips for expats looking to find a job there? Which resources did you find most useful? 
A: Finding a job in Jakarta is said to be very hard as the Indonesian government is very protective of the Indonesian workforce and only warrants work permits to 'experts'. Still, I got a job, and I'm no expert!
Q: How does the work culture differ from home? Do you have any tips for expats doing business in Indonesia? 
A: Work culture in Indonesia is really very different from what I was used to. Working for an Indonesian company, I am starting to realise that things just seem to take longer to happen. Yes doesn't always mean yes, answering emails is just not a priority, and follow-up is a must!
And finally…
Q: Is there any other advice you would like to offer new expat arrivals? 
A: Be prepared to adjust. Bring all the patience you can gather.
Travel around the country; Jakarta might not be the most beautiful city you ever visited, but Indonesia is truly beautiful! (And when I say travel, I do not necessarily mean Bali. There are thousands of islands to explore; don't get stuck in Bali).
When in Jakarta, move outside your comfort zone (the expat areas). Learn the language (I'm not there just yet, but it is worth trying!). Be open to meeting new people, and locals too!
► Interviewed November 2013