Cyrus Janssen is an 11-year expat who spent 10 years in Asia before relocating to Vancouver, Canada in April 2017. He is a golf professional and sports marketing executive who enjoys international travel, language learning, and blogging about his journeys at www.cyrusjanssen.com.
About Cyrus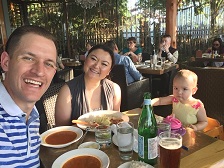 Q: Where are you originally from
A: Orlando, Florida, USA
Q: Where are you living now?
A: Vancouver, Canada
Q: When did you move here?
A: April 2017
Q: Did you move here alone or with a family?
A: Family (wife and daughter)
Q: Why did you move; what do you do?
A: After living the expat life in China and Hong Kong for 10 years we decided to move to Canada for a higher quality of life for our family. I began my expat career in China working as a golf professional and then worked as a general manager for a sports marketing firm in Hong Kong for three years prior to our move to Canada.
Living abroad in Vancouver
Q: What do you enjoy most about Vancouver? How would you rate the quality of life compared to China?
A: Vancouver is an incredible city that has something to offer everyone. There is a tremendous amount of outdoor activities available, clean air, great restaurants, friendly people, and safe neighbourhoods.
Q: Any negatives? What do you miss most about Asia?
A: Some people complain that the housing market is too expensive, which is true, but really what big city anywhere in the world offers affordable housing these days? After living in Asia for 10 years, I thought it was going to be a tough transition to Canada. However, Vancouver is home to one of the largest Asian communities in the world and has some of the best Asian restaurants.
Q: What are the biggest adjustments you had to make when settling into expat life here in Canada? Did you experience any particular elements of culture shock?
A: Canada is a much slower pace of life when compared to life in Asia. People here are very polite and it seems no one is in too much of a hurry. People are very social, live active lifestyles, and take time to enjoy life. It was a refreshing change from the hustle and bustle in fast-paced Asia.
Q: What's the cost of living compared to China? What is cheap or expensive in particular?
A: I would say the cost of living is slightly higher in Canada but with the higher expenses comes a higher quality of life. People sometimes complain the taxes in Canada are too high but you can immediately see the tax dollars being spent in areas that will improve the average citizen's life. Better sidewalks, playgrounds, great healthcare facilities etc…
Q: How would you rate the public transport? What are the different options? Do you need to own a car?
A: Vancouver's public transportation is great. The SkyTrain and bus routes are well-routed and one can travel around exclusively on public transport if needed. However, it's always more convenient to own a car in North America and I would say if you have children, owning a car is a necessity.
Q: How would you rate the healthcare in Vancouver? Have you had any particularly good/bad experiences with regards to doctors and hospitals? 
A: Vancouver's healthcare is world class. Residents of British Columbia have a BC Service Card that provides medical coverage at any hospital in the city. Residents pay a reduced fee for healthcare service that is just a fraction of what similar healthcare in the United States would cost. Sometimes people complain about the healthcare (long waits for non-emergency surgeries) –however, the system has many positives and relieves the stress of millions of people in the province.
Q: What are the biggest safety issues facing expats living in Vancouver? Are there any areas expats should avoid?
A: Vancouver in general is a very safe city. We have not experienced any crime and finding a low-crime city was a top priority for us.
Q: How do you rate the standard of housing in Vancouver? What different options are available for expats?
A: Standard of housing is great. There are many options available like full houses, condos and apartments. Housing options are very plentiful in Vancouver.
Q: Any areas/suburbs you'd recommend for expats to live in?
A: The False Creek area is a beautiful neighbourhood that borders the harbour and is a convenient walk to many top restaurants, grocery stores, and playgrounds. West and North Vancouver (referred to as the North Shore) are beautiful parts of the city with superb views of the harbour and downtown.
Meeting people and making friends in Vancouver
Q: How tolerant are the locals of foreigners? Is there any obvious discrimination against particular religions or women?
A: Canada is probably one of the most open and welcome societies in the world. If there was one word to describe Canada it would be diversity. The country welcomes all types of people and the country enjoys extremely low levels of discrimination when compared to the United States.
Q: Was it easy meeting people and making friends? How did you go about meeting new people?
A: Vancouverites are extremely welcoming, friendly, and great people to get to know. You will make new friends wherever you go in the city as many people are very friendly and will actively try and start a conversation with you.
About working in Vancouver
Q: Did you have a problem getting a visa or work permit? Did you tackle the visa process yourself or did you enlist the services of an immigration consultant?
A: My wife and daughter are both Canadian so I have applied for permanent resident status and my work permit through the "Spouse Sponsorship Program". The process takes around 12 months to complete and requires a lot of detailed paperwork. One can do everything themselves by downloading the forms off the immigration website. However it's best to find an immigration lawyer to formally review your application before sending it in. This will save a lot of time as the lawyers know special tips and tricks to make sure your application gets through on the first attempt.
Q: What's the economic climate like in Vancouver? Do you have any tips for expats looking to find a job there? Which resources did you find most useful?
A: Vancouver is a slow-paced city and business here is small when compared to the big cities in America or the world stage. I realized how small the Canadian market truly is as it seems the Canadian market it split between Toronto in the east and Vancouver in the west with a lot of small markets in the middle.  
Q: How does the work culture differ from the US? Do you have any tips for expats doing business in Canada?
A: Canada's work culture is more relaxed when compared to the United States. The best tips for expats here is to be open-minded and friendly and enjoy working with your colleagues.
Family and children in Vancouver
Q: Did your child settle in easily? What were the biggest challenges for your child during the move?
A: Our daughter is just under two years old, but she has enjoyed life in Canada tremendously. There are many more public playgrounds and parks available in Vancouver and she lives a much more active lifestyle here playing outside every day with other children.
Q: What are the schools like, any particular suggestions?
A: Our daughter hasn't started school yet, but children under the age of five can attend "Strong Start", a government-sponsored program designed to prepare young children for school. The program is free for children and at least one parent attends with the child during the class. Classes consist of story time, open play with other children, arts and crafts, and also include a snack break. It is an incredible program and unbelievable that it is free for children to attend. Just another amazing example of how great Canada is for families.
And finally…
Q: Is there any other advice you would like to offer new expat arrivals?
A: Vancouver is one of the top 10 cities to live in the world! Things might be a little expensive, and the pace of life a little slower than your home country, but people in this part of the world live longer and are generally happier because of all the great qualities of life offered here. Go explore the mountains, make new friends, and enjoy life in beautiful British Columbia!  

~Interviewed August 2017