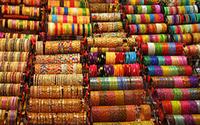 Adria is a British expat who moved to Chennai in India with her husband. She is a photographer who loves the chaos and the friendly locals of Chennai, who are always eager to have their photo taken by her. In her quest to settle into expat life in Chennai and make new friends in India, Adria set up a group called the International Photography Society Chennai which has allowed her to successfully meet both locals and expats with a common love for the art of photography.
In her interview with Expat Arrivals, Adria provides a great insight into the opportunities and challenges of being a trailing spouse in India.

Read more about India in the Expat Arrivals India country guide or read more expat experiences in India. 
About you
Q: Where are you originally from? 
A: London, England
Q: Where are you living now? 
A:  Chennai, India 
Q: When did you move to India? 
A:  April 2013
Q: Did you move to Chennai alone or with a spouse/family? 
A:  With my husband
Q: Why did you move; what do you do in Chennai? 
A:  My husbands work bought us to Chennai 
Living in Chennai
Q: What do you enjoy most about Chennai? How would you rate the quality of life compared to your home country? 
A:  I love everything about Chennai, especially the friendly people, everyone has been most welcoming, as a photographer India is an amazing experience for me and everyone is so open to having their photo taken. I have become very fond of the chaos. 
Q: Any negatives? What do you miss most about home? 
A:  Of course I miss our friends, but some have been to visit us. I miss our traditional Christmas but I love the festivals happening across India. 
Q: What are the biggest adjustments you had to make when settling into expat life in India? Did you experience any particular elements of culture shock in India?
A: Not really, to be honest I found it very easy to settle into my new home, I learnt that if I leave behind all of my learnings and have an open mind and a smile then everything is much easier and to just go with it
Q: What's the cost of living in Chennai compared to home? What is cheap or expensive in particular? 
A:  The cost of living is so much cheaper than the UK, my vegetables in Chennai are around GBP 3 a week and this feeds our maid and her family too. 
Q: How would you rate the public transport in Chennai? What are the different options? Do you need to own a car?
A: Public transport in Chennai is naturally very different to in London. Some expats do drive of course but we have found it much easier having our driver Arun, as parking is difficult so he makes life much easier for us. Public transport is fairly straightforward to use. With auto-rickshaws and buses and trains to the mountains. It is not necessary to own a car in my opinion but employing a driver with car just makes life that much easier.  Either way getting around in India is far cheaper than in the UK. 
Q: How would you rate the healthcare in Chennai? Have you had any particularly good/bad experiences with regards to doctors and hospitals in India? Are there any hospitals you would recommend?
A: I have had to experience healthcare in Chennai, I fell extremely sick and I was looked after very well, in fact I would rate my personal care higher on some levels. I would highly recommend the Doc Medical Centre. I found the staff were is very personable and there was such attention to detail. We have private medical insurance but found it healthcare in India is so cheap, we never once made a claim. The Apollo Gyno department is also fantastic. 
Q: What are the biggest safety issues facing expats living in Chennai? Are there any areas expats should avoid?
A: Chennai is pretty safe and certainly one of the safest cities in India. Like any large city and particularly as a western woman who is alone a lot whilst my husband travels with work I find it is important to dress appropriately. This is not Spain, cover up, be modest and have respect for where you are and you will have no trouble at all and always carry a smile and a charged cell phone. Having a good driver I can trust helps as he also stays with me at all times and we have security at the house, although I do not feel it is required, it is certainly a deterrent. I walk around on my own and with my driver, and I carry my expensive camera equipment and the only attention I get are requests for me to take photos of kids, which is awesome. Attacks on women are rare in Chennai but there have been a number of rapes on locals by men from out of town, so I think its best to not go out alone at night, unless your driver is taking you to the door of a hotel/restaurant and collecting you again and I would never walk the streets alone at night, but then this applies to almost anywhere. I have never felt unsafe in Chennai and in fact the opposite. 
Q: How do you rate the standard of housing in Chennai? What different options are available for expats?
A:  There are many different types of housing available, from apartments, condos to large family beach side properties. We have a beach side property but we decided to live one street back form the beach itself, because we have seen the fishing villagers use the side of the houses on the beach front as a toilet and that is not nice. By being a street back, still with a sea view we avoid any potential issues and have not had any  problems. In fact the locals have been very welcoming and friendly, always saying good morning with a smile.My top tip on finding a property is to use a very good relocation company and if your budget will stretch to it one that will manage the property as well.
A lot of expats complain that there is rubbish in the streets, but this is the norm in India. While houses are clean, the streets are littered - just go with it. If you expect to find your grand house on the perfect well maintained and litter free street, you will always be searching forever. Forget what you can get elsewhere, this is incredible India and as such offers an amazing amount of choice, as long as you are accepting and open-minded and see through the litter.
Q: Any areas/suburbs of Chennai you'd recommend for expats to live in?
A:  EQR is very popular, as is ECR towards Kipling Café and OMR junction. The commute from these areas into the city take an hour but transport is good. If you are looking for a place closer to the city then go for Boat Club area, you will get grand apartments here and the odd one or two with a roof top pool but most will not have a pool but a very classy area, clean and close to social clubs like the Madras club. 
Meeting people and making friends in Chennai
Q: How tolerant are the locals in India of foreigners? Is there any obvious discrimination against particular religions or women etc.?
A: Oh my, very, the people here are very excepting, I find if you are polite, say good morning and smile, you will get a great response. Locals love expats - we spend money so we get great service and there is always someone there to help if you need it. A tip won't go a miss if someone does help. There will always be discrimination towards women in India in the short term anyway, however I haven't experienced any of it in my day-to-day life. It's the opposite in fact. Although I have witnessed local women being treated differently.
The only time I have felt second rate, for want of a better expression, is when dealing with authorities - my husband would be better to speak with them than I.  I was also introduced, as 'this is the wife of…' as opposed to 'this is Adria' but as I say, it is far better to accept and just go with it. Some expat women might find this hard but trust me, having tried to fight the system, it is much easier to just accept it for the time you are here. 
Q: Was it easy meeting people and making friends? How did you go about meeting new people? A: It was actually fairly easy to meet new people and make new friends; we were introduced to several local business owners who have become extremely good friends of ours. There are a couple of woman's groups to join who do craft activities and outings, one being the IWA and I set up my own group for expats and locals called the International Photography Society Chennai, I now also have the same group in Mumbai, New York and London all running very successfully meeting at least twice a month. Making friends through photography and exploring the city as a group. 
Q: Have you made friends with locals or do you mix mainly with other expats? What advice would you give to new expats looking to make friends? Any social/expat groups you can recommend?
A:  We relocated to India to experience India and the Indian culture, I feel it is most important to make friends with locals, learn their culture and what their city has to offer. I have many American and English friends but I now also have many Indian friends. I believe integration is so important but not everyone wants that and some expats live in their bubble which is also fine, but for me it was important I made as many friends regardless of culture and I was very keen to integrate and experience the real India. I am so glad I did. 
I found some places where they run groups to be less friendly but the IWA was extremely welcoming. I would certainly recommend the group. I personally stay away negativity, there can be a lot of that, by surrounding myself with like minded positive happy people and by being accepting of my environment and just going with it.  I made friends easily, locals and a few expats that I met through my photography group a people I would now consider lifelong friends. 
About working in Chennai
Q: Did you have a problem getting a visa or work permit? Did you tackle the visa process yourself or did you enlist the services of an immigration consultant?
A:  Getting our visas for India was very easy as the company helped us and they use a local agent called Fragomem, who knew their stuff and were extremely helpful. My top tip is when visiting the visa officer dress modestly - I even got a compliment on the scarf I was wearing! Some expats do the visa trip themselves, but they end up having to return day after day. By enlisting the agent we were in and out within 45 minutes. Result!
Q: What's the economic climate like in Chennai? Do you have any tips for expats looking to find a job there? Which resources did you find most useful?
A: There are so many jobs available throughout India - mostly technical jobs in IT, Software Development, the Automobile industry and Banking. I would suggest as with job-hunting anywhere to utilise your network of contacts and never turn down an invitation for coffee or lunch. There are also a couple of sites that are useful - on Facebook there is the Chennai Buy Go See Do page. Another good resource is also India Mike, which is helpful for visa tips if you are going it alone. Job wise, LinkedIn India can be a good source if you are in the right industry. 
Q: How does the work culture in India differ from home? Do you have any tips for expats doing business in Chennai?
A:  It is very different. Everyone is a manager in Chennai. It is important for expats to understand Indian business culture and this is where the Global Adjustments Cultural Awareness training comes into use. Understanding the local culture is crucial to a successful career. It is important to understand that family comes first in India and as such you really need to build a rapport with people and ask after their family. There is a lot to learn but in a nutshell – Network!.
Family and children in Chennai
Q: Did your spouse or partner have problems adjusting to life in Chennai? Do you think there are any specific challenges for a trailing spouse?
A:  We both found it very easy to settle in and socialise here. It is easy to get stuck inside, especially for those with children. But there are day centres and mother-baby groups to attend. Many expats find having a larger house than they did back home is an issue but it is generally pretty safe. Managing staff is an issue that most expats have to contend with and this is a full time job in itself. However, once you understand the culture you can run your home through your cell phone and have dinner and the laundry done when you get home. Our staff are trustworthy, clean and polite but it did take us around 3 months to get used to having so much help. Domestic help really allows expats to have more time to themselves.
Q: Did your children settle in easily in Chennai? What were the biggest challenges for your children during the move?
A:  We don't have kids but our friends children settled in very quickly, they love their new playgroup. Getting bugs seems to be the biggest obstacle as, it takes around seven months to build up an immune system and even then they still get sick occasionally. I think older children miss their friends and it takes them a longer time to settle in. However, once they have made new friends it is easier for them. Generally after three months or so everyone seems to have settled into their new life, even if they do miss aspects of home. 
Q: What are the schools like in Chennai, any particular suggestions? 
A: There are several good schools in Chennai – but opinions are always mixed. The German School has a good reputation. The English School is OK. There is also an American School which I have heard mixed reviews on. I think the best thing to do is visit each school and figure out which one is the best for your child.  
And finally…
Q: Is there any other advice you would like to offer new expat arrivals?
A:  Top tip… Go with it! Just go with it! You'll drive yourself mad if you question everything with why? Why does it matter? It just is the way it is, accept it and you'll have an experience you'll be talking about for years.

~ Interviewed July 2014