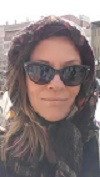 Brenda Hurley is a Canadian expat who moved with her husband to a growing Saudi Arabian city on the Red Sea. They took it as an opportunity to see the world and different cultures. Brenda says that although adapting to such a conservative culture can be challenging, the key to living happily in the country is a positive attitude.
About Brenda
Q: Where are you originally from?
A: Spruce Grove, Alberta, Canada
Q: Where are you living now?
A: Yanbu Al-Sinyah, an industrial city in Saudi Arabia
Q: When did you move here?
A: My husband arrived here in September 2014, and I arrived a few months later in March 2015.
Q: Did you move here alone or with family?
A: Spouse only, as our adult children stayed at home.
Q: Why did you move; what do you do?
A: My husband was offered a position with a refinery here in Yanbu. We looked at it as a great opportunity for him to get global experience and see the world and different cultures.
Living in Saudi Arabia
Q: What do you enjoy most about Saudi Arabia? How would you rate the quality of life?
A: Yanbu is a growing city located on the Red Sea. The snorkelling here is great, the beaches are beautiful, and the weather is always warm and sunny. This is a very traditional city and a much different way of life compared to home. The Saudi people really put a lot of emphasis on family, and there are a lot of parks and outdoor areas for children to play and families just to hang out.
Q: What do you miss most about home?
A: I miss my family, friends and my dogs. I do also miss the freedoms and liberties that are a given right to me in Canada. But with that being said, I'm trying to keep an open mind here.
Q: What are the biggest adjustments you had to make when settling into expat life in Saudi Arabia? Did you experience any particular elements of culture shock?
A: The culture here was a challenge. I was used to working full time back home, but now I have to rely on my husband for money and transport, as I can't work or drive in this country. Whenever I leave the compound, I have to wear my abaya and cover my head. I wear a scarf or a hijab. I will say that it's easier to do this than having to figure out what to wear every day. Prayer happens here five times a day and businesses close during these times, so you have to plan your shopping and outings accordingly. There is a mobile app for local prayer times that my husband and I have downloaded, and we rely on that quite a bit.
Q: What's the cost of living compared to Canada?
A: Our housing and all utilities are paid for by my husband's employer here, so that saves us a lot of money. Groceries are relatively inexpensive, although some can be really pricey. Imported goods, such as berries, are hard to find and can be expensive. Gas is really cheap – we drive a large SUV, and it costs roughly 0.14 cents per litre to fill, so that's great.
Q: How would you rate public transport in Saudi Arabia?
A: There really isn't public transit to speak of. Taxis are available (make sure you find a trusted cab driver by asking a lady in the compound) but I don't take them much as my husband takes me where I need to go or I use the compound bus.
Q: How would you rate healthcare in Saudi Arabia?
A: Healthcare seems to be comparable to Canada's, although for specialised services, you would have to travel to Jeddah. Some prescriptions that would require a doctor's visit back home are readily available at the local pharmacies here. There are two local hospitals that are modern and offer a variety of services.
Q: What are the biggest safety issues facing expats living in Saudi Arabia?
A: I feel safer here than I did back home. There are numerous checkpoints to go through to get into our compound and I'm thankful that they take our safety very seriously. Always be aware of your surroundings, as you would at home, and don't walk alone outside of the compound at night. Avoid alleys as well. Common sense will do you good over here.
Q: How do you rate the standard of housing in Saudi Arabia?
A: Houses are different over here for sure. They're made of concrete with large walls surrounding them, so there's not much curb appeal. We live in the Arabian Homes compound and it is like being in a resort. Our townhouse has all the amenities of home, and we have a little yard area as well as a swimming pool out the front door. Placements are made through the employer and all we had to do was move in.
Meeting people and making friends
Q: How tolerant are the locals of foreigners.?
A:Here in Saudi Arabia, there is definite discrimination against women and religion. This is an Islamic country and we are not free to practise or display our religious beliefs here. I don't see this as a negative though because it is their culture and way of life and I respect that. Being of a lower class (woman), I must have a guardian with me at all times and my husband is responsible for me and my actions while in Saudi Arabia. This country is full of expat workers so they appear to be very tolerant of us here. We have Internet and TV as well as cellphone service.
Q: Was it easy meeting people and making friends? How did you go about meeting new people?
A: Before I came here I joined a Facebook group and met expat ladies that way. I immediately started attending the social events like pool parties, potlucks and shopping etc. We are all in the same boat and that common ground makes it very easy to meet new friends. Once you arrive we are more than willing to help anyone out with questions they may have.
Q: Have you made friends with locals or do you mix mainly with other expats? What advice would you give to new expats looking to make friends? Any social/expat groups you can recommend?
A: I mix a lot with other expats here in the compound. I have friends now from South Africa, Egypt, Ethiopia, US, Scotland, USA, China, Venezuela and a lot of other countries. I've also met a local woman that teaches me local cooking and Arabic speaking lessons. I love the opportunity to meet new women from all over the world. There are a lot of social groups here that you will find once you arrive
About working in Saudi Arabia
Q: Did you have a problem getting a visa or work permit? Did you tackle the visa process yourself or did you enlist the services of an immigration consultant?
A: We had a visa agency in Canada take care of our paperwork. It is a challenge, to say the least, to get all your required documentation and paperwork for travel here. Being a woman, I am unable to work and it is stamped directly on my visa. You could handle the paperwork yourself but I highly discourage it. Spend the money to have someone represent you and do it properly. It takes a long time and with errors, it takes longer
Q: What's the economic climate like in the city? Do you have any tips for expats looking to find a job there? Which resources did you find most useful?
A: This city is growing exponentially! There is a lot of work here and I would suggest "headhunting" agencies. My husband's resume was found online by an agency in Malaysia, he went to Houston, TX for his interview and here we are ...
Q: How does the work culture differ from home? Do you have any tips for expats doing business in the city/country?
A: My husband works only five days per week here; 40 hours a week. It's been a very long time since we've been able to spend so much time together. Back home he'd work out of town and be gone for a long time. We see more of each other here so that's a blessing
Family and children
Q: Did your spouse or partner have problems adjusting to their new home? Do you think there are any specific challenges for a trailing spouse?
A: My husband had, and still has, challenges at work as it's not like working back in Canada; policies and procedures are different here for him at work. I gave up a lot of independence and freedom coming over here, but with a positive attitude, it all works out.
Q: Did your children settle in easily? What were the biggest challenges for your children during the move?
A: My adult children are still back in Canada; they both work full time there and chose not to come with us here. They are living in our house back home and taking care of our dogs
And finally…
Q: Is there any other advice you would like to offer new expat arrivals?
A: Stay positive, flexible and keep a positive attitude. Patience is something you will need here for sure. Take the time to enjoy the lifestyle change, meet new people and explore the beautiful Kingdom of Saudi Arabia. Embrace the cultural differences, open your mind and heart to new adventures and create new hobbies for yourself. Most of all, enjoy yourself and have fun!

~ Interviewed in May 2015