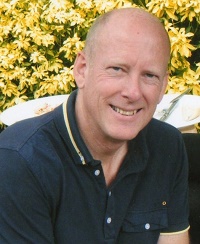 Robin Wheeler and his wife moved from the UK to the Spanish coastal town of Moraira. Once a fishing village, it's now an upmarket tourist town and the Wheelers are running a successful pub.

Robin says they found the move easy and straightforward - and reckons the best way to meeting people in Spain is to head down to your local bar. 
About Robin
Q: Where are you originally from? 
A: London, UK
Q: Where are you living now? 
A:  Moraira, Alicante, Spain
Q: When did you move to Spain? 
A:  May 2013
Q: Did you move here alone or with family? 
A: I moved with my wife
Q: Why did you move? 
A: I had three pubs in London that were only just surviving. I felt we could do better in Spain. We saw a bar that had been closed and bought it the same day. We opened four weeks later.
Living in Spain
Q: What do you enjoy most about Spain? 
A: Moraira is a very friendly little town. The quality of life far exceeds the UK as it's a lot cheaper to run a business here and house prices are low compared to London.
Q: What do you miss most about home? 
A: The nightlife in London. We enjoyed the concerts, Chinatown and the cinema, all of which are lacking here.
Q: What are the biggest adjustments you had to make when settling into expat life in Spain? 
A: The biggest changes are the tax system and employment laws, but I recommend getting a very good accountant. Also, if you move to a city, you must speak Spanish. In the main touristy places, you don't need to be that fluent.
Q: What's the cost of living compared to home? 
A:  It's a lot cheaper here. Business rates are killing UK businesses and are almost non-existent here. 
Q: How would you rate the public transport? 
A: A car is useful although public transport is very good. Taxis tend to be expensive.
Q: How would you rate the healthcare in Moraira? 
A: I have not needed healthcare yet but I've heard Hospital de Denia is very good. There are no GP waiting times here, you get seen straight away, as opposed to up to three weeks in the UK.
Q: How do you rate the standard of housing?
A: House prices vary greatly, but generally rental prices are a lot cheaper than the UK and a decent three-bedroom villa is around 750 euros a month.
Q: Any areas/suburbs you'd recommend for expats to live in?
A: The Costa Blanca coast is lovely, but stay away from Benidorm.
Meeting people and making friends
Q: How tolerant are the locals of foreigners? 
A: Moraira is very cosmopolitan and there's no discrimination against foreigners. I think there is more resistance in the large cities.
Q: Was it easy making friends?
A: It was very easy to meet new people – although, of course, it helped running a bar. However, there are loads of ways of meeting people through groups and expat websites. I'd also recommend going to your local English pub or a Spanish bar if you want to meet locals.
About working in Spain
Q: Did you have a problem getting a visa or work permit? 
A: I didn't need a visa and all the paperwork was handled by my solicitor, who did an excellent job at a reasonable price.
Q: What's the economic climate like in Moraira? 
A: The economy here is tough, as it is in all of Spain. Finding a job is hard. It is easier in the summer as this is a tourist destination, but jobs don't pay much and will probably only be on a short-term contract.
Q: How does the work culture differ from home? 
A: Work in Spain tends to be slower than the UK and you have to be tolerant of local customs such as siesta times.
Family and children
Q: Did your spouse or partner have problems adjusting to their new home? 
A: We fitted in straight away - just be nice to people and they will do everything to help you.
Q: Did your children settle in easily? 
A: We didn't bring our kids. They are grown up and moved out.
And finally…
Q: Is there any other advice you would like to offer new expat arrivals?
A: If you are friendly and try and speak at least a little Spanish you will be accepted straight away. Accept the slower way of life in Spain and fit in to the way they do things here.

~ Interviewed in December 2014