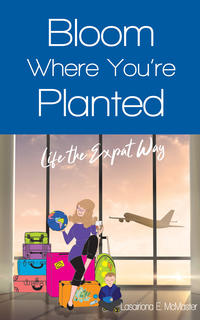 Many expats agree that the most overwhelming part of relocating is often figuring out where to actually begin. With the internet so readily available, expats are exposed to so much information and guides which can easily become overwhelming. This is why books like Bloom Where You're Planted are important. Author, Lasairiona McMaster, has crafted a book that is chock-full of useful information in such a way that it feels like the reader is simply chatting to a friend over a cup of tea.
One thing that stands out is the engaging and informal style the book has been developed in. McMaster truly tells it as it is without sugar-coating any of the bumpy parts of expat living.  She starts by describing her life before becoming an expat and explains what it is that finally took her into a life abroad.
Over the course of 14 chapters, McMaster lays out every painful, embarrassing and amazing aspect of expat life imaginable. She takes a personal approach in this book, discussing her own experiences when she moved first to Houston and then to India. She guides readers through difficult topics like being a trailing spouse, being homesick, and uncorking friendships with brutal honesty. She also gives practical advice when it comes to making decisions, what to pack and how to get past immigration red tape.
Chapter 15 of the book pays tribute to other expat women the author has met and befriended in her travels, or in her own words: "people who have left their little expat footprints across my heart". These short personal accounts add an extra depth to Bloom Where You're Planted. It highlights the strength it takes for expat women to do what they do and shows how each one of them protects and supports each other.
This book is a great read even for those who don't necessarily have a desire to one day become expats, as it sheds light on some biases people often have against those living as expats. Bloom Where You're Planted is much more than a fact book or handguide – those considering a move to a new country and looking for an honest, down-to-earth and practical book about living abroad will find this book a godsend.