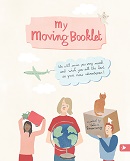 More than just an expat guide aimed at children, My Moving Booklet by Valerie Besanceney is a workbook that aims to prepare children for a move to a new location. Moving can be scary, confusing, exciting,  or a complex mix of these and other feelings. This book offers an opportunity for children to express what they feel at each step of the move, including their resettlement in their new home. 

My Moving Booklet is an amazing tool for parents and relatives to understand their children's feelings, help him/her through the transition period, and to guide him/her to new challenges and opportunities. Key is the freedom to express their emotions via drawing, writing, adding photos to their "map of feelings", which uses emoticons to help the child understand the emotions they might experience, such as frustration, confusion, loneliness, sadness, excitement, happiness. References to Besanceney's first book, B at Home: Emma Moves Again, are included to illustrate various topics. 

The book opens with a picture of "now":  home, surrounding places, people, school, friends, traditions and habits. It follows with a section looking at the reasons for the move, recommending that the child write a list of the pros and cons of relocating. This task includes the child exploring and learning about their new location.

The third section concentrates on the actual move incorporating issues like saying goodbye, what to pack, and collecting messages from teachers, classmates, friends and other important people.  

The final section focuses on the new location: home, school, making friends, learning new traditions and rituals.  At this stage in the relocation process, the author recommends the child make a second list of the pros and cons of their new location – highlighting that there are many things to discover in a new place.  A list of useful resources can be found at the end of the booklet. 

My Moving Booklet is a wonderful step-by-step activity book (65 pages) for children who are relocating with their parents. By completing the booklet, a child gains a better understanding of their feelings and has some practical tools to aid them in the relocation process. This is a valuable tool to help parents better assist their children with the move and would make a priceless gift to the child from a teacher, a school, a close friend or relative. 

~ Reviewed by Sonia Nding in June 2015. Visit Sonia's website at www.CreativeHarmonyBySonia.com.