British expat Jasmina is a content writer and self-published author of The Mexican Duena – a story based on true experiences that she and other expats lived through in Mexico. As film festival media, she's been on worldwide travels and has lived in many places all over the globe. Here, she tells us about her expat experiences in Panama City. To keep up with Jasmina, check out her website and Twitter.
About Jasmina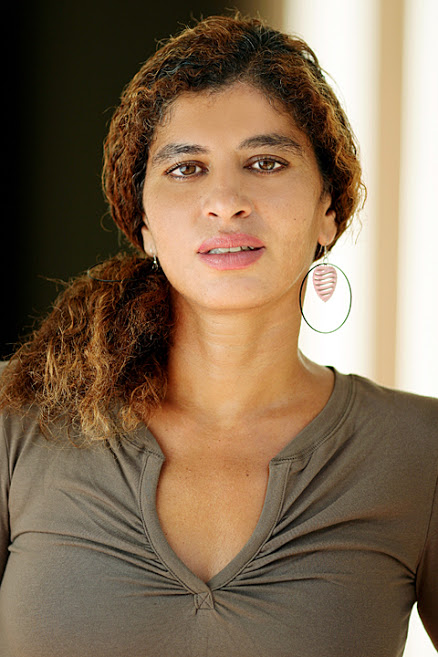 Q: Where are you originally from?
A:  England.
Q: Where are you currently living?
A: San Carlos District, Costa Esmeralda, Panama, situated on the West Panamanian coast.
Q: When did you move here?
A: Five years ago.
Q: Is this your first expat experience?
A: No, I have lived as an expat in Mexico, Costa Rica, Panama, Trinidad and Tobago, Venezuela, France, Portugal and Los Angeles, USA.
Q: Did you move here alone or with a spouse/family?
A: Well, alone, but there are interested parties who are dying to join me as I am in close proximity to the equator! With an excellent quality of life in comparison to theirs.
Q: Why did you move; what do you do?
A: I wanted a different style and pace of life that was closest to my Latin American roots, away from the pressures and the hustle and bustle of city life, which is difficult to readjust to once one experiences Latin America, in my opinion. Also, I prefer tropical climates and the healthy diet associated with that – more fresh foods, fresh fish, fruits and vegetables. Here I am able to live a life of contrasts. I have the peace and serenity in my beach-located casa versus city life, as and when I need a change of scenery or the contrast in daily life.
Living in Panama City
Q: What do you enjoy most about Panama? How would you rate the quality of life compared to your home country?
A: Varied – no two days are the same! I live near one of the surfing beaches, which is ideal for a morning walk and swim. There are a lot of nature walks around, as well as small local shops, bakeries and local fruit and fish markets, which one does not envisage away from city living. In contrast, I can head to the huge shopping malls in Coronado or Panama City where I can find anything and everything, all priced in US dollars which is equivalent to the Panamanian Balboa.
Panama City is always vibrant with different aspects – from the Cinta Costera skyscrapers, the business district and the Panama Viejo (the old city, with its colonial and historical charms) to Clayton, the embassy-and-school district located near to the scenic Panama Canal, not to mention the numerous market stalls in the city. I have a great quality of life and don't feel lacking in any respect in comparison to my home country.
Q: Any negative experiences? What do you miss most about home?
A: Initially finding suitable long-term accommodation was difficult and I had to move a couple of times. Long-term accommodation is advertised on a seasonal basis, so one has to take a tourist option initially. Hmm, I would say that especially during periods of extreme heat I miss the cold climate, if somewhat temporarily!
Q: What are the biggest adjustments you had to make when settling into expat life here? Did you experience any particular elements of culture shock?
A: Slower pace of life, a 'manana' system at times, where one would have an expectation of an arranged or definite time or arrangement, whether on a business or personal level, and this could be flexible, rather than a deadline or specified time and place, which I am accustomed to.
Q: What's the cost of living compared to home? Is there anything particularly expensive or particularly cheap in Panama?
A: The cost of living is economical and very cheap, clothes and food wise. Electrical items are plentiful and low cost too, including the main named ones from the US. Everything is priced in USD so there are no complicated exchanges to think about. Also, there is a duty-free zone in Colon and many bargains which the tourists arriving on cruises enjoy when stopping over in Panama City or Colon.
Travel is very affordable by local or international bus through to other Latin American countries. The airport is well served and flights are well priced and frequent with a range of destinations within Latin American countries, and USA and Europe also. One can hire a local to help with the day-to-day running of the house, garden or construction for a very reasonable price.
Q: How would you rate the public transport in Panama City? What is your most memorable experience of using Panama's transport system?
A: Oh wow! Buses start their fares at 25 cents! It can be a unique experience, especially in Panama City where some of the older US American school buses are used on some routes, and always guarantee a blast of 80s music, regatton, rock or something else. That can be quite amusing sometimes, and an entertaining experience!
The modern buses known as Metrobus offer an air-conditioned experience and the price is similar too. The highway infrastructure is fantastic and bus travel across Panama is excellent based on four privately owned expressways (Corredor Sur/Norte, La Chorrera and Colon Expressway) operated by a toll system for cars and buses. Long-distance buses arrive daily from Costa Rica and the famous Tica Bus travelling along the Pan American highway from Mexico, through the Central American countries.
One of my most memorable experiences was an arranged 'city tour' to the Panama Canal that instead took us beyond the city for the day to Isla Grande as the driver wanted to show us one of the best parts of the country, which we all agreed would be a great idea. The bus took a 'diversion' and over two hours later he pulled up at a restaurant on the shoreline with a view of Isla Grande.
The driver then announced he had a family restaurant here, where we could relax on the beach, and he had arranged for us to arrive there by a fisherman's boat in deep waters. It was an interesting day, where we trusted the driver, saw the sights and relaxed on the island of Isla Grande at his family restaurant with deckchairs, coconut water and culinary delights. All of which was unexpected.
Q: How would you rate the healthcare in Panama City? Are there any hospitals you would recommend?
A: Healthcare is cheap and of excellent standards. Panama operates on a dual-healthcare system – so one could choose to go locally and pay next to nothing to see a doctor, or seek a doctor on a private basis, which can be reasonably priced also. Medicines are very well priced, with an extraordinary range and variety, and there are pharmacies literally on every corner. I would recommend the Hospital Punta Pacifica, The Panama Clinic and Hospital Nacional, among others. Hospital Punta Pacifica and The Panama Clinic are almost equal to American standards.
Q: What are the biggest safety issues facing expats living in your Panama? Are there any areas expats should avoid?
A: Generally speaking, no, however as with anywhere worldwide avoid carrying expensive or important possessions on show when walking around in a city. Walk always in well-lit areas and avoid walking alone at night in badly lit areas, especially in more remote locations.
Q: How do you rate the standard of housing in Panama? What different options are available for expats?
A: There are 'urbanisations' or developed gated communities in the city and dotted all along the coastline, developed or in development. The housing can range from villas to apartments with all the amenities available from swimming pool, to golf course, private beaches and some local shops and amenities. In the city itself, apartment living can be in high skyscrapers, which are very modern and accessible with concierge and rooftop gyms and spas.
Q: Any areas or suburbs you'd recommend for expats to live in?
A: In Panama as a whole, I recommend Coronado, Costa Esmeralda, Boquete, El Valle de Anton for country/beach style contrast living, Casco Viejo (old town) for cultural and colonial style living, also Avenida Balboa for skyscraper apartment living. Clayton is near to the Panama Canal a few kilometres from Panama City with good schools.
Meeting people and making friends
Q: How tolerant are the locals of foreigners? Have you ever experienced discrimination in Panama?
A: Not at all. I have found Panamanians easy going, friendly, willing to help and always eager to practise their English. They are a very welcoming nation with a laid-back attitude.
Q: Was meeting people and making friends easy? How did you go about meeting new people?
A: I made friends locally with my neighbours who were a mixture of expats from the US and locals. Most expats tend to have locals working for them in the house, as domestic labour is very cheap and accessible, either doing construction or gardening. They are very friendly and willing to help or share their local knowledge or tips on their country, and in some cases can even escort you to the city or somewhere to help you familiarise yourself with your new surrounds and local area. I always try and attend local events and reach out to people that way, and after a while one blends in as a local and is treated as one, so become part of a community meeting a mixture of expats and local people as time goes on, and a little community grows.
Q: Have you made friends with locals or do you mix mainly with other expats? What advice would you give to new expats looking to make friends with the locals?
A: I enjoy the best of both, as I enjoy the variety of thinking and different personalities as well as speaking the local language of Spanish. I would say to those looking to make friends with locals, always be prepared to smile, nod and say 'hola' (hello) and make an effort to learn some key phrases in the language. Over time, try and learn the language as the locals always appreciate it more if one can communicate in their language and they consider it a mark of respect too, even if it is just a few words.
Working in Panama City
Q: Was getting a visa a relatively easy process? Did you tackle the visa process yourself, or did you enlist the services of an immigration consultant?
A: Myself. There is an option of the Panama Friendly Nations Visa, where it is easier for expats from certain countries such as the UK and US to apply for long-term status. This also comes with some added benefits of well-priced healthcare options and local discounts in shops etc.
Q: What is the economic climate in the city like? Which resources did you find most useful?
A:  I worked remotely, mostly online work, though there are many expat forums. The main ones with good information on Panama, are Craigslist and encuentra24.com advertising a wide range of job opportunities and much more including housing options, language classes etc.
Q: How does the work culture differ from home? Do you have any tips for expats doing business in Panama?
A: In Panama City, business can be very similar, especially if working with an international-based company. On the whole, business is a little slower and not so much to a structured timetable. It is key to have an open mindset and realise that business dealings may be much slower and not like that of the UK and US for comparison.
Family and children
Q: Do you think there are any specific challenges for an accompanying spouse?
Yes of course, as entering a whole new way of thinking, being and doing requires one to be open minded, and to research local cultures, history and customs.
It is admittedly an adjustment over time. Challenges could be to overcome the 'pre-conceived' expectation of the norm back in one's home country, so my advice would be to approach it openly with no initial expectations.
Q: What are your favourite family attractions and activities in the city?
A: Panama Canal, walking the Cinta Costera. Panama Viejo and Casco Antiguo, which are the cultural and historical parts of the city. The Miraflores Visitors' Center, the Bridge of the Americas, Causeway Islands and the Biomuseo (museum) designed by Frank Gehry. As well as local beaches such as Veracruz, and the Allbrook Shopping Mall which is huge and has a superb variety of eateries and shops!
Q: What are the schools like, any particular suggestions?
A: There are many international private schools in Panama offering a bilingual education in Clayton, for example Kings College, The British School of Panama, Howard Academy, and also a German-and-French-based school for those expats from those respective countries or seeking an additional language for their children. These school provide the international standard based on an Oxford or Cambridge curriculum. Local school education is also available but it may not meet the standards and curricula that expats are accustomed to in their home country and may be considered to be a basic education.
Final thoughts
Q: Is there any advice you would like to offer new expat arrivals to your city or country?
A: Always be open minded, enthusiastic, be willing to meet people and embrace the cultural and historical aspects too. Especially try not to come with an expectation of the norm back in your home country.
►Interviewed in April 2021