Anastasia is a Russian expat living in
Vietnam
. Having previously lived and taught English in China, Anastasia moved to the Vietnamese capital, Hanoi, in search of new opportunities to teach in a less restrictive environment. Anastasia has been enjoying the warm climate of Vietnam, but finds the traffic quite crazy. She blogs about her expat adventures in Southeast Asia at
Annyshka-Travel
.
About Anastasia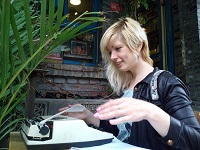 Q: Where are you originally from?
A: I was born in Russia and lived in St Petersburg.
Q: Where are you living now?
A: At the moment I live in Hanoi, Vietnam.
 
Q: When did you move to Vietnam?
A: I moved in July 2016. My Chinese visa was running out and I decided to go to Vietnam.
Q: Did you move to Vietnam alone or with a spouse/family?
A: Actually alone.
 
Q: Why did you move to Vietnam, what do you do?
A: The reason is simple. Before moving to Vietnam I worked as an English teacher in one of China's schools. The education system in China is not aimed at independent thinking (not welcomed by the current system). No one should not be creative and be different from the majority (in some sense). In Vietnam, children are more independent.
Living in Hanoi
Q: What do you enjoy most about Hanoi? How would you rate the quality of life compared to Russia?
A: As you know Russia is a cold country. The biggest plus for me is the warm climate of Vietnam. Recently I was often sick with colds and other illnesses related to the Russian climate. Here I feel much better. I lived in the city and it was always stressful. Here people see the world differently, it's a different mentality.
Q: Any negatives? What do you miss most about home?
A: I miss some people left in Russia. But for sure I do not miss the stress and colds. Among the negative things is the crazy traffic.
 
Q: What are the biggest adjustments you had to make when settling into expat life in Hanoi? Did you experience any particular elements of culture shock in Vietnam?
A: I have lived and travelled in Southeast Asia since 2012. I have suffered from culture shock in China (just like another planet or big factory as you wish). The most important skill that I had to learn was driving a motorbike. This is really important because otherwise you have to go by foot everywhere.
Q: What's the cost of living in Hanoi compared to home? What is cheap or expensive in particular? 
A: When compared with Russia, the cost of rental housing and food are cheaper in Vietnam. Clinics for foreigners are extremely expensive. In Russia this service is almost free for me (except dental).
Q: How would you rate the public transport in Hanoi? What are the different options? Do you need to own a car?
A: In my opinion buses are a very convenient form of transportation in Hanoi. This is the only alternative to motorbikes. The cost of car maintenance in Vietnam and Hanoi in particular is great. Very few foreigners here drive a car (due to government taxation). 
Q: How would you rate the healthcare in Hanoi? Have you had any particularly good/bad experiences with regards to doctors and hospitals? Are there any hospitals you would recommend?
A: As I mentioned earlier the clinics for foreigners have inflated prices. It is much cheaper to be treated in clinics for the locals but for this you will need the presence of a Vietnamese friend or colleague which greatly simplifies the process of communication and the cost of medical procedures.
Q: What are the biggest safety issues facing expats living in Hanoi? Are there any areas expats should avoid?
A: Vietnam is mostly peaceful. There are no particularly dangerous parts of town. There is some fraud with the prices in the shops, they are trying to sell things at more expensive prices but it is certainly not a threat to life and health.
Q: How do you rate the standard of housing in Hanoi? What different options are available for expats?
A: The most famous among expat areas is West Lake. If you choose accommodation close to the outskirts and non-touristic places can get a better price.
Q: Any areas/suburbs you'd recommend for expats to live in?
A: I recommend starting with Ho Tay area. This is the most famous area for newcomers. 
Meeting people and making friends in Hanoi
Q: How tolerant are the locals of foreigners? Is there any obvious discrimination against particular religions or women etc.?
A: Most Vietnamese are friendly. In Hanoi there is an ambiguous attitude to the white people (remember the US-Vietnam War when people were killed 40 years ago). Therefore, such an attitude is justified. There is a very interesting attitude towards women. On the one hand there are a lot of female managers (particularly in education), on the other hand women are not exempt from general neglect. Sometimes you can see women with black eyes. But as we say in Russia: "Do not go in a strange monastery with your regulations." You can accept it or not accept, but it's a different culture.
Q: Was it easy meeting people and making friends in Hanoi? How did you go about meeting new people?
A: You can make buddies in Hanoi easily. This city is visited all year round. In addition many young men and women come here to work. I use various online sites, such as couchsurfing.com (for hanging around) and recommendations.
Q: Have you made friends with locals or do you mix mainly with other expats? What advice would you give to new expats looking to make friends? Any social/expat groups you can recommend?
A: Making new friends is not difficult, if you really want it. The language of friendship and love is universal for the entire world. I cannot recommend any specific group, because I do not stick to a limited circle of people.
And finally...
Q: Is there any other advice you would like to offer new expat arrivals?
A: Be attentive to yourself and the people around you. Respect other cultures. Try to understand the place where you are to make your life easier. And good luck with new experiences.
► Interviewed October 2016