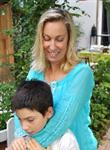 Paris-based writer Anne Marsella is the author of the award-winning collection of short stories, "The Lost and Found and Other Stories" and the novels "Remedy", "The Baby of Belleville" and "Patsy Boone", an epistolary narrative written directly in French. Her work has appeared in numerous publications in the US and in France; she is the recipient of a Pushcart Prize nomination and New York University's Elmer Holmes Bobst Award for Emerging Writers. Having taught literature and writing at the American University of Paris and associate directed NYU's Writers in Paris program, she currently directs the Wells College Arts in Paris program.
She writes regularly about France, motherhood, art, literature and Belleville in her blog at www.annemarsella.com
Read more about the country in the Expat Arrivals expat guide to France or read more expat experiences in France
About Anne
Q: Where are you originally from?
A: Fresno, California
Q: Where are you living now?
A: Paris proper. The 19th arrondissement
Q: How long you have you lived in Paris?
A: Twenty-two years
Q: Did you move with a spouse/ children?
A: I came here as a graduate student, single.
Q: Why did you move to Paris; what do you do?
A: I came here to pursue my studies in French literature, completed my Master's at the Universite de Paris VIII and stayed on because I loved living here. I am a novelist and have found Paris so alive and inspiring for writing. The encounter with the French language has also enriched and expanded my English, and this has helped me develop a style and voice that is uniquely my own. My novels explore the city in vivid and unexpected ways. Paris still surprises me, and I've been here for over two decades!
About Paris
Q: What do you enjoy most about Paris, how's the quality of life in France?
A: Its beauty, its social diversity, its food, to name a few. I am married to a Frenchman, have taken French nationality and have become so accustomed to the French way of life that America now seems rather odd to me!
Q: Any negatives? What do you miss most about home?
A: I dislike the city's density – too many people crowded together. I've never gotten used to it. I also don't like the fact the people don't pick up after their dogs. There's a general lack of civic sense in the city.
Q: Is Paris safe?
A: Yes, I believe it is.
Q: Describe an ideal way to spend a weekend in Paris?
A: We love to go to museums in the morning, either on Saturday or Sunday. Sunday we usually dedicate to being flanneurs (strollers or loungers)…
About living in France
Q: Which are the best places/suburbs to live in Paris as an expat?
A: I really don't know. I've lived in the 19th for over 15 years and love it. We have lots of parks, the canal de l'Ourcq and fun places to take the kids like the Cafezoide and the Villette.
Q: How do you rate the standard of accommodation in France?
A: Flats tend to be small in the city; downsizing is recommended.
Q: What's the cost of living in Paris compared to home? What is cheap or expensive in particular?
A: Paris has gotten very expensive over the last few years, and is becoming a harder place to live because of this inflation.
Q: What are the locals like; do you mix mainly with other expats?
A: When you have a family in Paris you tend to meet lots of other families, many of whom are also Franco-American, say. I have a mix of French and American friends, but also friends from other places like South America, Russia, Australia…
Q: Was it easy meeting people and making friends?
A: The French are not generally easy to meet. You have to work at it and it helps to know their language.
About working in Paris
Q: Did you have a problem getting a work visa/permit?
A: For many years I struggled with this problem. Eventually I got married and that solved it. I also applied for nationality because I never wanted to be bothered again with the infamous carte de sejour (residency card)!
Q: What's the economic climate like in France, is there plenty of work?
A: Things are a bit rough-going right now. Unemployment is high.
Family and children
Q: What are the schools like, any particular suggestions?
A: The French public schools are basically very good, but some neighbourhoods in the northeast of the city have social problems which complicate the school issue. We've put our son in a small Catholic school nearby, which is excellent and inexpensive. It's been great. I would strongly advise against alternative schools in France, which tend to be "cultish." We first put our son in a supposedly bilingual school in the 19th which prided itself on its "innovative" pedagogy and vision. It turned out the school functioned as a cult and that our son was simply not learning. We got him out, but he had to be put back a year because of the school's negligence.
Q: How would you rate the healthcare in France?
A: So much better than in the United States!
And finally…
Q: Is there any other advice you like to offer new expat arrivals?
A: Learn the language the best you can. This is the key to making France your home in a rich and sustainable way.
~Interviewed November 2011