BombayJules is a British expat living in India. She moved to Mumbai with her husband when he was transferred there for work. She has made the most of her time in Mumbai as a "trailing spouse" (a term she is not too fond of) by volunteering at an NGO, writing for an expat magazine, travelling, and experiencing all that India has to offer. BombayJules blogs about her experiences of expat life in India at bombayjules.blogspot.in
Read more about India in the Expat Arrivals India country guide or read more expat experiences in India.
About you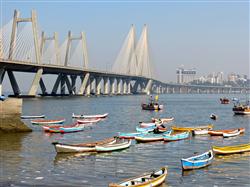 Q: Where are you originally from?
A: London, England
Q: Where are you living now?
A:  Bandra West, Mumbai, India
Q: When did you move to India? 
A:  June 2012
Q: Did you move with a spouse/children? 
A:  With my husband
Q: Why did you move; what do you do?
A:  My husband was relocated to Mumbai by Which? Magazine to head up their Indian consumer publication called Right Choice.  I gave up my job as an accountant working in the real-estate sector to follow him.  However, I started volunteering at an NGO immediately upon my arrival in India - on an initial three month placement.  I am now on the Executive Council of that NGO advising on Finance and Strategic Planning.  I also write my blog and write a column for a local expat magazine.
About Mumbai
Q: What do you enjoy most about Mumbai, how's the quality of life? 
A:  Our quality of life in Mumbai is probably much better than back in London! We have an apartment and driver provided by the company making it easier to get around.  Food and eating out is inexpensive and Mumbai is a very cosmopolitan city with lots to offer an explorer such as myself.  People are also much more friendly than back home and it is easy to make friends with other expats through various conduits.
Q: Any negatives? What do you miss most about home? 
A:  It is no secret that Mumbai is filled with appalling poverty and it hurts me to see people having to work so desperately hard to only earn a dollar a day.  It is not the cleanest of cities and you always have to be wary of sanitation.  Sights of rubbish filled train tracks, pavements and beaches are always distressing to me – I always want to go and clean it up!  I miss UK supermarkets (especially Waitrose) and the ability to buy foreign ingredients really easily.  Choice is much more limited here in India.  I also miss the BBC.
Q: Is Mumbai safe? Are there any areas expats should avoid?
A: In general, India is very safe – Mumbai more so than northern cities such as Delhi and Jaipur.  I never feel unsafe although one should always be wary when walking alone at night (which seldom happens – I always have a car). The Delhi rape case has recently highlighted underlying problems between the sexes in this country, which we can not afford to ignore. Theft/burglary is very rare but there are areas where pickpocketing can happen – such as at busy tourist sites. 
Q: How would you rate the public transport? What are the different options? Do you need to own a car? 
I have only been on the trains a few times which are very cheap and very efficient.  However, they are also extraordinarily busy, especially at peak commuting times.  I therefore avoid them.  I am more likely to take a Mumbai taxi from North to South or if travelling locally – an auto rickshaw.  These are fast, convenient (and fun!) and a minimum 15 rupees to go several miles.  I have never taken a bus as they look very hot and very packed!  But this would be the cheapest way to travel if you are without your own private transport. Most expats that are working in a corporate environment have their own car and driver, which are inexpensive by Western standards.  Most NGO workers will use public transport, taxis and rickshaws. 
Q: How would you rate the healthcare in India?
A:  Seeing a doctor if you need to is quick and cheap – there is no public healthcare as such, you pay for everything. I have not yet had to use a hospital but from other friends' experiences, they are usually efficient, clean and friendly.  There are cultural differences which people should be aware of if they are thinking of having a baby in Mumbai (for example, husbands may not be let in the delivery suite if the mother has to have a caesarean, and it is also illegal to know the gender of your baby before delivery due to selective abortions that still happen in India). 
About living in Mumbai
Q: Which are the best places/suburbs to live in Mumbai as an expat?
A:  Research very carefully which area you want to live in.  For expats, these usually fall into three camps – Bandra, Powai or Malabar Hill. A lot of people with children tend to live in Powai with its towering new apartment blocks and access to good schools.  But it is quite a way out of central Mumbai so you can end up feeling cut off unless you are prepared to travel in Mumbai traffic to get south.  Bandra (where I live) has a younger vibe and is close to lots of trendy restaurants and shops and only an hour from south Bombay via the Sealink.  It is very popular with expats.  Malabar Hill is the most refined part of Bombay with its clean, leafy streets and colonial buildings.  But in my opinion, there is less choice of restaurants and things to do and tends to suit older couples or people who have been living in the city for a long time.   If you have children, where they go to school will be a deciding factor on where you live.  
Q: How do you rate the standard of housing in Mumbai?
A:  The standard of housing varies enormously in Mumbai depending on your budget.  Mumbai real estate is some of the most expensive in the world and there is not enough to go around for everyone. For the average Indian in Mumbai, they will live in a tiny chawl with most of their family, or at best, a two room apartment.  Buying or renting proper living accommodation is just too prohibitively expensive.  There are now hundreds of apartment buildings going up in and around Mumbai, which the burgeoning middle class is only just beginning to be able to afford.  For expats and the wealthiest of Indians (and Bollywood/cricket stars), it is a different story. With huge budgets that can just about cover the massive rental prices of Mumbai, corporate expats live in the best areas and generally have the best standard of housing. Perhaps 1-3,000 square feet with two to six bedrooms and two to three bathrooms at minimum. Which is very much in contrast to the average Mumbai dweller!
Q: What's the cost of living compared to home? What is cheap or expensive in particular?
A:  Property prices/rents are huge in Mumbai compared to the UK.  We are probably paying Knightsbridge levels of rent for our own apartment in Bandra. However, everything else is very cheap – especially food, transport and internal travel in India. I was shocked by how expensive everything is in London last time I visited and it is something I have complained about on my blog. 
Q: What are the locals like; do you mix mainly with other expats?
A:  There is a very strong expat community in Mumbai, although I like very much to mix my friendships with Indians too.  I am lucky I can do that through the volunteering work I do.  Indian people are some of the friendliest and most inquisitive in the world. I get to work with our Indian staff and meet people from the communities in which we deal. They are only ever polite and smiling and generous.  Considering what they have put up with in their daily lives sometimes, it always amazes me just how resilient they are.  And the children are always delightful!   We do mix with other expats too as it seems to happen naturally when you find people you have things in common with. 
Q: Was it easy meeting people and making friends in Mumbai?
A: I found it easy to meet people and make friends through volunteering and just getting out there.  Organisations such as Internations, Mumbai Connexions, The Cigar Club and the American Women's Club also makes it possible to make new friends very quickly.  They organise a lot of social events and clubs and are very friendly.  I have also met quite a few people through my blog and the blogging network is also very friendly.  And it is always easy to set up your own clubs through Facebook – I set up an amateur photography group with a few other like-minded ladies for example. 
Family and children
Q: Did your spouse or partner have problems adjusting to their new home?
A:  My husband had no problems adjusting – we are both very adaptable people.
Q: Did your children settle in easily?
A:  We have no children.
Q: What are the schools like, any particular suggestions?
A:  I hear that the American School, The German School (DSB) and the Oberoi International School in Goregaon are the usual and best places where expats send their children. 
And finally…
Q: Is there any other advice you would like to offer new expat arrivals?
A:  If you are a 'trailing spouse' (a term I despise!) with no work visa, you should attempt to find something meaningful to fill your time.  There are plenty of expat wives that are willing to spend their time at coffee mornings or 'down the club' but this is a waste of many people's skills.  Find a worthwhile cause in Mumbai – after all there are so many! – and try to volunteer for at least a day a week. Whether it be teaching English to small children, providing administrative or IT skills or fundraising; you won't regret it and you will find it so rewarding.  And don't worry about the environment – it's never as bad as you think it will be! Also, people always ask me how I could possibly have done so much during the last twelve months that we have been in Mumbai.  Well, it is partly because we initially thought we would only be here for a year – so we tried to squeeze in a lot of travel and sight-seeing.  But really it's because I get out there and use my eyes, ears and senses. I want to enjoy being in Mumbai and I want to learn as much as I can.  I just get out there and do it and I believe everyone else should too. Make the most of an amazing opportunity to stay in this incredible country!

~ Interviewed May 2013