Jenny is a British expat living in France. She moved from Manchester to the northwestern department of Finistere, in the Brittany region, with her partner John in search of a different and easier way of life. They both left careers and businesses behind and now spend their time renovating a derelict house in the small village of Heulgoat. You can read more about their adventures in France in their blog, jennyandjohninbrittany.blogspot.com

Read more about France in the France country guide, or read more expat experiences in France.
About Jenny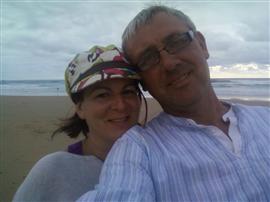 Q: Where are you originally from?
A: Stockport, Manchester, UK
Q: Where are you living now?
A: Huelgoat, Finistere, France
Q: When did you move to France?
A: August 2012
Q: Did you move with a spouse/children?
A: I moved with my partner John.
Q: Why did you move; what do you do?
A: We moved for a different, easier way of life, I was a freelance quality management consultant, and John was a self-employed builder. We both left careers and businesses and the stress that comes with that style of life to buy a derelict house which we are renovating.
About France
Q: What do you enjoy most about Huelgoat; how's the quality of life?
A: We live in a village, and the quality of life is so much better. We left a city behind, and within a few weeks had met so many new people; life is so much friendlier in a village. We are not stressed with work and have time to sit back and get to enjoy the simple things in life. We have just acquired two sheep for our garden, not something you can do in a city!
The village of Huelgoat is in the middle of the Monts d'Arree, and there is a large lake in the village centre. This is the entrance to the enchanted forest, which is full of boulder formations and myths of King Arthur and fairies.
We can leave our house and in five minutes be having a picnic by a fairy pool or overlooking the Devil's Grotto. And in summer, there are concerts in the amphitheatre in the forest, as much as we loved music concerts in Manchester nothing compares to the acoustics and surroundings of an amphitheatre in an enchanted forest.
Q: Any negatives? What do you miss most about home?
A: We have not come across any negatives yet; we are struggling with the language but are learning more day by day. The only thing we miss about home is our children, family and friends. But with Skype installed, we can still speak regularly. It is difficult knowing that grandbabies are growing fast and will only associate you with a computer screen.
Q: Is Huelgoat safe? Are there any areas expats should avoid?
A: Huelgoat is very safe, for the first four weeks we did not have a back door on the house and the windows were not secure. We did have our satnav stolen from the car, but the car was left unlocked and the satnav in view in the window; this crime was the talk of the town for some time afterwards. If common sense prevails, this is one of the safest places I have ever lived.
The only warning is to be careful when random people are passing through the area.
Q: How would you rate the public transport? What are the different options? Do you need to own a car?
A: There is a bus that passes through the village, but we have rarely seen a taxi; a car is essential if living in this area and you want to explore.
A bicycle is an excellent form of transport and as the roads are very quiet it is a safe place to cycle. The area is also very popular with walkers as it is in the middle of the national park and forest.
Q: How would you rate healthcare in France?
A: The healthcare is excellent. We have had to use the doctor once, and there was no need to make an appointment, blood tests were booked and would've been completed at the house the same day, had the house been suitable. As it wasn't, we went to the clinic the following morning (Saturday) and had all results back in the post on Monday morning.
The healthcare in France is excellent once you are in the system, as 70 percent of costs are reimbursed. You can take insurance to cover the other 30 percent.
We have not yet completed our full registration into the health system; we have heard this can be confusing, but cannot comment until we have completed the process.
I have also had to use the dentist, again very different from the UK as you do not need to apply to be registered. You just go in and book an appointment and receive treatment; this is paid for at the time, but the cost is less than the UK NHS, again once in the system with top-up insurance this is fully reimbursed.
We are in a village and all of these services are close to the main square, a hospital is in the nearest big town, approximately 20km away. But there is an emergency Pompier service in the village.
About living in France
Q: How do you rate the standard of housing in Huelgoat?
A: It is difficult to rate the standard of housing as there are so many varieties, as this is a village there are plenty of rundown farmhouses available, and in the main village there are many traditional French townhouses. The cost of property is much lower than in the UK, but there is usually a lot of work required to bring them up to standard.
We have not come across many rental properties other than holiday rentals.
Q: What's the cost of living compared to home? What is cheap or expensive in particular?
A: We have generally found the cost of living to be less, but we have spent time looking around for food, clothes and building materials. If you do not shop around you can spend a lot of money, and if you want to eat British products these are much more expensive. Many supermarkets have a Brit aisle, but if you are living in France, why would you want to spend more money on British goods rather than buy the French versions?
There are some exceptions such as chicken. This is much more expensive in France, and often it is cheaper to buy fresh salmon or king prawns, which are also much nicer.
The telephone and internet is also much cheaper in France, as all local and international calls are free with the package that we have. This has meant that our telephone and internet bill is a third of what we paid in the UK.
Diesel and petrol is cheaper than in the UK.
Water is on a meter, and we are awaiting our first bill, but this does make you more aware, and you tend to waste a lot less water when you know you are paying for it.
Q: What are the locals like; do you mix mainly with other expats?
A: The locals are very friendly. We think this is because we are integrating and people know we are here to live. We have taken a prominent house that was derelict and are restoring it to its former glory; it was only one of two derelict houses on the main road into the village centre.
This is one of the nicest things about living here, when you walk past somebody they will always say bonjour or bonsoir; people take the time to speak to each other.
There are a lot of expats in the general area, but all mix well with the locals. There is no 'them and us' culture here as far as we are aware.
Q: Was it easy meeting people and making friends?
A: Meeting people was very easy. As we were renovating the house during the summer and autumn, we often had the door open and every person passing, French and other nationalities, would pop their head in and say hello and have a look at what we were doing. I think we became known as the mad English couple on the hill!
We have been out to dinner on many occasions with people we meet, as this area seems to attract more retired people (young and old) there is time for people to get to know each other. The restaurant and bars are also very friendly, and it is easy to meet people in them; we met and spoke to more people in this village in the first two months than John had living in his house in the UK for 15 years!
Family and children
Q: Did your spouse or partner have problems adjusting to their new home?
A: My partner John has struggled more than I have with the language barrier, but this has not stopped him from feeling at home here; our children are grown up, and my daughter had her first baby after we had left the UK. This is very difficult as it is so emotional not being there for your children at important times, but we are not far away and there are airports that fly to the UK, so I was able to go and stay with her for a few weeks around the birth. With Skype and easy travel, the distance is not as bad as it could be, but there are times when you wish you could just pop round or be on hand to help out.
And finally…
Q: Is there any other advice you would like to offer new expat arrivals?
A: The main advice is to integrate as much as possible and to try to learn the language. You are moving to France, your French neighbours are not moving to England.
Also be wary of some of the advice given by people who have not integrated. You do not need to buy everything from the UK and have it shipped over; things may be different, but isn't that why you chose to move?
~ Interviewed March 2013