Keli is an American expat living in Lagos with her husband and young daughter. They moved to Nigeria when her husband was recruited to work for a corporation in the oil and gas industry. Although the traffic in Lagos is the number one thing that can ruin her day, thus far, Keli finds the Nigerian people friendly and the large expat community welcoming. She is slowly finding her way in this bustling and exciting city.
Learn more about Nigeria in the Expat Arrivals Nigeria guide or read more interviews with expats in Nigeria.
About Keli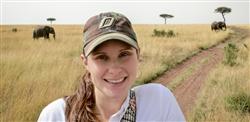 Q: Where are you originally from? 
A: Houston, TX, USA
Q: Where are you living now?
A:  Banana Island, Lagos, Nigeria
Q: When did you move to Nigeria? 
A:  September 2013
Q: Did you move with a spouse/children? 
A:  My husband and 15-month-old daughter
Q: Why did you move to Nigeria; what do you do? 
A:  My husband was recruited by a company based in Lagos. He works in the oil and gas industry.
About Lagos
Q: What do you enjoy most about Lagos, how's the quality of life? 
A:  The Nigerian people make Nigeria a nice place to live. They love to love people. Upon our arrival there wasn't one person that didn't have a smile on their face – well, except the guards (haha).  But, even they couldn't resist giving a smile to our baby girl. In terms of quality of life, it can be low or high depending on what you like to do. We are "outdoors" people that love to rock climb and camp so we've had to adjust our activities (a lot) to live contently in Lagos. We were able to join a few clubs and organisations that are similar to country clubs in the States; they are great places to meet (or meet up with) friends. Also, going to the beach is a fun/big activity here in Lagos. So, you can find things to do; you just have to seek it out. 
Q: Any negatives? What do you miss most about home? 
A: Yes, plenty of negatives if you choose to focus on them. Traffic (go slows) is the number one thing that can ruin your day. If you are in a go slow then your plans for the day can be pushed back at least an hour. It's really a chain of events sort of thing that can cause the frustration.  For example, because the maintenance or curtain people don't show up on time you aren't able to leave for the grocery store on time which leaves you with late errands to run (which in turn gets you in another go slow).  Also, the workers I've had to deal with don't like to make things look nice. Their philosophy is sort of "if it works then it is fixed", even if half the wires are hanging out of the wall (literally). In the end, the thing I miss the most about home is getting in my car, going to one store for the things I need, not really worrying about traffic, and doing this any time I need or want to.
Q: Is Lagos safe? Are there any areas expats should avoid?
A: Yes, I believe the city is safe. Not once have I felt unsafe or unwelcome. In reality, Victoria Island and the surrounding suburbs are relativity safe. However, just like any other city, you need to be observant of your surroundings. We have no restrictions of where we can go but my opinion for expats is to choose your level of comfort wisely.
Q: How would you rate the public transport in Lagos? What are the different options? Do you need to own a car? 
A: Expats that I know do not use public transportation. The companies here usually give each family a driver; traffic is so bad here that driving is a challenge for even the locals much less the expats (and a wreck is very possible). If the expat doesn't have a driver then they will take a taxi or hire a driver for the day. Again, rarely will you see an expat driving and/or taking public transportation.
Q: How would you rate the healthcare in Lagos?
A: I have no experience with the healthcare here. From what I've heard it is not great but if you need medical care it is available. 
About living in Lagos
Q: Which are the best places/suburbs to live in the city as an expat?
A:  Banana Island is the most expensive place to live in Lagos and considered the safest. Living on Banana is like living in a different world because of the huge compounds with well-groomed streets and a general lack of traffic. Outside of Banana are Ikoyi, Victoria Island and Lekki. Ikoyi is a nice suburb with a lot of housing options, but more are older and still on the pricey side. Victoria Island is the main hub (downtown) for business, so many expats live on compounds their company has for them. Then there is Lekki, which is on the outskirts of Victoria Island. The housing is cheaper with lots of new homes. There isn't a well-established expat community on Lekki and I hear flooding can be an issue. 
Q: How do you rate the standard of housing in Lagos?
A:  The housing can be really nice and modern if the facilities are maintained. They seem to build a lot and maintain a little, but overall the housing is nice.
Q: What's the cost of living in Lagos compared to home? What is cheap or expensive in particular?
A:  Life in Lagos is expensive. If a company isn't helping with your relocation and paying for your housing etc, it would be hard to relocate here. Some of the cheapest items are eggs, yams, fuel, textiles and beer. Expensive items are housing, Western food, clothes, electronics, home furniture, home decor and going out to eat. Most expats spend their money on food and drinks because their companies pay for everything else. 
Q: What are the locals like; do you mix mainly with other expats?
A:  Locals are wonderful people; they love to love. A few local merchants may try to take advantage of the fact that you're an expat, but in Nigeria everything is negotiable (and it's all "part of the game"). Expats just have to stand their ground and be willing to walk away if the merchant doesn't want to budge. In reality, 9 times out of 10 they will call you back with the price you offered.
Q: Was it easy meeting people and making friends in Lagos?
A:  Yes, the expat community is large, and people tend to be drawn to each other. 
About working in Lagos
Q: Did you have a problem getting a work visa/permit for Nigeria?
A:  My husband is the only one working here in Nigeria; he never had any problems getting a visa for work/residence. He used a service both in Houston and Nigeria; this speeds the process up (and keeps you out of the governmental offices). Mine and my daughter's visa process was very straight forward, but we did (same as my husband) use services both in Houston and Nigeria that did everything for us. It was one less thing to worry about.  You would really want to consider doing this if money and time allowed it.
Q: What's the economic climate like in Lagos, is there plenty of work?
A: No, not at all. Jobs are very hard to come by for both the local and new-expat populations.  For new expats, getting hired by a Nigeria-based company requires a tremendous amount of "proving necessity and fit."  However, on the positive side, most expats "come for two years but stay for 10" because there's usually another job available. As for local, it's very slim pickings. 
Q: How does the work culture in Nigeria differ from home?
A:  Lack of urgency, and a general "that's not my job" attitude.  To be clear, this isn't a local vs. expat divide; some expats are truly unengaged in their job.
Q: Did a relocation company help you with your move? 
A: We actually set everything up ourselves. The movers packed everything back home and set it up for shipment.  We set the shipment date and communicated with the importation company. Currently we're waiting on the container to clear. It takes a while because of customs. 
Family and children
Q: Did your spouse or partner have problems adjusting to their new home?
A:  Our new home is awesome and we enjoy the area we live in. Nigeria took some adjustment but we are slowly learning how to keep sane. Patience is key to living in Lagos. 
Q: Did your children settle in easily?
A:  Yes, she is young so adapting was easy for her. Nigerians love babies and she enjoys the attention – a match made in heaven.
Q: What are the schools like, any particular suggestions?
A:  We didn't have to look into schools yet, but I know that there are a few very good international schools. The American and British schools are great schools to enrol your children. The two schools have a long wait list (so I've heard). The best thing to do is prepare; once you know that Lagos is your designation, start the school process. 
And finally…
Q: Is there any other advice you would like to offer new expat arrivals?
A:  Keep an open mind and bring your patience. If you are relocating to Lagos then keep positive and surround yourself with people that enjoy life here in Lagos. It will make a world of a difference and allow you to get out of our comfort zone. Also, read about the city from other expats that have lived here and/or are living here.
– Interviewed September 2013