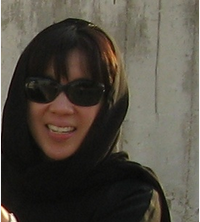 Tania is a Canadian university professor who is married to a Saudi businessman. They divide their time between Vancouver in Canada and the Saudi capital, Riyadh. Being married to a local, the transition to Saudi life was not a difficult one for Tania, who has been touched by how welcoming her Saudi family has been towards her. Don't miss her insightful blog, Reflections in the Sand.
Read more about expat life in the kingdom in the Expat Arrivals guide to Saudi Arabia, or read more expat experiences in Saudi Arabia.
About Tania
Q: Where are you originally from?
A: I was born in Ottawa, Canada.
Q: Where are you living now? 
A:  My husband and I divide our time between Vancouver, Canada, and Riyadh, Saudi Arabia.
Q: How long have you lived in Saudi Arabia? 
A:  We have been travelling back and forth for about three years now.
Q: Did you move to Saudi Arabia with a spouse/children? 
A:  Yes, my husband.
Q: Why did you move; what do you do? 
A:  My husband is Saudi (from Riyadh) and has a company based in Riyadh. I am a university professor and do research and teaching in the area of human movement sciences, rehabilitation and recovery after neurological injury.
About Riyadh
Q: What do you enjoy most about Riyadh, how's the quality of life? 
A:  The food and the people! The Saudis and other expats I have met are all very nice. In general, I find that the Saudis are very warm and hospitable. Among the expats, there's a sort of camaraderie that arises from managing common experiences of this unique country. Regarding food, you can find great Middle Eastern fare, like shawarma and other sandwiches, delectable sweets and chocolates (which curiously are typically served, along with dates and Arabic coffee, before dinner – I love it … you get your dessert before you eat your veggies!), special rice dishes like kabsa, maglooba (or "upside-down"), and mathlutha, seleeq, and lots of different ways of having lamb (dhabiha, which is whole lamb, head and all; mandi, which is meat barbecued inside a deep hole in the ground; and mathbi, which is meat grilled on a hot stone). You will never go home hungry after dinner with your Saudi host!
However, you've got to accept that the lifestyle and daily dynamics here will be very different from home. There's probably no other place on Earth where everything (e.g. gas stations, grocery stores, mall shops) shuts down five times a day for prayer times. This can be somewhat tricky when you're trying to schedule your daily routine, particularly when the traffic (and road construction) can be unpredictable. My solution to this is to just have one main task to do each day. If you plan to get more than two to three errands done in a day…well, good luck!
Q: Any negatives to Saudi Arabia? What do you miss most about home? 
A: I miss the simple freedom of just going out for a walk or to the local shops on my own whenever I want. Because women cannot drive here, everyday mobility is very limited. There's no public transportation system and people don't really walk here. So even though we live very close to our local Safeway, we drive whenever we need to go pick up groceries. It would just be a 10-minute walk, but walking to do your errands is just not that common. Also, there are rarely sidewalks in residential areas and given how people drive here, it's not very comfortable to walk either. So if you need to do one thing when you first arrive in Riyadh, and you are a woman, it's to get a driver! 
Q: Is Riyadh safe?
A:  I think that Riyadh is mostly safe, but of course there will be certain areas where you wouldn't want to venture. I think these are mostly to the south of the city. However, I think that many Saudis also avoid going there, just because these are older areas of town and there's really no reason to go there anyway. I should also point out that given the restrictions on mobility, it is highly unlikely that a woman on her own will encounter those areas anyway. As I mentioned above, a woman cannot drive, so she will always be escorted, either by her driver or another male escort. For both men and women, it's not like you can just walk around wherever you want and there is no public transportation system to speak of, so it's not like you would even 'accidentally' stroll or take the wrong bus/train into a shady neighbourhood.
About living in Riyadh
Q: Which are the best places/suburbs to live in Riyadh as an expat?
A:  I think for Westerners, the best places in Riyadh to live would be in the Diplomatic Quarter or a compound. However, it is difficult to get a place in the Diplomatic Quarter unless you have a special connection (e.g. company arranges housing for you there, or you 'know' someone). If you live in a compound, the disadvantage is that you might have few opportunities to mix with the local Saudi community. From my knowledge, I think that most of the compounds are located in the north end of the city. I think that for most expats who come to work for a specific company or institution, housing is organised for them.
Q: How do you rate the standard of accommodation in Riyadh?
A: I do not have a lot of first-hand experience with a variety of accommodations, but my impression is that the standard of accommodation is quite good (i.e. the buildings are solid – mostly concrete – and very spacious).
Q: What's the cost of living in Riyadh compared to home? What is cheap or expensive in particular?
A:  Groceries and produce are relatively inexpensive compared to home, but it depends on what country it comes from. Locally grown produce and basic groceries (e.g. milk, yogurt, bread) are really cheap.
Q: What are the locals like; do you mix mainly with other expats?
A:  I mix mainly with the locals – my husband's family and friends. All the Saudis I met are very warm and hospitable. When I first started coming here, I was so touched by how most of them went out of their way to make me feel welcome and make sure I was comfortable here. I would say that many Saudis can understand some English. From my knowledge, most Saudis who have a university degree can speak English well. I am learning to speak Arabic, and certainly it makes a big difference in helping to open up conversations with others.
Q: Was it easy meeting people and making friends in Riyadh?
A:  Yes, I think it was, but I had the advantage that my husband already had links here and most of the people I met were from among our extended family and friends. However, I have since met other people and made new friends online and through the expat community. A lot of connections come through word-of-mouth. One of the most active organisations in Riyadh is the American Community of Riyadh. It's American, but all expats are welcome. They organise a lot of different types of events, so there's definitely good opportunities to meet other expats. Attending language classes was also a nice way to meet new people.
About working in Saudi Arabia
Q: Did you have a problem getting a work visa/permit for Saudi Arabia?
A:  No. Since I am married to a Saudi, I am able to enter the country on a marriage visa. It was not a straightforward process – my husband had to go through a lot of administrative loops to get the paperwork done (typical for many things in Saudi Arabia).
Q: What's the economic climate like in Riyadh, is there plenty of work?
A: This is difficult for me to judge, as I am not employed here and have not tried looking for a job here. Certainly in the past, I think Saudi was known as a place where one could find good employment as a health professional with a very good salary (tax-free) and fringe benefits (e.g. round-trip ticket home, accommodation). I am not sure if it is still the same, but I wouldn't be surprised if it was. There are certainly a lot of expats here for work, and you definitely encounter more expats than Saudis in everyday, non-governmental businesses and workplaces.
And finally…
Q: Is there any other advice you would like to offer new expat arrivals?
A:  Saudi Arabia is a country like no other. Be open to the new experience and try not to judge based on first impressions. There's a lot festering under the surface that may not be apparent at first glance. Try to meet and make friends with Saudis when you have the chance. Try to learn even a little Arabic to help open these connections. You may be surprised at how warm and genuine the people are here.
~ Interviewed March 2012