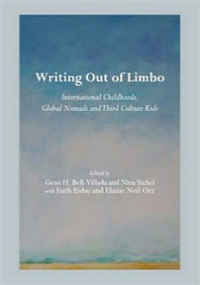 Third Culture Kids and Global Nomads are terms that have gained much prominence in the expat world in recent years. These kids, who live globally and spend a significant time outside of their home country and culture, often face struggles with identity and developing a sense of belonging, which can have profound long-term effects. Many books have touched on these issues, but few bring together such a diverse range of perspectives than Writing Out of Limbo: International Childhoods, Global Nomads and Third Culture Kids, the new book by Gene H Bell-Villada and Nina Sichel, with Faith Eidse and Emailne Neil Orr, which brings together a collection of personal essays and scholarly articles, memoirs and literary investigations of the issue of what it is to grow up globally. 
The book consists of vivid and compelling stories of children who have experienced international childhoods, ranging from business and missionary kids, to foreign service children and military brats. The authors recount their own stories of the wonder of a new culture, language acquisition, the sorting of cultural meanings and adaptation, educational encounters, conflicts and the inevitable return to one's home culture. New and diverse perspectives are given of what it is for Third Culture Kids to grow up between different worlds as those who often did not have the choice to move, but where taken along on the journey as members of the family. 
Not just focused on one particular country, Writing Out of Limbo has a broad appeal as it includes a diverse spectrum of nationalities and encompasses a wide geographical horizon. A common theme seen through each chapter is that of the individual's search for belonging and a place called home, something that is often carried through to adulthood. As Anna Maria Moore recounts in her chapter, Continental Shifts, "In the end I am not tied to any one physical place…The flexible bands that stretch between me and those places keep pulling me back. This life chose me and now I have chosen it". 
This is a compelling read and a must for expat parents, teachers, therapists, teenagers living globally, and for those who have lived the third culture life themselves.