Finian Sedgwick is a Irish expat living in Ho Chi Minh City. In 2012 Finian traded the traquility of the Irish countryside for the vibrant Vietnamese capital. In his interview with Expat Arrivals, Finian discuses his expat experience and offers a great insight into life in Vietnam.
Find out more about life in Ho Chi Minh City by reading our Ho Chi Minh City guide or more expat experiences of Vietnam.
About you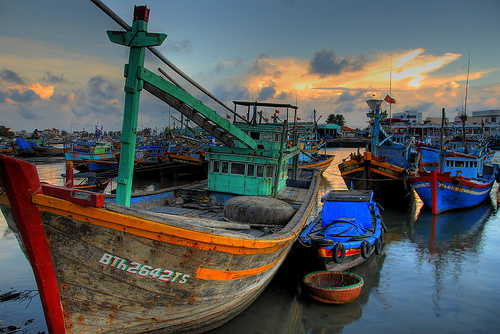 Q: Where are you originally from?
A: Although initially born in London, I am a 22 year old Irishman that spent his childhood growing up in Dublin City and then Cork County. My home place for the last 10 years in the serene countryside along the coast of Ireland is a world apart from the densely populated, almost chaotic cities that Asia has to offer.
 
Q: Where are you living now?
A: I am currently living in the lovely city of Saigon (or Ho Chi Minh City), in the sunny south of Vietnam. I have been lucky enough to have found accommodation on the outskirts of district 1, right in the centre of town. The typical Vietnamese style house is home to me and four other expats who range in nationality from American to English.
 
Q: When did you move to Ho Chi Minh City?
A: I first made the move to Vietnam in the second week of June 2012. Although a large chunk of my time since then has been spent travelling abroad, my role in 2013 is much more focused on travelling on a national level.
 
Q: Did you move with a spouse/children?
A: No.
 
Q: Why did you move to Ho Chi Minh City; what do you do?
A: I moved because I was offered the role as a Jameson Irish Whiskey Brand Ambassador for the country of Vietnam. The decision making process to move took about 2 seconds as I was looking for a chance to return to Asia but this time for the opportunity to work rather than study.
About Ho Chi Minh City
Q: What do you enjoy most about your Ho Chi Minh City, how's the quality of life?
A: Having lived in the absolutely mental, metropolis that is Shanghai, Ho Chi Minh City offers a somewhat gentler approach to the Asian lifestyle. It is a location that provides all the best and craziest things that Vietnam has to offer while at the same time giving the option of beautiful 'western' style hide-aways for when an escape to expat 'reality' is needed. I love that the city is distinctly Vietnamese but with a Western twist.
 
Q: Any negatives? What do you miss most about home?
A: As with any city, there are negatives to living in Saigon but nothing exceptionally specific to the city itself. The pollution is not the worst but many expats will ride their motorbikes/scooters while wearing a face mask. It is possible to get dodgy meat, ripped off by taxi drivers, and robbed but once again; these are all issues that you would face in any city not just in Asia. What do I miss most about home? Well, a good pint of Guinness in my local and then home to my Mum's cooking; but who wouldn't miss that. All in all, Saigon has everything on offer to an expat in need. Of course, certain luxuries you will pay a pretty penny for which is only to be expected.
 
Q: Is the city safe? Are there any areas expats should avoid?
A: In general, the city is very safe. As with any city that you are not yet accustomed to, it is important to not draw massive attention to the fact you are a 'newbie' but mostly, Saigon is a safe place to live. The one rule is to never wave your phone around carelessly and to avoid the more seedy, reckless, and dangerous part of town entitled Bui Vien (the backpackers area).This is where bags, phones and wallets have all been known to disappear quickly from the hands of the careless.
 
Q: How would you rate the public transport? What are the different options? Do you need to own a car in Ho Chi Minh City?
The public transport within the city is extremely limited. The only form that currently exists is the local bus service which is definitely hit or miss and an absolute nightmare at rush hour. I would never get involved with the hassle of having a car, it is more difficult to get around, it takes you longer and once you have reached your destination it is quite likely they have nowhere for you to park. The taxis within Ho Chi Minh are mostly dependable but there are certain taxi companies that will try and rip you off, the best bet is to stick only with Vinasun or Mailinh. The form of transport that still remains most effective if you are brave enough is to fly around the streets is the motorbike/scooter, if you are brave enough.
 
Q: How would you rate the healthcare in Vietnam?
A: I have head mixed stories but from my experience, Saigon has a decent standard of health care throughout. There are a number of clinics run in conjunction with other countries (ie. Columbia-Asia Clinic) who are both professional and affordable. Vietnamese hospitals have been known to turn away expats in need of emergency assistance for fear of liability if something was to go wrong, but the response time of the emergency services here seems very impressive. All in all, most expats pay the extra money to go to a 'Western' style clinic rather than dealing with the Vietnamese options.
About living in Ho Chi Minh City
Q: Which are the best places/suburbs to live in the city as an expat?
A: Depending on your lifestyle, Saigon offers three great locations. District 1 is the CBD and the heart and soul of what Saigon has to offer; from countless restaurants and bars to most of the offices for multinational companies. If you are looking for somewhere more up-scale and Western, the Districts 7 and 2 both provide housing in private compounds or whole house rentals (at a reasonable price). These areas have many Western luxuries and great internationalschools at hand.
 
Q: How do you rate the standard of housing in the city?
A: The standard of housing is great. Although Expats will obviously end up paying more than their Vietnamese counterparts, in general costs are quite low! Depending on how close to the city / international schools / what district you most want to live in, prices will vary accordingly.

Finding an apartment or house with an oven may prove to be your biggest challenge, but large, comfortable, and modern accommodation is always easy to find. It may get annoying that everything is made from marble or tile but that is one of the only negatives shared across the board.
 
Q: What's the cost of living compared to home? What is cheap or expensive in particular in Ho Chi Minh City?
A: For me, the cost of living is much, much lower than back in Ireland. The two biggest expenses will be your rent and your motorbike, everything else is completely variable. Of course, if you spend all your time eating in fancy restaurants and only buying imported food and drink then you will end up paying the same, if not more than back home! The joy of living in a city like this is that you can choose to spend as little or as much as you want. Vietnamese food is amazing, it may take you a while to find the right places and foods that you like but a two course dinner for two in a very decent restaurant with drinks may only set you back USD 20 or so in plenty of places. Be brave enough to adventure and explore and see what this city and country has to offer. In many cases, the cheap Vietnamese specialities are easily the best value for money and even the best tasting!
 
Q: What are the locals like in Ho Chi Minh City; do you mix mainly with other expats?
A: I am lucky enough to speak Vietnamese at an intermediate level and have mostly Vietnamese co-workers, so as a result I end up communicating and mixing with the locals much more regularly than most other expats. If there is one thing I strongly recommend it is; learn the language. Even just having the very basics (hello, goodbye, how much, thank you, where is?,etc.) makes the whole experience of being an expat in Ho Chi Minh City easier, cheaper and more enjoyable! You will constantly have locals telling you how wonderful your Vietnamese is (even if it's not! ) and it will open the door to countless more unforgettable experiences, smiles, and memories.

The expat community is huge here and it is very easy for people to get caught up living in an expat world but make the effort to mix with the locals though sport, in the office, or even just by being friendly in the local restaurants. (You will be surprised how fast that leads to a drink and a chair at their table being offered!) All in all, the Vietnamese people are extremely friendly, charismatic and definitely welcoming.
Q: Was it easy meeting people and making friends?
A: Fortunately, I am a very outgoing, sociable sort of person.
About working Ho Chi Minh City
Q: Did you have a problem getting a work visa/permit?
A: Luckily my company's office here took my passport and other details the day I arrived and sorted the whole process for me. I have been told there are two ways of approaching this, to tackle everything yourself, or to have an agency do it for you for a fee. Although you may be charged a healthy amount, I would recommend the agency route, it saves you a bucket load of time and hassle which would otherwise only lead to frustration. I believe an agency that has a good reputation is accompany called Santa Fe, but I have had no direct dealing so I would not be sure. Make sure to look around for the best agency cost and be aware that the whole process from start to finish could take a number of weeks. This is time spent without a passport so plan in advance!
 
Q: What's the economic climate like in Ho Chi Minh City, is there plenty of work?
A: There are two Vietnams it seems, the picture that is painted which has a stabilising level of inflation (which was at 18 percent only recently!) and where the economy is growing with plenty of new jobs. Then there is the picture that Ho Chi Minh has numerous half built apartment/office blocks, the government owes huge money to the IMF and inflation is up to 25 percent in certain areas!
 
In reality, it is hard to tell. Ho Chi Minh itself City seems to be doing fine, there are buildings half finished and inflation is high but things are progressing. There are countless new restaurants, bars, and shops appearing by the day and the atmosphere in general around the city, is very positive. I think it is a country going through a massive transition and certain things have not quite progressed at the same speed and the largest issue that needs to be dealt with is corruption throughout the country. Jobs for expats seem relatively plentiful and there are always countless English teaching jobs for any level of experience that pay on average about USD 20 per hour.
 
Q: How does the work culture differ from home?
A: The work culture is completely different to back home even within a multi-national. The Asian approach to work is different in general but I feel it just takes patience while adjusting (having  the language definitely helped me). Sometimes the differences in work culture can get extremely frustrating though, in particular the Vietnamese 'yes'.
 
Q: Did a relocation company help you with your move?
A: I initially had a relocation company trying to help sort my Vietnamese work permit and residency card from Ireland but unfortunately, they turned out to be completely useless. The office here had a much more effective agency who dealt with everything. I had no help moving my personal belongings however, I would recommend searching from both sides if you are an expat soon to make the move and need more help than I did moving as I was just a single person without much baggage.
Family and children
Q: Did your spouse or partner have problems adjusting to their new home?
A: n/a
 
Q: Did your children settle in easily?
A: n/a
 
Q: What are the schools like, any particular suggestions?
A: From what I know, the standard of international schools in both district 1 and 7 is very high. What I have also heard however, is that tuition fees can work out at upwards of  USD 15,000 per child per annum!
And finally…
Q: Is there any other advice you would like to offer new expat arrivals?
A: Stay open minded and always make the effort to understand the Vietnamese culture. If at all possible, organise some Vietnamese language classes, your life will be substantially more comfortable, easier and more enjoyable with even the basics. It is not impossible to learn!

~ Interviewed in April 2013