Claire Ruston and her partner, both British expats, moved into a dilapidated house in rural Bulgaria in 2011, leaving London and its long commutes behind them. Since 2014, Claire has worked from home as a freelance writer and editor. Although Claire still struggles with the Bulgarian language and inefficiency, she greatly enjoys the freedom of her new life in Bulgaria.
Claire's blog, Auntie Bulgaria, chronicles her life in Bulgaria, including cameos from her cats as well as meanders through the Bulgarian countryside.
Read more about Bulgaria in the Expat Arrivals Bulgaria country guide.
About Claire
Q: Where are you originally from?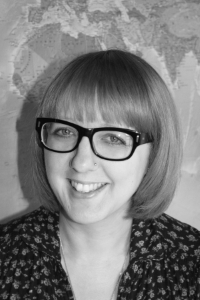 A: We're from the UK.
Q: Where are you living now?
A: We're in a small mountain village in Bulgaria, about 80km northeast of the capital, Sofia.
Q: When did you move to Bulgaria?
A: We moved to Bulgaria in 2011.
Q: Did you move to Bulgaria alone or with a spouse or family?
A: I moved here with my partner, Rob, who's also a Brit.
Q: Why did you move to Bulgaria, and what do you do there?
A: When we made the decision to move, we were both commuting to London for work. With the high housing prices in the UK, we had no chance of owning our own home – not unless we were prepared to take on a huge mortgage. Moving to Bulgaria meant that we could live life differently; we could buy a small house with no mortgage, have space to grow our own vegetables, enjoy more time together, enjoy better weather, and never need to commute again.
Now, I work as a freelance writer and editor, and my commute to work is a short walk up the stairs to my office!
Living in Bulgaria
Q: What do you enjoy most about living in a Bulgarian village? How would you rate the quality of life compared to the UK?
A: Life runs at a totally different pace here. Everything is much more relaxed than it was back home, which is both a blessing and a curse for an impatient person like me. Bulgarians really seem to prioritise family life and friendships – there's always time for coffee and a chat with friends and neighbours.
Q: Are there any negatives to living in Bulgaria? What do you miss most about the UK?
A: Nowhere is perfect, and Bulgaria has its issues like any other country. Bulgaria's infamous bureaucracy is a bit of a pain, although we were expecting that. My two personal bugbears are litter (including anything from wrappers and coffee cups being thrown on the pavement to large-scale dumping in the countryside), and all of the stray cats and dogs (pets are rarely neutered in the villages, and these animals are often left to fend for themselves).
In terms of what I miss most, I miss my native language. Bulgarian is a difficult language to learn, and we're far from being fluent even after many years of lessons. So if you're planning to move to Bulgaria, start learning the language before you come.
Q: What are the most significant adjustments you had to make when settling into expat life in Bulgaria? Did you experience any particular elements of culture shock?
A: Most things take longer in Bulgaria than they do in the UK. For example, buying a car takes many hours, and a notary is required to witness the transaction. Registering a car in my name took half a day and involved a trip to Sofia. I've had to accept that everything will take longer than I estimate, so I'm learning to be patient. I'm still learning.
Q: What's the cost of living in Bulgaria compared to the UK? Is anything cheaper or more expensive in particular?
A: Most things are cheaper in Bulgaria than they are in the UK. Property certainly is cheaper. If you shop at the local markets, food is pretty cheap (supermarkets, on the other hand, are more expensive here than in the UK). Eating out, beer, wine, public transport, building supplies, monthly bills, car repairs… they're all cheaper here. Petrol is also cheaper here, although not by much.
Q: How would you rate the public transport in Bulgaria? What are the different options? Do you need to own a car?
A: You absolutely need a car if you're living in a Bulgarian village.
Bulgaria has a good network of coaches and minibuses that run across the country. We regularly leave the car at home and get the bus down to Sofia. In Sofia itself, public transport is just as you'd expect in any capital city. It has a metro, buses and trams, and taxis are plentiful.
Q: What are the biggest safety issues facing expats living in Bulgaria?
A: We've always felt safe here. In Sofia, be wary of pickpockets in the main tourist areas, as in any major city.
If you're driving around the country, you should be prepared for some pretty terrible driving. We've seen people reversing up the motorway towards us, one guy driving one-handed while holding a mattress on the roof of his car, drunk cyclists and even children riding mopeds!
Meeting people and making friends in Bulgaria
Q: How tolerant are Bulgarians of foreigners? Is there any obvious discrimination against particular religions, women or identities?
A: There is pretty widespread discrimination against the Roma population, at least in our part of the country. But, as Brits, we've found Bulgarians to be very welcoming (if a bit bemused as to why we'd leave the UK to live in Bulgaria).
Bulgarians tend to hold traditional views on gender (but bear in mind that we live in a quiet village with a mostly older population). With that being said, my boyfriend and I are unmarried, we don't have kids, and I earn the money while he renovates the house – so we're definitely not your average 'family' by traditional Bulgarian standards – and no one seems to find us to be that strange!
Q: Have you made friends with Bulgarians, or do you mix mainly with other expats? What advice would you give to new expats looking to make friends in Bulgaria? Can you recommend any social or expat groups?
A: There are plenty of expats in Bulgaria, and we met some Brits through our estate agent. We're not hugely into the expat community and I'm not part of any groups, but the Brits that we know have been incredibly helpful for local tips, such as recommending reliable mechanics and builders, that sort of thing.
The best thing you can do is to make friends with your Bulgarian neighbours. We visit one neighbour for coffee every day, which helps us keep connected with the village. It's also a big boost to our Bulgarian language skills. Our neighbours have helped us with everything from gardening advice (sometimes unsolicited!) and sourcing our winter wood, to feeding our cats when we're away. Bulgarians love getting involved, so don't be afraid to ask for help.
And finally…
Q: Is there any other advice you would like to offer to any new expats arriving in Bulgaria?
A: Firstly, get out and see more of the country. We love Sofia, but it's not really representative of the rest of the country. To get a sense of just how different Bulgaria is, you need to head to the mountains, visit beautiful old cities like Plovdiv, go to the monasteries, and wander around tiny villages where the old folk still keep sheep and goats. It's such an interesting, beautiful country, and we've barely scratched the surface, even after seven years.
Also, be patient. Things happen more slowly here. But isn't that the whole point?
► Interviewed May 2018