Dany was born in Hawaii, grew up in Portland, and moved to Amsterdam when he was hitchhiking through Europe some twenty-five years ago. This is where he met his Dutch partner Thijs, and about a decade ago they changed their home from Amsterdam, The Netherlands for Valencia, Spain. They fell in love with the – then relatively unknown – third biggest city in Spain, and moved there just five weeks after their first visit. Their small bed-and-breakfast in the heart of Valencia's historical centre was voted one of the top three B&Bs in Spain by Trip Advisor and many 'would-be' expats enjoy their inside knowledge of the city as well as their hospitality. Follow their adventures on Twitter.
Living in Spain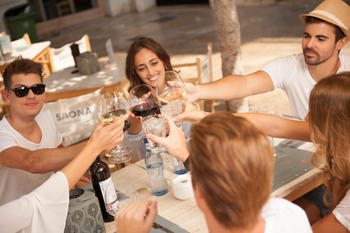 Q: What do you enjoy most about Valencia? How would you rate the quality of life compared to Amsterdam?
Valencia is the perfect city to live in. With over 300 sunny days a year and a very mild climate, it's hard to not wake up with a smile on your face. The slow pace of life in Spain and the tranquillity of the historical centre of Valencia make this vibrant city the perfect location for those who are looking for more quality in life. The huge and green Turia Park circling the city, the amazing beaches and hiking possibilities in the mountains nearby offer plenty of quiet nature as a great contrast to the bustling bars and restaurants of the city.
The lunch culture in Valencia, with its ten euro 'Menu del Dia' deal, and very reasonable prices for housing make this city a very affordable and relatively quiet alternative to the busier and more expensive Barcelona and Madrid. Yes, Amsterdam is a very cool creative hub too, but walking in the rain for days on end to pay seven euros for a small glass of very bad wine in a local café just doesn't cut it for us any more.
Q: Any negatives? What do you miss most about Amsterdam?
At first, we had to get used to the fact that dinner is very late in Valencia. The locals will not enter a restaurant for dinner before 10pm, and that was something we really had to get used to. Another thing we had to get used to was the fact that it does not seem to be part of the Valencian culture to just start a conversation with people you don't know.
After biking home from buying fresh flowers from one of the local markets in Amsterdam, usually five strangers will comment on the quality of the flowers in your bike-basket ('Lovely tulips you got there'), the reason you probably bought them ('Came home drunk again last night?') or just a simple smile and thumbs up. We sometimes miss this cheerful interaction with complete strangers, but we are still making an effort every day!
Q: What are the biggest adjustments you had to make when settling into expat life in Spain? Did you experience any particular elements of culture shock?
Moving to Valencia has not caused us to make many adjustments, nor did we experience any real culture shock. When having dinner at a Valencian friend's house, we just eat our own small dinner at seven, and then eat again at 11.
Q: What's the cost of living compared to Amsterdam? What is cheap or expensive in particular?
Compared to the city centre of Amsterdam, we think real estate prices and restaurants are about 50 percent lower in the centre of Valencia, but of course, you can find very expensive apartments and restaurants in Valencia too. Prices for groceries are just a bit lower, and a membership to a good gym is affordable.
Q: How would you rate the public transport in Valencia? What are the different options? Do you need to own a car?
Living in the historical center of Valencia means you just walk to everything. Anything we would like to see or do in the city, from shopping to eating out, going to art galleries, to the yoga school and the gym, is at a five- to 10-minute walk.
When we like to go to the beach we just hop on a bike, there is no need to own a car, nor do we feel the need to use the excellent bus and metro system. 
Q: How would you rate the healthcare in Valencia? Have you had any particularly good/bad experiences with regards to doctors and hospitals? Are there any hospitals you would recommend?
The public healthcare in Spain is good. And free for residents. My broken arm was taken care of fast and very professionally at no cost, including check ups. Prescribed medication is also free. Apart from the public healthcare system in Spain there is also private healthcare, but we have no experience in using this.
Our Spanish friends tell us the quality of care is higher in the public field, because it is very competitive for doctors and other staff to be selected for a position, while private clinics are easier to 'get into' as a medical professional. Of course we have no idea if this is true.
Q: What are the biggest safety issues facing expats living in Valencia? Are there any areas expats should avoid?
Since we have been living in Valencia we have not encountered any problems. We run a small boutique bed-and-breakfast in the historical center and there has not been one incident with ourselves nor any of our international guests over the years.
Streets are well lit at night, and as people go out for dinner at ten, it never feels deserted or otherwise uncomfortable in the city centre. As the Malvarosa / Cabbanyal area behind the beach-boulevard has a high percentage of very low-income inhabitants it might look a bit rough, especially at night for those not used to it.
Q: How do you rate the standard of housing in Valencia? What different options are available for expats?
The standard of housing is a bit different from Northern European cities. Many apartments do not have central heating or air conditioning, and hot water for the shower comes from a boiler tank as in some old buildings there is no connection to gas.
'Who needs heating in sunny Valencia?', someone might ask. Well, if you live in a historic grand building in a beautiful architectural style, you might not be very comfortable in January, where it cools off to 5°C. Portable gas stoves and electric heaters help somewhat, but it is not comfortable.
Newer apartments have the same amenities as you will find in North European homes, but the antique homes are just so beautiful! Ceramic tiles on the floors are very common, a wooden floor would be seen as ridiculously extravagant and unnecessary by most of our Spanish friends.
Q: Any areas/suburbs in Valencia you'd recommend for expats to live in?
We love living in the historical center, Ciudad Vella, on the Barrio de Carmen side. Most expats, however, choose the area around Mercado Colon.
Meeting people and making friends in Spain
Q: Have you made friends with locals or do you mix mainly with other expats? What advice would you give to new expats looking to make friends? Any social/expat groups you can recommend?
We have made Spanish friends and some expats alike, and our advice would be to join activities that you love to do, and the friends will follow. We have made some friends at the yoga school, our favourite lunch places, and in Spanish class. It´s always fun to learn something new, be it a language, a cooking class or something creative, and you will most likely meet people you feel a click with.
We are ardent art collectors, and have also found gallery openings and museum events great opportunities to meet new people. More than once a year the guests at our bed-and-breakfast fall in love with the city and actually move here. We are always very happy when we can help, and many good friendships have been initiated this way.
About working in Spain
Q: Did you have a problem getting a visa or work permit? Did you tackle the visa process yourself or did you enlist the services of an immigration consultant?
As we both have a Dutch passport, it was very easy for us to find a home in Valencia and arrange all papers. American friends of ours have had some difficulties in arranging legal documents, and most of them have than chosen to hire lawyers to do this for them.
Q: What's the economic climate like in Valencia? Do you have any tips for expats looking to find a job? Which resources did you find most useful?
With a fairly low minimum wage, it can be hard to make ends meet in Spain. For somebody who speaks English, Spanish, and more languages one could think of looking for jobs in the hospitality industry.
Our bed-and-breakfast, Valencia Mindfulness Retreat, was awarded with the Trip Advisor Travelers' Choice Award for four years in a row now, maybe for a large part because we are both fluent in five languages.
For many locals in Valencia it is hard to speak English, so if you are looking for a job we would advise you especially to make use of your language skills and look at international companies.
And finally…
Q: Is there any other advice you would like to offer new expat arrivals?
Rent instead of buy, so you get a feel for the Spanish life and specific areas before you make an expensive commitment. Learn the language and be very patient with any kind of paperwork.
Finally, every day, take very, very long lunches outside. Just after just moving here, I was told several times a day: 'Tu tranquilo!' and 'No te preocupes!' Which can be loosely translated as: 'Chill out and don´t worry'.