Mimi is a Canadian expat who has been living in Spain for the last five years. She describes herself as a normal girl who fell in love with travelling a few years ago and has been visiting new destinations non-stop ever since. She's lived in four countries and been to more than thirty, but each new destination holds a special place in her heart. For her, the world is big and vast, with much to see and tons of wonderful people to meet, amazing cuisine and unforgettable sights. She's also an avid writer and has made it her goal to help others broaden their horizons on an average budget, just like she does. Read more about her life abroad on her blog, www.wanderlustinthewild.live, and follow her on Instagram at @wanderlustinthewild.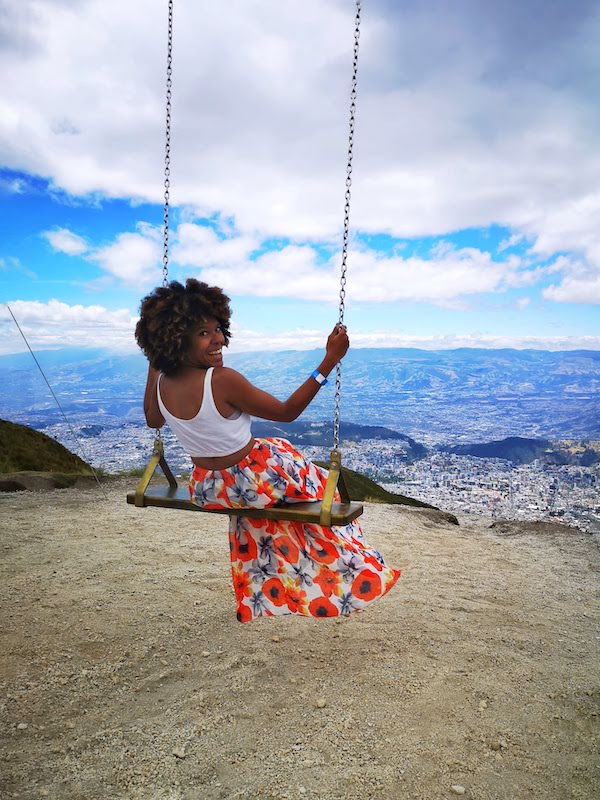 Read more about expat life in Expat Arrival's guide to Spain, or read more expat experiences in Spain.
About Mimi
Q: Where are you originally from?
A: Montreal, Canada
Q: Where are you currently living (city and country)?
A: Madrid, Spain
Q: When did you move here?
A: Five years ago
Q: Is this your first expat experience?
A: Nope, I've also lived in the US and South Korea.
Q: Did you move here alone or with a spouse/family?
A: Technically, I moved to Spain alone, but it was to meet up with a spouse. The move to South Korea I did alone.
Q: Why did you move; what do you do?
A: I moved to be with my (now) ex-partner and now reside here on my own; in Madrid, I write and create content for other websites, teach languages, host cultural events and work on digital marketing.
About Madrid
Q: What do you enjoy most about Spain? How would you rate the quality of life compared to home?
A: Spain has a lot of great qualities: friendly locals, beautiful beaches, nice weather, low cost of living, etc. In comparison, it's the cheapest country I've ever lived in, in terms of rent, food and nightlife, and with one of the most accepting cultures. There's a huge expat community, so it's easy to make friends, and Madrid's location makes it the perfect launching pad for trips to other European capitals, such as Paris and Berlin, as well as African nations like Morocco and Tunisia. The country also has global links to South American hubs, including Colombia and Brazil.
Q: Any negative experiences? What do you miss most about home?
A: Salaries here are much lower than in any other country I've lived in, and the bureaucracy is a nightmare. For example, you have to make appointments even just to ask for information, and they can take months, making immigration a hassle. I miss how streamlined most processes are back home and also how everyone has the same work ethic in terms of getting tasks done.
Q: What are the biggest safety issues facing expats living in Spain? Are there any areas expats should avoid?
A: It's one of the safest countries in the world (on par with Canada in that regard) and definitely one of the safest in Europe. While racism is still prevalent, like in most parts of the world, it's highly unlikely that anyone is ever attacked due to their ethnicity. Barcelona, Madrid and Cádiz do have a few pickpockets that target more Western foreigners, so it's essential to watch out for them.
Q: How would you rate the public transport in Spain?
A: Fantastic! It's the cleanest I've seen outside of only Japan, it's highly reliable, and it goes nearly anywhere in the country, which is super convenient.
Q: How would you rate the healthcare? Have you had any particularly good/bad experiences with doctors and hospitals? 
A: My experiences have been about the same as back home (both good and bad, so 4 out of 5 compared to the US), but the services are all paid for through universal healthcare, so you only ever have to pay for medical prescriptions. I've seen everyone from cardiologists to neurologists to urologists and have never spent a cent except for medications (also really cheap). That said, mental healthcare is not nearly as extensive (as it was in South Korea), so those with mental disorders should be wary because they are unlikely to get the help they need.
About Spain
Q: Any areas or suburbs in Madrid you'd recommend for expats?
A: Depends on the city. In Madrid, most locals don't reside in the centre, so it's mostly expats, but there are a few great neighbourhoods such as Malasaña (the most popular), La Latina (the best retrobars), and Lavapies (the most affordable).
Q: How do you rate the quality of housing in Spain? What different options are available for expats?
A: The quality of housing is quite abysmal in Spain. While rent isn't too expensive, competition is stiff, and apartments are snatched up as soon as they're advertised. There are several expat housing websites like Uniplaces that can help, but they charge an arm and a leg while only offering short-term leases. Most of the time, you'll need to pay a realtor agency a month's worth of rent in fees in order to secure an apartment (which is an illegal practice in Montreal), and even then, your apartment may be small and cramped with terrible lighting. I would say the apartments are made much better in North America, and houses here tend to lack mod-cons.
Q: How have you dealt with Spain's infamous bureaucracy?
A: It's so bad! I could go on forever, but let's just say I've had to fight tooth and nail over the last five years.
Q: Are there any hangouts you particularly enjoy and would recommend?
A: Madrid is famous for its rooftop hangouts; many have swimming pools, like the Dear Hotel. There's also Rascafria to the north, a popular summer swimming spot.
Q: What does Spain offer in terms of nightlife and entertainment?
A: Lots! Spain has more bars than any other country in the world (around a third of a million), and the nightclubs don't close until early morning. I would say Madrid is truly the City That Never Sleeps, since there's always something to do. Cities like Barcelona, Cádiz, Valencia, Ibiza, Mallorca, Benidorm and Seville are also renowned for their nightlife.
Q: Are there any activities, attractions or events you recommend for new arrivals in Spain?
A: Check out language exchanges; they're a great way to practise the local language while also meeting other expats as well as locals who might want to learn your language.
Q: How is the climate in Spain? Do you have any tips for expats on how they can adjust or manage the weather?
A: Excellent, except for in August, unless you're in the north of the country. Spain is the sunniest country in Europe (3,000+ hours of sunshine per year), and its winters are quite mild, especially in comparison with Canada. Head south to escape the cold – Andalusia hits 20–25 degrees Celsius in winter – and then head north in summer to escape the heat waves that reach 40–45 degrees.
Q: How tolerant are the locals of foreigners? Is there obvious discrimination against any particular group? Have you ever personally experienced discrimination in Spain?
A: They're pretty tolerant of Westerners, but there is still quite a lot of prejudice and discrimination against Africans, Latin Americans, Muslims and Asians. If you tell them you're a foreigner, Spaniards will treat you with more respect and courtesy, sadly.
Q: Was meeting people and making friends easy? How did you go about meeting new people?
A: Super easy! Despite the previously mentioned prejudices, Spaniards are very welcoming and love meeting new (Western) people. There are also a lot of expats, so everyone is bound to find their niche.
Q: Have you made friends with locals, or do you mix mainly with other expats? What advice would you give to new expats looking to make friends with the locals?
A: There's quite a bit of sexism still rampant in the culture, so it's been hard to make friends with male Spaniards compared to back home and in the US, but it's similar to South Korea, where genders are quite separated. Thus, I have plenty of Spanish female friends, while my foreign friends are much more diverse. Anyone who wants to make friends with locals should just start by heavily complimenting the country; Spaniards love that, and you'll have an instant in.
Q: Where can new arrivals go to meet new people and make friends?
A: Try the language exchanges that are quite common in most popular cities like Madrid, Barcelona and Seville. If not, expat groups like InterNations host plenty of events where it's easier to meet locals and foreigners.
About working in Spain
Q: Was getting a work permit or visa a relatively easy process? Did you tackle the visa process yourself, or did you enlist the services of an immigration consultant?
A: It was the most difficult process ever. If you can afford it, I recommend hiring a consultant since they usually have more connections to get the ball rolling. In Spain, it is all about who you know.
Q: What is the economic climate in Spain like? Do you have any tips for expats looking to find a job?
A: Spain has been one of the worst countries hit by the pandemic, which also affected the already sub-par economy. Unemployment has thankfully been decreasing these days, although salaries remain low. If you want to find a job easily, teaching a language or having some other speciality skill is the safest bet.
Q: How does the work culture differ from home? Do you have any tips for expats doing business in Spain? Did you have any particularly difficult experiences adapting to the local business culture?
A: We tend to have a strong work ethic in Canada, while Spaniards are much more laid back. A task that would take minutes back home may take days in Spain, since there's a lot of archaic bureaucracy built into how they run their businesses. Frequent disasters in many companies are just part and parcel of working here.
Q: What resources helped you most to find job opportunities?
A: Websites like Glassdoor, LingoBongo, and Indeed post the most expat jobs.
Family and children in Madrid 
Q: What are your favourite attractions and activities that families would enjoy?
A: As the nation's capital, Madrid is home to several museums that kids will enjoy, such as the Planetarium and the Museum of Illusions. There are plenty of green spaces and playgrounds for kids to play in, and many parks host plays and other events in summer.
And finally…
Q: Is there any advice you would like to offer new expats in Spain?
A: Explore the country as much as you can, since it has a lot of biodiversity. More importantly, just remember to take a breath when the chaotic bureaucracy and microaggressions start to get to you; many Spaniards have never left Spain and don't realise how good you had it back home. Have some patience with them, and then head to the beach.
~ Interviewed April 2022
Are you an expat living in Spain? We'd love to hear your story. Contact us to share your story.