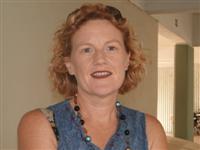 Annie Andrews is an Environmental Scientist who left a life lived 20 years in Darwin, Australia for a cricket-inspired relocation to Pune, India. Her husband is a state cricket coach, her boys are enjoying the country's competition, and she finds herself an unlikely "cricket widow", which leaves plenty of time for expat activities like volunteering and travelling.
Read more in the Expat Arrivals India country guide or read more expat experiences in India.
About Annie
Q: Where are you originally from?
A: Darwin, Northern Territory, Australia
Q: Where are you living now?
A: Pune, India
Q: How long you have you lived in India?
A: 7 months
Q: Did you move with a spouse/children?
A: Yes, husband and two boys – 13 and 15 years old.
Q: Why did you move; what do you do?
A: We moved for my husband's work – he is a cricket coach here for the state association. It is also a great opportunity to show the boys another culture, and at the same time allow them to realize how lucky they were to be born in Australia.
I am an Environmental Scientist, but am not working in India at the moment.
About Pune
Q: What do you enjoy most about Pune, how's the quality of life?
A:  There is a great range of convenient shops, schools, restaurants, gyms etc. The people are friendly and helpful. I like the small shops and markets. Pune is still sort of 'greenish', with street trees and some parks, which is nice. Although busy, it is more laid back.
The quality of life is great for most expats. This is not necessarily the case for locals, however.
Q: Any negatives? What do you miss most about home?
A: One large negative that can be disconcerting for expats especially is the fact that you're constantly surrounded by rubbish and dirt. Being confronted with poverty on a daily basis is always difficult.
I miss the general freedom to go running, swimming, riding, camping or being able to hop in the car whenever you want, etc. I miss the blue sky and the sea.  I love gardening so I miss having a garden to tend.
As a mother, I feel for my boys being separated from their friends and the great lifestyle we had in Australia – but they are quite happy and adaptable.
All in all, the positives far outweigh the negatives.
Q: Is Pune safe?
A: I feel safe here. I walk lots of places – so do my boys – even without us. The lads also catch rickshaws by themselves, but not for extended distances. We don't go out walking late at night. We apply the same general safety that you would in any large city.
There was a terrorist explosion in a café (German Bakery) close to here, shortly after we arrived. Fifteen people were killed.
Q: Which are the best places/suburbs to live in the city as an expat?
A: Koregaon Park and Kalyani Nagar are popular, as is Aundh, Kondhwa and Wanowrie.
Q: How do you rate the standard of accommodation?
A: The accommodation appears pretty good; there is a range of gated communities and bungalows (houses with gardens). There are a lot of new residential buildings going up all the time.
Power cuts are regular. Check if the accommodation you are interested in has an oven – many places don't – like mine and I miss it!
There also seems to be a good range of hotels – the Westin, Taj Blue Diamond, Oakwood and the Hyatt etc.
Q: What's the cost of living in India compared to home? What is cheap or expensive in particular?
A: I think this depends on what your package is. If you are by yourself, things are cheap but with a family of four, costs soon mount up, like anywhere – travel and schools especially. Certain things are cheap, like chicken, seafood, fruit and vegetables, milk and bread etc and some clothes. Beer is cheap and wine is expensive. If you like 'expat' type food (dips, tuna, meat, bacon, pasta sauces, parmesan cheese etc) then you will pay top dollar. Domestic staff is affordable.
Q: What are the locals like; do you mix mainly with other expats?
A: The locals are pretty friendly. Given the history of English occupation here, most people speak English, which makes living here quite easy. I have met some people through regular volunteering at a school run by an NGO, and by being a member of the Women's International Network (WIN), which is mix of Indian and expat ladies. I also mix with expats through a group called Everything Expats Pune. Both clubs run a great range of activities for expats.
Q: Was it easy meeting people and making friends?
A: I found it challenging initially, maybe I wasn't patient enough, but once you make a few friends you soon meet more and more. It's important to make the most of socialising opportunities to establish a group of friends. Volunteering is also a good way to meet people.
About working in India
Q: Did you have a problem getting a work visa/permit?
A: I am not working here, but my husband didn't have a problem once he got his work contract. Unfortunately now we need to renew our visas every 6 months, which means a trip back to Australia for all of us and the associated costs.
Q: How does the work culture in India differ from home?
A: I am not working here, but I have heard the following; different working hours – start and finish late. Meetings cancelled at the last minute, or scheduled meetings not happening and you are not notified. People don't like making decisions, so they defer to other people. Staff saying they will do things, with absolutely no intention of doing what they propose.
Q: Did a relocation company help you with your move?
A: No, my husband is one of the first foreigners to work for the association, so the services weren't offered. My husband did all the groundwork prior to us coming over.
I have since found out that Everything Expat provides these services.
Family and children in India
Q: Did your spouse or partner have problems adjusting to their new home?
A: No, he had been here a few times over the past 20 years, so he knew what he was coming to.
Q: Did your children settle in easily?
A: Yep, they were great; however, I believe children's lives are less spontaneous here. There is less opportunity to do things like ride bikes, play sports, go to the park, go swimming etc. Limited public access to tennis courts or swimming pools means that you have to join a private club, which can be very expensive.
Q: What are the schools like, any particular suggestions?
A: I am impressed by the schools, but that may also come with paying fees (our boys went to a government school in Australia where we didn't pay fees). My youngest son goes to Symbiosis International School which is great – teachers committed to the students and school.
The school terms are different to Australia, where we are Jan to Dec, here it is July to May, and this provided a few problems for our boys.
Q: How would you rate the healthcare in India?
A: Can't really comment, but from the few stories I have heard it appears OK. Specialist fees and medication is significantly cheaper than Australia. Chemists also sell a wide range of medicines over the counter, where in Australia you would need a prescription.
And finally…
Q: Is there any other advice you like to offer new expat arrivals?
A: Look past the dirt and rubbish and enjoy and embrace. Take things slowly and don't get too stressed. Establish a circle of friends – this helps with the 'culture shock', as you will most likely find that they share the same feelings. You will need to find a range of activities to keep yourself busy.
Socialise with the locals – volunteering is a good way to do this.
Remember to bargain, it is just part of the culture. If you don't, you will get ripped off.
India is an amazing country, so different to Australia, so get out there and enjoy it – there is so much to learn.