Beth is an American expat living in Hong Kong. She moved there with her fiancé, who is originally from Hong Kong. Now working as an English teacher, Beth enjoys the quality of life in Hong Kong and all it has to offer, from the beaches and mountains, to the numerous events and festivals taking place every weekend.
Read more about expat life in the Hong Kong guide or read more expat experiences in Hong Kong.
About Beth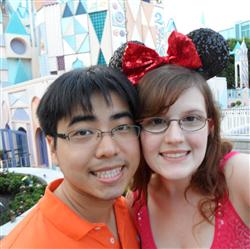 Q: Where are you originally from?
A:  I was born and raised in a suburb of Chicago, Illinois, USA.
Q: Where are you living now? 
A:  I am currently living in Kowloon, Hong Kong.
Q: When did you to Hong Kong? 
A:  I moved to Hong Kong around this time last year (2012).
Q: Did you move with a spouse/children?
A:  I moved here with my fiancé. 
Q: Why did you move; what do you do? 
A:  Once I graduated university, my fiancé quit his job and we decided to start our lives together in Hong Kong, his birth country. I took a job teaching English and he works for a small company downtown.
About Hong Kong
Q: What do you enjoy most about Hong Kong, how's the quality of life? 
A:  I love that even though Hong Kong may be small, it has so much to offer. There are beautiful mountains for hiking, beaches for swimming, an exciting city life, and events or festivals going on nearly every weekend.
Looking past problems like air pollution, the quality of life is very high. I would rank Hong Kong as one of the most liveable cities.
Q: Any negatives? What do you miss most about home? 
A:  The only negatives would be the pollution I mentioned before; it's pretty bad during the warmer months. And the only things I miss from home are people and certain foods, but we've been fortunate enough to have a few visitors from home since we've moved here.
Q: Is Hong Kong safe? Are there any areas expats should avoid?
A: Hong Kong is generally safe, especially when compared to the US. I have never had an issue walking alone at night as a female. And there are no particular areas that expats should avoid, but do be aware of pickpockets in busy tourist market areas (e.g. Temple Street, Ladies Market, etc.).
Q: How would you rate the public transport in Hong Kong? What are the different options? Do you need to own a car?
A: The public transportation here is great. There are a wide variety of transportation options, trains, buses, mini-buses, ferries and taxis can get you anywhere you need to go. Since Hong Kong is so small, it doesn't take long to get from one part to another, and many things are close together so walking is another option. A majority of people living here do not own cars, it's completely opposite the US! 
Q: How would you rate the healthcare?
A:  The healthcare here is wonderful! As long as you have a valid visa, you will be issued a Hong Kong Identity Card. With this card you have access to affordable healthcare, including doctor visits, free medication and emergency hospital visits.
Unfortunately since moving here I've had bad luck with injuries and my health. I've been in an ambulance twice, had stitches, and was admitted to a hospital overnight for a total of three days. Between all of these incidents I've paid around HKD600 (~80 USD). If I were living in the US my bills could have easily been thousands of dollars.  
Living in Hong Kong
Q: Which are the best places/suburbs to live in Hong Kong as an expat?
A:  Obviously if you're working downtown, it's convenient to live there; however, that can be a lot more expensive than other areas. I personally love living on the Kowloon side. It's easy to commute to HK Island everyday for work, it's cheaper, and it's nice to be away from the overly crowded downtown.
Q: How do you rate the standard of housing in Hong Kong?
A:  Housing is small and expensive, but it's like that everywhere in Hong Kong. You'll almost never see a house here, and almost all the apartments look the same. 
Coming from the US where most people live in roomy houses, it was definitely an adjustment. I thought our apartment was too small at first, but now I think it's too big!
Q: What's the cost of living compared to home? What is cheap or expensive in particular?
A:  Everything, with the exception of rent, is cheaper than back home. I love that fruits and vegetables are so cheap here; it's a lot easier (and more affordable) to eat healthy compared to back home. Of course if you're constantly buying American brands your grocery expenses will be much higher.
Q: What are the locals like; do you mix mainly with other expats?
A:  All the locals are pretty friendly and helpful. Even if you don't know but a few words of Cantonese, they really appreciate the effort if you try to use their language with them. A few words such as "mm goy" (excuse me) or "jo san" (good morning) go a long way here.
Q: Was it easy meeting people and making friends?
A:  It's easy to meet people and make friends in Hong Kong, especially within the expat community. Even within the local community, there are a lot of Hong Kongers who want to meet up with expats to practice English or learn more about Western culture.
Working in Hong Kong
Q: Did you have a problem getting a work visa/permit for Hong Kong?
A:  My employer took care of my visa; all I needed to do was fill out the paperwork. But from my understanding, it is not very difficult to get a work visa so long as you have proof of proper employment. 
Q: What's the economic climate like in Hong Kong, is there plenty of work?
A: There are plenty of jobs available; however, a majority of theme require you to know Cantonese or Putonghua. If you don't know a bit of Chinese, then the types of jobs you can find will be pretty limited to teaching English, English secretary work or editing positions, unless your company transfers you to their Hong Kong branch as an expat. 
Q: How does the work culture differ from home?
A:  Hours are much longer here. In the US, the standard is generally a "9-5" workweek. In Hong Kong a majority of jobs will keep you working until 7:30pm, if not later. 
Saturdays are also often a working day making the workweek six days instead of five.
Q: Did a relocation company help you with your move? 
A:  No, we moved everything on our own.
Family and children
Q: Did your spouse or partner have problems adjusting to their new home?
A:  Since my fiancé was born here, he was right at home—it was me who needed the adjusting period!
Q: What are the schools like, any particular suggestions?
A:  There are public schools and private schools. Much like other countries, majority of the private schools are religious affiliated, with more expensive tuitions, but better education than public schools.
There are also a handful of international schools, which is where most expats will send their children if they have no knowledge of Cantonese. 
Apart from normal school, there are also learning centres everywhere in Hong Kong. From English to math to art to music, it is very common for students to go to these centres for tutoring once their normal school lets out.
And finally…
Q: Is there any other advice you would like to offer new expat arrivals?
A:  Hong Kong is a bit expensive to move to initially. When looking for an apartment, be prepared to pay three months rent, plus half a month as commission when you first arrive. A fairly "cheap" apartment will go anywhere from 12,000-20,000 HKD. So for example, if your rent is agreed to be 15,000 HKD per month, you'll need about 52,500 HKD (roughly 7,000 USD) just to sign the lease. This is something we were not expecting, nor ready for!
Also, take advantage of the new culture you find yourself in. Try to visit the local festivals and take part in the Chinese traditions. Even if you don't understand what is going on or what to do, observe others around you and follow suit. Don't spend your time in Hong Kong only eating at Western eateries, shopping at Western stores and spending time with only other expats. Go explore!
► Interviewed April 2013