Doris is a French expat who has been living in Delhi for the past nine years, and thinks India is a wonderful place to be. She works as a relocation specialist and is a partner in MD Relocation and Consultancy, helping companies, and expatriates and their families to settle in India.
Read more about India in the Expat Arrivals India country guide or read more expat experiences in India.
About Doris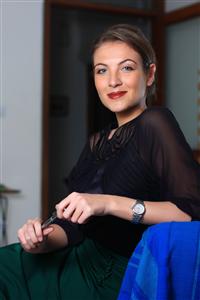 Q: Where are you originally from? 
A:  I am from France
Q: Where are you living now?
A:  Delhi, India
Q: How long have you lived here?
A:  Nine years
Q: Did you move with a spouse/children?
A:  I moved alone when I was 19/20 years old
Q: Why did you move to India; what do you do?
A:  I moved for an internship and finally set my business there; it has been six years now.
About Delhi
Q: What do you enjoy most about your Delhi, how's the quality of life? 
A:  I like living in Delhi because it reflects my own personality with the good and bad aspects of  it. I always describe it as:  a very organised mess… 
It is dirty, noisy and smelly at times but it has something majestic to it. Women in their saris are very elegant and gracious. It is colourful, you discover new elements around every corner, be it food stalls or a small flower market, street tailors, etc
People are curious and the interaction is facilitated by the fact that almost everyone speaks English..
It is a country of contrasts, and if you are able to adjust easily and adapt to any situation India is a wonderful place to be.
Q: Any negatives? What do you miss most about home? 
A:  As a European, I find it difficult at times to put up with what I consider a lack of privacy.
Some Indians can be intrusive, they will ask questions about your marital status, your financial earnings, whether you earn or rent your house etc. after knowing you for only five minutes.
Viruses… it is indeed quite common to catch the Delhi belly, or hepatitis or dengue or viral infections, but that's part of it. If you are lucky you can escape it all, if not, well you wouldn't be a rare case or unlucky person.
Q: Is Delhi safe?
A: Many Indians will tell you that Delhi is the most dangerous and aggressive city in the country but I feel extremely safe. I feel much safer here than in France. I can take a taxi or drive my car at any point of the day or night.
Cases of burglaries, finding pickpockets or street aggressions in south Delhi are extremely rare.
On the other hand, what you should be ready for is being stared at. Men are all about staring, sometimes to get your attention they will start singing Hindi songs or maybe pass a comment such as, 'hey sexyyyy…' but they won't initiate more than that and if you have the courage to put them back in place they will feel embarrassed and run away.
But nowhere in the world is completely safe so I would suggest any person not to be naïve and remain on your guard, it is always safer.
A worry that many women have is the dress code: feel free to wear whatever you want, but avoid too short skirts or strapless tops during the day. This will only attract more attention to you.
Q: How would you rate the public transport in Delhi? Do you need to own a car, or is the public transport sufficient for getting around? What are the different options?
There are many means of transportation.
The auto-rickshaw the metro, taxis, etc - they are all very affordable and easy to find.
Driving in India is very scary at first but doable; it's all about using the horn and looking straight forward.
About living in Delhi
Q: Which are the best places/suburbs to live in Delhi as an expat?
A:  The entire south Delhi is considered the best zone to live in; each area is called a colony and has its own market and a residential district. I suggest you avoid main roads, for the rest it is a matter of taste.
Q: How do you rate the standard of accommodation in Delhi?
A:  This is a tricky question… and working in real estate makes it even more complex for me to talk about it, but I'd say that it is quite over rated, the value for money isn't always there especially in posh areas. But an advantage is that the premises are often very spacious. And many new constructions have been developed in the city (at quite high prices though).
Q: What's the cost of living compared to home? What is cheap or expensive in particular?
A:  Real estate is expensive, the nightlife is more expensive then France… imported products are easier to find as compared to a few years ago but they are still more expensive. Wine lovers will be very disappointed as the weather does not allow good storage and more over you are not allowed to bring any of your wine and liquors in your shipping container.
Transport and telecommunications are still very cheap. Even though the yearly inflation has increased the price of basic goods it is still cheaper than most other countries.
Q: What are the locals like; do you mix mainly with other expats?
A:  It is easy to interact with Indians; communication (as mentioned earlier) is facilitated by the fact that everybody speaks English. Indians are very curious and most of them are well travelled. At times the cultural gap may be difficult to cross but it depends on who you meet and how open you may be or want to be.
As for me, I have many Indian friends as well as expats.
Q: Was it easy meeting people and making friends in Delhi?
A:  There are plenty of expat communities and groups of women from various nationalities. Meeting people won't be a problem at all. There are forums also on which you can announce your arrival and make connections even before having stepped in the country.
About working in Delhi
Q: Did you have a problem getting a work visa/permit for India?
A:  Visas are a big trouble; it is sometimes difficult to get the right visa, and the rules and regulations change very frequently. 
The conversion of your visa once in India is close to impossible. You should be aware of this. For example a spouse with an entry visa can't find a job and convert her visa on site, she would have to go back to her own country and do the procedure, that too nowadays foreigners must earn a mininum of 25,000 USD per year to be granted an employment visa etc. you may find some useful information on  immigrationindia.nic.in 
Q: What's the economic climate like in Delhi, is there plenty of work?
A: India is a booming country and the place to be. Of course the crisis has hit it too but opportunities are still numerous. The warning is that most companies would hire on low salaries and visa issues may block you in the process. Some people spend a year looking for a suitable placement. Networking will be the key to success.
Q: How does the work culture differ from home?
A:  There are many of books written on this subject… cross-cultural management and adapting to different work culture. In India there are many family businesses and hierarchy is very important. Tasks are clearly divided and must be executed; creativity and initiatives aren't appreciated from employees. Multinationals may have different views depending on the level of the person.  There are many companies and consultants offering such trainings and information.
Q: Did a relocation company help you with your move?
A:  I was very young when I first came so I managed it all alone, but I was lucky to have a wonderful boss who came to pick me up at the airport, he had booked the hotel for me and shortlisted some apartments to help me settle down faster.
As a relocator I know the importance of our job, especially in India. There are so many areas, so many new landmarks, so many local brokers who will take great pleasure in trying to get as much money from you as they can. Having a reliable and efficient agency to guide you through is a must for a hassle-free installation.
Family and children
Q: Did your spouse or partner have problems adjusting to their new home?
A:  I am a single woman in Delhi and I have adjusted quite well, but you definitely need help.
A maid to assist you is a must, because all your equipment installation such as internet, tv cable, gas connection, furniture delivery etc arrive at your place at random moments. Even if you fix specific timings they either come before time or late (up to one week late) so you can't wait sitting idle for all that. You need someone at home to receive each vendor, deliveryman, engineer etc.
Cleaning in the houses is rarely well done before you shift, so a thorough cleaning will be the first step and after each delivery you'll have to start again, for example air-conditioning installation can be messy and the people never clean the mess after they are done (it is not part of their task)
Keep in mind that isolation is very poor (noise, dust, heat/cold) all come in… you must be prepared for it. And we are in a region with big temperature variations from 2/3 C degrees in winter up to 49C degrees in summer including a humid season for monsoon; houses move accordingly … not to mention electricity variations, power cuts etc.
Even if it sounds harsh we are all having good standards of living, with full time employed home staff (maids, cooks, nannies, drivers etc) and finding help to take care of all the things we don't want to do ourselves is quite easy. 
There are wonderful aspects of the local lifestyle and of course some drawbacks are there to take you back to reality.
Q: Did your children settle in easily?
A:  Children settle and adjust much faster than the parents. They are not shocked and emotionally troubled by poverty, beggars, and climate change. For them everything is a discovery, they will be more amazed by the view of an elephant in the streets of Delhi then the dust and dirt around. Children tend to be more rational, they will question many aspects of the local life, but they will take it as it is. They have less comparison points and the valuation of happiness/sadness/wealth isn't as developed as for adults.
It is most of the time parents who worry for their children, but they may be the ones taking it lightly and helping the parents adjust.
Q: What are the schools in Delhi like, any particular suggestions?
A:  Being the capital of India, Delhi offers a wide variety of local and international schools.
There are: a French school, a German school, an American school, a British school I think I saw also a school from Singapore and many play schools and Indian schools.
I haven't heard of any specific complaint… but I know there can be waiting lists and registering your children long in advance is very important, even if your move is not 100 percent by your company you must apply soon in the process.
Each school has different fees, but they are quite expensive.
Q: How would you rate the healthcare?
A:  Healthcare in India is good, there are mainly private hospitals and clinics, and they are very well equipped with latest technologies and highly qualified surgeons and specialists.
I have personally faced hospitals two or three times and I have been very well taken care of. The environment is clean, I had my own personal room and the personnel were very nice.
 
When it comes to India and healthcare we often have in mind dispensers with flies in the room, an old fan and dirty walls but you can erase this image, it is very much like our standards.
And finally…
Q: Is there any other advice you like to offer new expat arrivals?
A:  What to put in your suitcase:
Delhi is cold in winters (November to February) so you will have to bring pullovers, jackets, scarves etc if you come during that period.
Summers (April to September) can be extremely hot and humid, if you come for a short period in between those given months, forget all the warm clothes they will only be good to make your luggage heavier and collect dust.
There is no need for specific injections before coming (just yellow fever for some countries) or malaria treatments and for sure leave big boxes full of medicines. There are numerous chemists and the variety of medicine is endless and adapted to your illness.
Same thing for mosquito repellents, they may work for Western mosquitoes but won't be very effective here. The local ones are not only much cheaper, but they smell better and are very effective.
For women: bring cocktail dresses, Indians are fond of parties and gather often for formal events, you wouldn't want to be the only one in jeans….
~ Interviewed July 2012
> Are you an expat living in India? We'd love to hear your story. Open the questionnaire here, copy into an email and send it back to info@expatarrivals.com