Grace Bantol is a Filipina expat living in the Czech Republic. Driven by ambition and her relentless search for "greener pastures," she migrated to the United States for a job opportunity. It was there that she met her Czech husband. They moved to the Czech Republic with their 10-month-old son in June 2011 to be closer to his family. Grace is now a stay-at-home mom and works part-time teaching English.
Learn more about the country in the Expat Arrivals
Czech Republic Guide
and read more
Expat Experiences in the Czech Republic
.
About Grace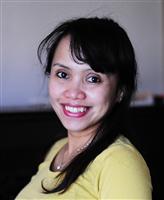 Q: Where are you originally from? 
A: Philippines

Q: Where are you living now? 
A:  Kolin, Czech Republic

Q: How long have you lived in the Czech Republic? 
A:  A year and seven months
Q: Did you move with a spouse/children? 
A:  Yes, I moved with my Czech husband and then 10-month-old son

Q: Why did you move; what do you do?
A:  We moved because we wanted to be closer to my husband's family and I, on the other hand, wanted to raise my son. Currently, most of my time is spent at home with my son.  I also teach English part-time, serve my socio-civic organization (Filipino Czech Association) and maintain my blog, Czech the Flip.
About Kolin
Q: What do you enjoy most about Kolin, how's the quality of life? 
A:  I love the fact that "nature" is well-preserved. There are a lot of outdoor activities that can be done regardless of the season. Since it is a small city, crime rates are pretty low and life is slow. I would say that the quality of life is moderately good. We still get to do the things we used to do but with less stress.  

Q: Any negatives? What do you miss most about home?
A:  I guess the slow-paced lifestyle also has its negative effects. But what I missed most about home is how light-hearted and friendly people are. Over here, it takes time to make friends. People are cautious and smiles are rare.  

Q: Is the Kolin safe? Are there any areas expats should avoid?
A:  Yes, it is relatively safe. I don't see any specific areas that expats should avoid. However, when taking public transport, expats should be mindful of their belongings since there are pickpockets in the city.

Q: How would you rate the public transport in the Czech Republic? What are the different options? Do you need to own a car?  
Public transport in Czech, especially in Prague, is very good. Trains and trams are the most frequently used modes of transport, but there is also the option of taking the metro, bus and taxi.
 
If you live and work in the city centre, I do not see the need to own a car since public transport is clean, cheap and efficient. If you live outside the city centre, like in my case, a car may be necessary.

Q: How would you rate the healthcare in the Czech Republic?
A:  Healthcare is pretty good. It is modernised, uses a Western approach and is very affordable. The only problem is that some hospital facilities are old and medical staff may sometimes appear curt and unsympathetic. On a scale of one to 10, with 10 being the highest, I would give it an eight.
About living in the Czech Republic
Q: Which are the best places/suburbs to live in as an expat?
A:  For expats who totally do not have any ties (i.e.  friends, relatives) here, I would say that the best places to live in are in Prague 1 & 2.  That way, one is at the centre of everything and the pangs of loneliness will always be in the background since there will always be something interesting to do.

Q: How do you rate the standard of housing in the city?
A:  There are a lot of pretty decent places to live in the city. If I were to rate it in terms of satisfaction for the amount paid, I would give it an eight on a scale of one to 10, with 10 being the highest.

Q: What's the cost of living compared to home? What is cheap or expensive in particular?
A:  If I were to compare it to my home country which is the Philippines, then the cost of living is relatively higher. But if I compare it to the US, which is the country where we came from prior to moving here, it is very reasonable. Everything from real estate, food, utilities and healthcare are very reasonably priced. Staples like bread, potatoes and meat are of good quality and inexpensive. Household goods, furniture and electronics from familiar Western brands are easily accessible in malls and speciality stores. Furniture is also very reasonably priced since there are a lot of highly-skilled craftsmen in the country. The only thing that's expensive here is petrol.
Q: What are the locals like; do you mix mainly with other expats?
A:  The locals are not very friendly in the beginning but once you become a familiar face, it is easier to approach them and make friends.   

When we were new here, I mainly mixed with other expats because it was easier. With the help of the International Women's Association in Prague, I was able to meet and make friends with other women who are also mothers and whom I can share similar experiences with. But after being here for a while, I have now widened my friends circle to include locals whom I have met at my son's school and at the playground.  

Q: Was it easy meeting people and making friends?
A:  For meeting other expats, yes. But it was quite difficult to mingle with the locals.
About working in the Czech Republic
Q: Did you have a problem getting a work visa/permit for the Czech Republic?
A:  Not really, because I am married to a Czech citizen. But I think that in general, it can be quite challenging because of the bureaucracy that exists in some government offices.

Q: What's the economic climate like in the Czech Republic, is there plenty of work?
A:  Right now, the economic climate is not that great, but there are still a lot of job openings if you are in the right field.
Family and children in the Czech Republic
Q: Did your children settle in easily?
A:  It was very easy for my son since he was still a baby when we moved here. 

Q: What are the schools like, any particular suggestions?
A:  Public schools in the Czech Republic only offer instruction in the Czech language. But there is a growing number of private international schools and bilingual (English and Czech) preschools for young children. In our case, we chose a private Montessori-style preschool that offers instruction in Czech.
 
When deciding on a school for your child, it will be helpful to talk to the school administrator to find out if the school is able to cater to your child's needs.
And finally…
Q: Is there any other advice you would like to offer new expat arrivals?
A:  Learn the language, or at least the basic phrases. It will definitely make your stay in CZ worthwhile, as it will give you a boost of self-confidence in getting into places not described in tourist books. Other than that, just keep an open mind and expect the unexpected.

►Interviewed January 2013