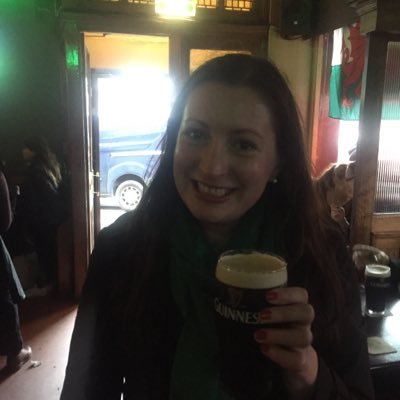 Grace Taylor is a Canadian expat living in Ireland. Having travelled to work at the Dublin branch of her company, she operates as a consultant in the tax and accounting industry. A lover of travel, her main priority when moving to a new country is proximity to a major airport and yoga studio. Get to know her better at www.gracefullyexpat.com.

Read more about Ireland in the Expat Arrivals Ireland Guide or read more expat experiences of Ireland.
About Grace
Q: Where are you originally from?
A: Vancouver, BC, Canada.
 
Q: Where are you living now?
A: Dublin, Ireland.
 
Q: When did you move here?
A: June 2016.
 
Q: Did you move here alone or with a spouse/family?
A: Alone.
 
Q: Why did you move; what do you do?
A:  I moved to take a job with the Irish member firm of my company, but also just to have another expat experience.
About living abroad
Q: What do you enjoy most about Dublin? How would you rate the quality of life compared to Canada?
A: I enjoy the friendly, social atmosphere in Dublin, as well as the walkable scale of the city. I'd say the quality of life is quite comparable to Vancouver; mild climate, good access to outdoor activities, and, unfortunately, an expensive housing market.
 
Q: Any negatives? What do you miss most about home?
A: As I alluded to above, the housing market in Dublin is quite expensive and competitive. But that seems to be an increasing issue worldwide in many attractive locations. What I miss most about Vancouver is my family, the Seawall, and good sushi!
 
Q: What's the cost of living compared to Canada? What is cheap or expensive in particular?
A: Cost of living seems largely similar. It's always tricky to compare when local salaries are different, as are tax rates. But for a similar level (career-wise), I'd say you can afford a similar quality of life. What's especially expensive in Ireland is alcohol (at least compared to the rest of Europe, although it's perhaps on par with BC), and what I find very affordable here is basic groceries. I love the prevalence of Aldi and Lidl here!
 
Q: How would you rate the public transport? What are the different options? Do you need to own a car?
A: Public transport in Dublin leaves something to be desired. I wish there was a light rail/tram that went to the airport, for example. There are buses to the airport, but they get stuck in city centre traffic.

The main options are: Dublin Bus, the Luas (streetcar/tram), and the DART (commuter rail). The Luas and the DART are good, if they go where you're going! And to be fair, the Luas is undergoing expansion now. Overall if you live in Dublin city, you really don't need a car unless you'll be travelling out of the city regularly.
 
Q: How would you rate the healthcare in Dublin? Have you had any particularly good/bad experiences with regard to doctors and hospitals? Are there any hospitals you would recommend?
A: I haven't had any experience with doctors or hospitals yet (thankfully) but I've been to the dentist and they were of the high standard you'd expect, with a very reasonable out-of-pocket fee, or free with the private insurance I have through my employer.
 
Q: What are the biggest safety issues facing expats living in Dublin? Are there any areas expats should avoid?
A: Ireland is a very safe country, and Dublin is a safe city. Normal precautions or situational awareness should be taken when walking late at night, but generally I haven't encountered any safety concerns.
 
Q: How do you rate the standard of housing in the city? What different options are available for expats?
A: Housing is a known issue in Dublin, there's no getting around it. Generally, I'd say people either go for a smaller flat or house-share closer to city centre, if they're on the younger/single side, or for a family house in the northern or southern suburbs, if they have a family. My experience is that supply is rather limited for both, but with a bit of patience and perseverance, expats will find a suitable housing option!

Q: Any areas/suburbs you'd recommend for expats to live in?
A: For people that want to be close to the city centre, I think the neighbourhoods of Ranelagh, Rathmines, Ballsbridge, and Grand Canal Dock are excellent. Unsurprisingly, they also come with a price to match. Expanding the search just slightly further will yield other very nice areas, but city centre commuters may find they are out of comfortable walking distance.
Meeting people and making friends
Q: Was it easy meeting people and making friends? How did you go about meeting new people?
A: It was fairly easy making friends, especially because I happen to work with a fair number of people around my age. I would also suggest developing a network/community outside of work. I joined a yoga studio, but there are meetup groups to cater to many different interests.

Q: Have you made friends with locals or do you mix mainly with other expats? 
A: I have a mix of local and expat friends. It's usually quite easy to make friends with expats, but it can be hard to say goodbye, as people tend to come and go fairly frequently.

Q: What advice would you give to new expats looking to make friends? Any social/expat groups you can recommend?
My advice is to say yes to as many social invitations as you can, especially in your first few months. I also like the networking group InterNations, which organise frequent social events.
About working in Dublin
Q: Did you have a problem getting a visa or work permit? Did you tackle the visa process yourself or did you enlist the services of an immigration consultant?
A: Fortunately for me, my employer handled the work permit process, but from my side it was very quick and painless, which I know isn't the case in many other countries!
 
Q: What's the economic climate like in the Dublin? Do you have any tips for expats looking to find a job there? Which resources did you find most useful?
A: I think the overall economic outlook for Dublin is a positive one. There is construction all over the city and Dublin remains top of mind for many especially in light of Brexit.
 
Q: How does the work culture differ from home? Do you have any tips for expats doing business in the city/country?
A: In my field, tax/accounting, I'd say the work culture is more conservative and traditional. I don't think the same could be said of the tech industry here, however. But in business environments, my tip would be to dress more formally than we typically would in North America (certainly the West Coast), and to be punctual. Lateness is very much frowned upon!
And finally…
Q: Is there any other advice you would like to offer new expat arrivals?
A: My advice for any prospective expats, whether they are coming to Dublin or anywhere else in the world, is to just jump in! It can feel overwhelming if you try to plan every detail, and there will always be unexpected "adventures" that crop up along the way. But in the end, everything that really matters will sort itself out, and you'll have an amazing experience that's worth any of the hassles you may encounter. Oh, and get some good tax advice, especially if you're American.

– Interviewed June 2017