Izzy is an American expat who moved to Vietnam with her boyfriend at the beginning of 2016. Originally from the Philippines, Izzy returned to her Asian roots to take up a teaching job in South Korea before deciding that she wanted to explore more of the region, and has now settled in Ho Chi Minh City. Izzy is currently the editor of the Vietnam Tourism Board and shares her experiences of expat life in Vietnam on her blog, The Next Somewhere.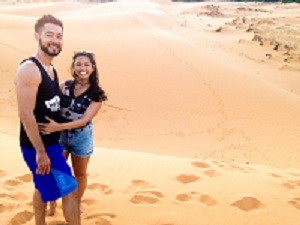 About Izzy
Q: Where are you originally from? 
A:  A Bostonian by way of the Philippines.
Q: Where are you living now? 
A:  Ho Chi Minh City, Vietnam.
Q: When did you move to Vietnam? 
A:  February 2016.
Q: Did you move here to Vietnam alone or with a spouse/family? 
A:  I got my boyfriend Tim to join in on the fun!
Q: Why did you move to Vietnam; what do you do? 
A:  After a year of teaching in Korea, I realised Korea wasn't for me so I bounced. Tim, who I had met in Korea and had been there for three years, decided to tag along. What a guy, right? So we traipsed around the Asian continent for five months, made a surprise visit back to the States for the holidays, then set back on the road for Asia again hitting up the Philippines (where most of my relatives still are) and then finally arriving in Vietnam. Phew, I'm tired just thinking of all that hopping around! I initially was going to teach in Vietnam but came upon an editorial gig with a local magazine, wet my feet in the world of journalism, and then got offered a dream position working as the editor for the Vietnam Tourism Board. I'm currently producing the content for their soon-to-be-relaunched official tourism site! 
Living in Vietnam
Q: What do you enjoy most about Ho chi Minh City? How would you rate the quality of life compared to the US? 
A: I love that every day presents itself with newness. There is always something waiting to be discovered, which has made me that much more excited about life! It's difficult to compare quality of life in the USA to that of Vietnam because they aren't on the same tier. They offer different sets of comforts.
Q: Any negatives? What do you miss most about home? 
A:  I'm unusually close to my family so it's always hard being so far away from the people I love the most. I just want to be able to share all that I am experiencing over here with them! On a superficial note, I miss Target (an American shopping chain) because they have everything in one store unlike Vietnam where you have to go to a million and one different shops to find the things you need. A shopping expedition can take up a whole day! 
Q: What are the biggest adjustments you had to make when settling into expat life in Ho Chi Minh City? Did you experience any particular elements of culture shock in Vietnam?
A: To be honest, the biggest adjustment has been the perpetual heat and lack of mobility. Unless you're brave enough to drive a motorbike around the city, mobility becomes seriously impaired. I love that motorbike taxis are so readily available (GrabTaxi and Uber are cheap here!) But in an instance when there's a storm, most of the time, all the motorists are unavailable. And taxis may be cheap for a tourist but for someone living here, can get expensive very quickly. Walking around is a bust because the city is enormous and coupled with high levels of pollution and outdoor temperatures, it's pretty hard to go too far without feeling faint. Or getting wet during the rainy season.
Q: What's the cost of living compared to home? What is cheap or expensive in particular? 
A: Oh man, the one thing that scares me the most about returning home is price tag shellshock. Most would agree that Vietnam is the cheapest country in Southeast Asia. My living expenses (i.e. rent, transportation, bills) all are a fraction of what it would be back home. It's pretty unreal how far money stretches in Vietnam.
Q: How would you rate the public transport in HCMC? What are the different options? Do you need to own a car?
A: Public transportation is virtually non-existent in Vietnam. While most expats invest in a motorbike, I've frightened myself out of driving. I opt for motorbike taxis via Uber or GrabTaxi. Seriously so efficient!
Q: How would you rate the healthcare in HCMC? Have you had any particularly good/bad experiences with regards to doctors and hospitals? Are there any hospitals you would recommend?
A: I have yet to get sick here but I'm not sure I'd want to. There are some great hospitals but second opinions are always recommended and I've heard of some misdiagnoses. Victoria Health Care on Nguyen Van Troi is a vetted location as well as Vin Mec on Hai Ba Trung Road in District 3. The language barrier is what makes healthcare a bit of pain in this city, but there are definitely some places with English-speaking staff.
Q: What are the biggest safety issues facing expats living in Ho Chi Minh City? Are there any areas expats should avoid?
A: Petty theft is definitely the biggest concern to personal wellbeing. In the seven months we've been here, we've heard about motorbike snatchers who grab purses, bags, and phones off unsuspecting ordinary citizens. Tourists aren't the only targets! Two friends visiting (on two separate occasions) were walking down the street and their cellphones were stolen right out of their hands! Bui Vien in District 1, the backpacker's street, is teeming with pickpockets. The best way to keep your belongings safe is to keep your electronics inside your bag and hold your bag close. If you need your phone when walking, hold it in the hand away from the street.  
Q: How do you rate the standard of housing in HCMC? What different options are available for expats?
A: Housing in HCMC is fantastic. There are a number of options ranging from studios to one/two bedroom apartments, penthouse suites, and even villas! You can even go for shared room options. Almost every budget can be accommodated. Most apartments are brand new and come fully furnished with cleaning services, wifi, water and electricity included in the monthly rent. Hoozing is my go-to for housing options.
Q: Any areas/suburbs in Ho Chi Minh City you'd recommend for expats to live in?
A: Currently I live in District 1, which is the downtown area. Everything I need is less than a ten-minute drive away. District 3 borders District 1 and is a little less touristy. For those wanting some luxury, check out District 7 or District 2. D7 is the unofficial Korean area of HCMC, about 15 to 20 minutes away from the city centre while D2 (specifically the neighbourhood of Thao Dien) is known as the home of the expats, but it's about 25 minutes from the city centre. 
Meeting people and making friends in HCMC
Q: How tolerant are the locals of foreigners? Is there any obvious discrimination against particular religions or women etc.?
A: The locals here are very curious about foreigners. When it comes to the youth, they are so unabashed with their English and will easily approach a foreigner to make small talk. But for the older generation, many of them struggle with English and therefore become too shy to engage. But if you flash a smile at them, they immediately warm up to you. I think they are some of the kindest people I have ever met on my travels!
Q: Was it easy meeting people and making friends in HCMC? How did you go about meeting new people in Vietnam? 
A: In comparison to Korea, it was a lot harder making friends here because everyone comes from different walks of life. In Korea, you could depend on the fact that foreigners were either international students, teachers, or with the military, so there was always something to commiserate about. In Ho Chi Minh, the foreigner community is very diverse and it's a metropolis meaning there aren't a ton of opportunities to run into familiar faces. Joining the HCMC Facebook group for females was my entrance into the social pool. They post a lot of networking activities and meetups. If there are any other females looking for things to do in the city, I compiled a whole list of activities on my blog.   ​​​​​​​
Q: Have you made friends with locals or do you mix mainly with other expats? What advice would you give to new expats looking to make friends? Any social/expat groups you can recommend?
A: Personally, I have more friends that are expats than locals; however, I became very close to some of my Vietnamese co-workers. I think that expats have to just take advantage of all opportunities and accept every invitation that is thrown their way. The main Facebook group for expats in HCMC is honestly terrible and full of trolls. But there are some good ones out there! Ladies, join Female Expats and Locals in HCMC! For socializing, you have Saigon International Friends. For foodies, there's Foodies in Saigon and Vietnam is Awesome is a great resource for trip inspiration. 
Working in Vietnam
Q: Did you have a problem getting a visa or work permit for Vietnam? Did you tackle the visa process yourself or did you enlist the services of an immigration consultant?
A: The visa/work permit process in Vietnam is the world's biggest headache. First and foremost, make sure that your current employer will sponsor your work permit. Don't work for a place that refuses to do that for you. When we first arrived, we were on a month-long tourist visa for Americans, which was a terrible idea for being on a job hunt and we should have initially opted for the three-month one. Now, new laws have been enacted where there is only a single visa option for tourists, which is a one year long tourist visa with multiple entries. Work permits take two months to process and without one, you are heavily taxed by the government as a foreigner. There are so many visa services but the one I highly recommend is Nghia.vn.​​​​​​​
Q: What's the economic climate like in Ho Chi Minh City? Do you have any tips for expats looking to find a job there? Which resources did you find most useful?
A: HCMC is the commercial centre of Vietnam and is one of the fastest growing cities in the region. There's a surplus of teaching jobs, although a little less than what's available in Hanoi, and tons of opportunities in start-ups and business. Vietnamworks is a great resource, although most job opportunities I've come across have been via the Facebook groups or by word of mouth.​​​​​​​
Q: How does the work culture differ from the US? Do you have any tips for expats doing business in Vietnam?
A: The work culture is very similar to that of the USA in that most jobs are 9 to 5s. From my observations, Vietnamese people are so hard working. One thing to note: there are a number of employers here who try to take advantage of the cheap labour and demand high standards of productivity without wanting to compensate fairly. And some try to cut corners with labour contracts but that's a rare case. Always ask for a legitimate contract and clarify your benefits package before signing with a new employer.
Family and children in Vietnam
Q: Did your spouse or partner have problems adjusting to life in Vietnam? Do you think there are any specific challenges for a trailing spouse?
A: For Tim, his biggest hang-up when first moving here was the lack of support in Vietnam as opposed to what he experienced in Korea. Educators in Korea, especially those working with established programmes like EPIK (the public school programme), have flights, visa, and even housing arranged by their schools. In Vietnam, it's all do-it-yourself, and that's not so much of the challenge as having a constantly changing set of rules and no one to provide a direct set of answers.  I am used to chaos as I am originally from the Philippines where the structure is quite similar to that of Vietnam, but Tim wasn't really prepared for that hurdle.
And finally…
Q: Is there any other advice you would like to offer new expat arrivals to Vietnam?
A: Tourists complain that there's not much to do in the city; however, for those living here as expats, there is plenty to be done! I discover something new every day whether it's a hole-in-the-wall café, or a shop hidden in some ageing apartment space, or a fantastic new eatery. Honestly, I'm never bored! Expats – reach out when you need help. The expat community in HCMC is so welcoming and will always lend a hand when asked. Also, try to learn the language! Knowing a few words helps distinguish you from a tourist and can be the difference between a scam and a discount. Trust me!
► Interviewed in September 2016