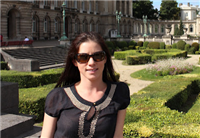 Jay is a teacher who left Canada with her husband, who works in the oil and gas industry, to live in Gabon, West Africa for two years before moving once more to Stavanger, Norway. Although she misses the tropical weather in West Africa, she's loving her beautiful new Scandinavian home and isn't ready to return to Canada just yet.
Follow her adventures on her blog, From There To Here.
Read more expat experiences in Norway or read about the country in the Expat Arrivals guide to Norway.
About Jay
Q: Where are you originally from?
A: I'm from Canada. I grew up in Saskatchewan but spent my last ten years in Alberta.
Q: Where are you living now?
A: We currently reside in Stavanger, Norway.
Q: How long have you lived here?
A: We moved to Stavanger July 1, 2012. Before Norway, we spent two years in Gabon, West Africa.
Q: Did you move with a spouse/children?
A: Yes, I moved with my husband.
Q: Why did you move; what do you do?
A: My husband works in the oil and gas industry and he was offered a position in Stavanger after having worked for two years in Africa.
About Stavanger
Q: What do you enjoy most about Stavanger, how's the quality of life in Norway?
A: Stavanger is beautiful. Gorgeous landscapes are around every corner, from the fjords to the ocean to the countryside. It's generally a clean city and it's well equipped with walking and bike paths.
Q: Any negatives? What do you miss most about home?
A: Stavanger does have a fairly rainy climate and that can be hard to adjust to. It is also very expensive. I find it quite similar to Canada (especially after living in Africa) so we've found the adjustment quite easy.
Q: Is Stavanger safe? Are there any areas expats should avoid?
A: We have yet to come across an area we do not feel safe in. The crime rate seems to be low here but we do take normal precautions that we would in any city.
Q: How would you rate the public transport in Norway? What are the different options? Do you need to own a car?
A: While having a car is certainly nice, it's not necessary. The public bus system is fairly extensive and there is a train that runs regularly through several stops between Stavanger and Sandnes (and beyond.)
Q: How would you rate the healthcare in Norway?
A: While I personally haven't used the healthcare system, my husband has. His experience was very similar to what we experience in Canada. Once residents in Norway, the public healthcare system is available to you and you will generally find a high standard of care.
About living in Norway
Q: Which are the best places/suburbs to live in Stavanger as an expat?
A: This is a pretty subjective question. Many expats like to be in Stavanger Sentrum where you can enjoy the many restaurants, shops and activities near the harbour. Families often choose to live in the areas close to the international schools. Stavanger and area is surprisingly compact and it's not difficult to access most areas.
Q: How do you rate the standard of housing in Stavanger?
A: The standard of housing is very high, albeit expensive. Scandinavian homes generally are bright, clean and kept up.
Q: What's the cost of living in Norway compared to home? What is cheap or expensive in particular?
A: Everything in Stavanger is at least double the cost it would be in Canada, if not 3, 4 or 5 times more expensive. We find rent, alcohol, and eating out in restaurants to be the most expensive costs for us.
Q: What are the locals like; do you mix mainly with other expats?
A: My husband and I find the locals to be friendly enough and are quite helpful when we've asked for help. We don't find them to go out of their way to make us comfortable nor do they make much small talk but we feel welcome.
Q: Was it easy meeting people and making friends in Norway?
A: There is a fairly large and active expat group in Stavanger but as always, it takes a bit of courage and effort to put yourself out there and get involved.
About working in Norway
Q: Did you have a problem getting a work visa/permit for Norway?
A: My husband's work visa process went exactly as planned. He applied before we moved to Norway and it was approved within 1.5 months. We have now submitted my family immigration application and await its approval.
Q: What's the economic climate like in the city; is there plenty of work in Stavanger?
A: Stavanger is thriving thanks to a busy oil and gas industry and tourism in the summer months. Plenty of foreign skilled workers want to take advantage of this so the competition can be quite competitive. While speaking Norwegian is not a requirement, it often helps people get their foot in the door for those positions.
Q: How does the work culture in Norway differ from home?
A: The work culture is much more laid back in Norway as compared to Canada. The locals typically work their 7.5 hours per day and head home. While people enjoy their work, it often takes a back seat to family commitments.
Q: Did a relocation company help you with your move to Norway?
A: Yes, my husband's company has a fairly extensive procedure for moving anywhere overseas and they helped us with visa applications, to finding accommodation and set us up with a full day orientation to Stavanger.
Family and children in Norway
Q: Did your spouse or partner have problems adjusting to their new home?
A: My husband is very happy here. He is challenged and enjoys his work and he loves the outdoor lifestyle Norway provides.
And finally…
Q: Is there any other advice you would like to offer new expat arrivals?
A: It's always easiest to focus on what is different and what is easier in your home country but remember that you are here for different experiences and enjoy it as much as possible. Norway has many great things to offer so take advantage of them while you can!
~ Interviewed in September 2012