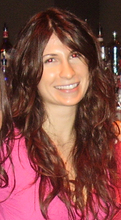 Though now back in Denver and reintegrated into the greater Jewish diaspora, Jessica made Aaliyah, joined the Israeli army and spent nearly a decade making a life for herself in Tel Aviv. She takes a break from blogging about her eventful and unpredictable experience to let us in on some local secrets – like why Israelis are synonymous with sabras (prickly desert fruit).
Read more about her trials and tribulations on her Aaliyah Survival Blog.
For information about relocation to Israel, check out the Expat Arrivals Israel Country Guide or read more about Expat Experiences in Israel.
About you
Q: Where are you originally from?
A: I grew up in the United States, in a suburb of St. Paul, Minnesota.
Q: Where are you living now?
A: I am currently living in Denver, but I am writing about my time in Tel Aviv, Israel.
Q: How long have you lived in Israel?
A: I lived in Tel Aviv for nearly eight years.
Q: Did you move with a spouse/children?
A: I moved alone.
Q: Why did you move to Israel? What do you do?
A: I moved to Israel for idealistic reasons. After growing up as a Zionist and spending time in Israel, I fell in love with the country, the culture and the people.
I spent my first two years in the army, which is a very big aspect of the culture. After that, I worked in the hi-tech industry in a marketing communications position. The country is full of start-up, hi-tech companies that need English-speaking marketing specialists.
About Tel Aviv
Q: What do you enjoy most about Tel Aviv? How's the quality of life in Israel?
A: Tel Aviv is a young, fun and vibrant city. It sits right on the beach, with cafés and nightclubs always open. The people are always ready to have a good time and friendly.
Q: Any negatives? What do you miss most about home?
A: The parking is horrible. Things that should be easy, aren't. Everything warrants a fight – from going to the grocery store to catching a taxi. But the same person you fight with one second will be inviting you over for dinner a few minutes later.
Q: Is Israel safe?
A: Tel Aviv almost never experiences random acts of violence. I feel safe walking down the street by myself in the middle of the night. The violence that we worry about is terrorism. Luckily, over the past few years, there have not been any major terrorist attacks in Tel Aviv. But that does not mean that the country is not vigilant. There are still security checks when going into malls or other establishments. And don't be surprised to see soldiers walking down the street with semi-automatic weapons – they are just on their way home.
About living in Tel Aviv
Q: Which are the best places/suburbs to live in Tel Aviv as an expat?
A: Rannana is north of Tel Aviv and is known to be a city with quite a lot of English-speaking families. However, as a young and fun single, Tel Aviv itself is the best city to live in. The more religious singles typically choose Jerusalem as their city of choice.
Q: How do you rate the standard of accommodation in Israel?
A: Don't expect the same standards in America. The sooner you get used to lower standards, the easier it will be. The apartments are smaller, older and more expensive. And don't expect any customer service.
Q: What's the cost of living in Israel compared to home? What is cheap or expensive in particular?
A: Everything is more expensive: cars, gas, real estate, AND you get paid a lot less. Fruits and vegetables are the only things that are less expensive.
Q: What are the locals like? Do you mix mainly with other expats?
A: Israelis are known as sabras. A sabra is a thorny desert fruit. The reason that an Israeli is called a sabra is that they, just like the fruit, are prickly and hard on the outside but sweet and tender on the inside. Israelis can be aggressive and argumentative, but at the same time, they are warm, kind and giving.
Q: Was it easy meeting people and making friends?
A: Many immigrants find it difficult to make Israeli friends, but it is well worth the effort. Since Israel is made up of immigrants from every country, there is a great mix of cultures – from Europe, the United States, South America and more. There are great English-speaking communities all over Israel.
About working in Israel
Q: Did you have a problem getting a work visa/permit?
A: I became an Israeli citizen. Anyone with one Jewish grandparent has the right to become an Israeli citizen.
Q: What's the economic climate like in Tel Aviv? Is there plenty of work?
A: While the Israeli economy was not significantly impacted by the global economic decline, it is still difficult to find work in Tel Aviv, especially as a new immigrant. Language can be a barrier, but there are also plenty of Israelis who speak high-level English. In addition, Israel is specifically suited for entrepreneurs. It is an excellent country to begin and launch a start-up company.
Q: How does the work culture differ from home?
A: The work culture is much more relaxed and casual. This goes for all aspects of the work climate, from dress to conversation. No conversations are off-topic at work, including politics or the bedroom.
Q: How would you rate the healthcare?
A: The healthcare system in Israel is socialised. While this means that healthcare may be a bit slower, it also means that the cost of medicine is much lower – from check-ups and prescription meds to surgeries. Unlike in the US, where the doctors' offices have full testing facilities and labs, in Israel, you have to go to a separate lab. The doctors' offices in Israel only have a printing machine to write prescriptions and referrals.
And finally…
Q: Is there any other advice you like to offer new expat arrivals?
A: The best advice I have for anyone in Israel is to roll with the punches and try to laugh at the absurdities and difficulties. Try not to get frustrated with all the problems, as all it will do is get you stressed. Lastly, always stand up for yourself. Don't be afraid to yell – Israelis see yelling as a sign of affection.
~ interviewed May 2011