In September 2014, Joan Kissler left her home soil of the USA in search of a new life in Japan. Now working as an assistant language teacher in Tokyo, she shares what she misses about home and what she enjoys most about expat life in Japan. 
About Joan
Q: Where are you originally from?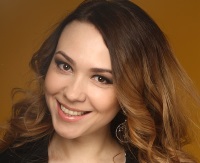 A: USA
Q: Where are you living now?
A: Tokyo, Japan
Q: When did you move to Tokyo?
A: September 16, 2014
Q: Did you move to Tokyo alone or with a spouse/family?
A: With a spouse
Q: Why did you move; what do you do?
A: To become an Assistant Language Teacher
Living abroad in Tokyo
Q: What do you enjoy most about Tokyo? How would you rate the quality of life compared to the USA?
A: The diversity of the culture and how organised the country is. 10 out of 10, as I feel safe walking around Tokyo at any given time and feel appreciated by my students.
Q: Any negatives? What do you miss most about home?
A: The only negative thing for me right now is the language barrier, as I am not that fluent in Nihongo yet. I miss my family the most.
Q: What are the biggest adjustments you had to make when settling into expat life in Japan? Did you experience any particular elements of culture shock?
A: The people here take "mind your own business" to a whole new level, and most of the time, neighbours don't go out of their way to welcome a newcomer or strike up a conversation.
Q: Is the cost of living in Tokyo cheaper or more expensive than in the USA?
A: More expensive because it's in the city centre.
Q: How would you rate public transport in Japan? What are the different options?
A: Terrific public transportation. The railway networks connect you to virtually any point in Japan you can imagine.
Q: How would you rate healthcare in Japan?
A: Healthcare in Japan is one of the best in the world as they value every person as an asset to the growth of the economy.
Q: What are the biggest safety issues facing expats living in Japan? Are there any areas in Japan that expats should avoid?
A: I haven't encountered any such place that I think I should avoid, aside from gambling places.
Q: How do you rate the standard of housing in Tokyo?
A: The living spaces are relatively smaller compared to houses back home.
Q: Any areas/suburbs you'd recommend for expats to live in Tokyo?
A:  Shinagawa-ku and Meguro-ku are nice places to live in as they are near office buildings and establishments.
Meeting people and making friends in Japan
Q: How tolerant are the locals of foreigners? Is there any obvious discrimination against particular religions or women etc.?
A: At first, they have this notion about foreigners being entertainers, but when they get to know you, they can be really nice too. 
Q: Was it easy meeting people and making friends in Tokyo?
A: Definitely not easy. I had to adjust to the way Japanese people communicate before taking it to the level of friendship.
Q: Have you made friends with locals in Japan, or do you mix mainly with other expats? What advice would you give to new expats looking to make friends in Tokyo?
A: I go with other expats as well as locals. For new expats, my advice is to hang out with their Japanese colleagues from work because they love being invited to social gatherings outside work. From there, you can start making new friends.
About working in Japan
Q: Did you have a problem getting a visa or work permit for Japan?
A: I enlisted the services of an immigration consultant, so I did not have much of a problem with my working visa.
Q: What's the economic climate like in Tokyo? Do you have any tips for expats looking to find a job there? Which resources did you find most useful?
A: Japan's economy is booming and welcoming expats with expertise in the fields of engineering, healthcare and education. I found that it's best to look for opportunities in their newspaper ads and ask other expats how they landed their jobs.
Q: How does the work culture in Japan differ from home? Do you have any tips for expats doing business in Japan?
A: Japanese people are serious about whichever job they have, so there's a certain amount of pressure to show you're as committed to the job as they are. For expats, just show them your expertise and dedication to work.
Family and children in Japan
Q: Did your spouse or partner have problems adjusting to Tokyo? Do you think there are any specific challenges for a trailing spouse?
A: My husband is enjoying Japan and is gradually adjusting to the culture. Sometimes he complains about the quiet in our neighbourhood, but he is slowly making new friends as well
Q: What are the schools like in Japan? Any particular suggestions?
A: Waseda University is one of the top universities in Japan where most Japanese study their chosen degrees.
And finally…
Q: Is there any other advice you would like to offer new expat arrivals in Tokyo?
A: My advice would be to try and make new friends and understand the culture in Japan. It pays to be respectful of their traditions as well.

– Interviewed in July 2016