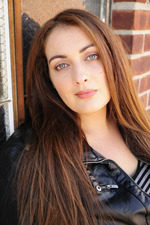 Kimberly Marie Freeman, a British expat living in New York City, can certainly feign American, but she still feels more comfortable embracing her local roots. The young actress hopped over the pond to "make it" in Manhattan, and after two years she still stands impressed by all the city has to offer.
For more information on expat life in the USA. Read the Expat Arrivals New York City Guide or read more about expat experiences in the USA.
About Kimberly
Q: Where are you originally from?
A: I am originally from London but moved to Hastings and St. Leonards as a teenager. My mum is from Trinidad, so I lived there for a short while as a child.
Q: Where are you living now?
A: I live in Gramercy, Manhattan. It's a pretty expensive area but has a very similar feel to being home. That said, there seems to be more space here than there was in Chelsea, Manhattan (where I first lived when I moved here).
Q: How long you have you lived in New York City?
A: I have lived in NYC for just over 2 years now.

Q: Did you move with a spouse/children?
A: I moved by myself, with two bags and a couple of dollars in my back pocket (well more than a couple dollars - but you get the picture).
Q: Why did you move; what do you do?
A: I moved for my career. I am an actress and knew that if I didn't take the big leap and move across the pond while still young, I never would. It was a very difficult decision to make, as I left my entire life and career behind to start over, but it's been worth every second.
About New York City
Q: What do you enjoy most about living in NYC, how's the quality of life in the USA?
A:  It's a culture shock to be honest. Even after being here for two years I am shocked by some of the differences.
I was brought up watching a lot of movies set in NYC and sometimes walking through the city is like being on a movie set. I still get excited when I walk into a building or park that is featured heavily in a film or in an iconic moment in history.
I love the atmosphere and pace of the city, and the energy here is like no other. I like the notion that everyone thinks anything is possible and nothing stands in the way of their dreams.
The quality of life is very different to the 9 to 5 of being back home. I work an average of 16+ hours a day when doing a play, film or working with my non-profit theatre company. Setting office hours is a joke here, as you are expected to be available at any time with a moment's notice. Because of my new found flexible attitude, I have been presented with some great opportunities last minute.

Q: Any negatives? What do you miss most about home?
A: My first two weeks in NYC, I could not sleep at all because it was so loud. I nearly booked a flight straight back home. Manhattan is loud and you never get used to the honking.
I miss my garden and cooking. I have no outdoor space here and my kitchen is the size of my closet, which I find very uninspiring. However, the lack of cooking inspiration has encouraged me to take full advantage of the NYC restaurant scene, and I've discovered some amazing new cuisines.
I also miss Ribena, salt and vinegar crisps, mince pies and pudding at Christmas and hot cross buns. Just simple things like not having crackers at Christmas make you very conscious of that fact that you are not home anymore.

Q: Is New York City safe?
A:  Like in any big city, you are expected to have a certain degree of common sense. I lived alone in the sex district in Paris when I was aged 18/19, and ironically, my parents are more worried about me living in prestigious Gramercy at age 28! I think NYC has a bad reputation, but as long as you have some common sense and don't put yourself at risk, you will be fine. It's as safe as London.
About living in New York City
Q: Which are the best places/suburbs to live in the city as an expat?
A:  I guess I am biased, but Gramercy and Chelsea are my favourite places. I like the East and West Village also as there are many other Europeans and young people in those areas.
Q: How do you rate the standard of accommodation in New York City?
A:  It's not like in the movies, that's for sure. My studio in Chelsea was three times more expensive than the mortgage for a 3-bedroom town house in London!
Also the lack of kitchen counters and outdoor space is disconcerting. I wish I had a garden again for my dogs and cat.

Q: What's the cost of living in New York City compared to home? What is cheap or expensive in particular?
A:  Accommodation is insanely expensive, but food is pretty cheap. It works out a lot cheaper to eat out at a local restaurant (or get delivery) than it is to buy all the ingredients yourself.
Drinks are more expensive here, but you really only need one or two on a night out as the measures are usually triples!
Q: What are the locals like; do you mix mainly with other expats?
A: My first night in the city I went to an expat meeting, but have never been again since. I get too homesick when I am constantly with other Brits. While living in a foreign country, I like to embrace all the different cultures the city has to offer. I find if I just hang out with Brits, I don't explore and embrace the city as much; we always end up talking about what we miss most from the UK.
Q: Was it easy meeting people and making friends? What advice can you give other expats on connecting with people in New York City?
A: I was very conscious of the stories people tell about NYC being pretty alienating so I made a huge effort to get out there and meet as many people as I could. I joined clubs, classes and societies that interest me and made a pact with myself to "never say no" to any offers to go out and meet new people.
Lifestyle in New York City
Q: Describe your typical weekend in your city? What are basic highlights?
A: I am usually rehearsing or doing theatre work (I am a bit of a workaholic) but on downtime, I like exploring new places in the city. I have a list of places I wanted to go and things I wanted to do that I wrote before I came here. I add to it almost daily. I try and tick at least one off a week.
I love the theatre and Indie film scene here and try and surround myself with creative and inspiring people.
Travel is so cheap here and most galleries and museums are cheap or have free days so you can see a lot for little money.
Q: What is the nightlife in New York City like? What do expats do in the evenings?
A: There are so many great things to do here and the Brit scene is getting bigger and bigger. I subscribe to a few meetup groups so I can watch British shows like Dr. Who, etc., with people who understand the sense of humour. There are also some great British shops and restaurants here where you can always find some fellow expats to talk to.
Q: Are there any clubs, groups or societies that make it easier to meet people? How can start to socialize in your city?
A: There are loads of British groups here. As I said, I went to one the first night I arrived and met loads of people. There are online magazines and websites where you can meet fellow Brits and find out about Brit events.
Culture in New York City
Q: Do you speak the local language? Is it difficult to get by if you don't?
A: I try and speak American. Being an actress, I like to practise my American accent whenever I can; but mostly I just stick to my native accent.
Q: Did you find any customs or examples of etiquette strange when your first arrived? Can you describe them?
A: The "have a nice day" culture I found very amusing when I first arrived but now I catch myself saying it sometimes.
Q: What was the hardest part about adapting to your new city? Why?
A: Bringing my pets over has been a huge ordeal as well as working out the money – after two years I still need to confirm that the 10 cents is smaller than the five cents.
And finally…
Q: Is there any other advice you like to offer new expat arrivals?
A: Jump right in. Make friends with your neighbours. Expect a lot of questions about Royalty, fish and chips, etc., and embrace our British culture. Even though we are the aliens in the country, we still contribute in a positive way and we carry our heritage with us.
Also, if moving to America, make sure you know the different between chips (potato chips) and fries. Also, lemonade is something very different here so orange juice and lemonade is not quite as good as you remember!
Lifesaver mints are nowhere near as good as polos.
– Interviewed May 2011