Marina is a truly global expat - she holds a Serbian passport, was born in Malaysia, grew up in Nigeria and lived in the USA and Switzerland before settling in Abu Dhabi, where she has lived for the past seven years. She works in PR and marketing and documents her experiences as an expat in her blog, My Pink Diary.
About Marina
Q: Where are you originally from?
A: By passport, I am from Serbia, however, I was born in Malaysia, grew up in Nigeria, lived in America, Switzerland and now the United Arab Emirates, you can define me as an eternal expat.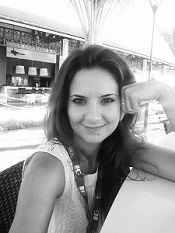 Q: Where are you living now?
A: I have been living in Abu Dhabi, United Arab Emirates, for the past seven years
Q: When did you move to Abu Dhabi?
A: I moved in October 2010
Q: Did you move here alone or with a spouse/family?
A: I moved here alone
Q: Why did you move to Abu Dhabi; what do you do?
A:  I moved to Abu Dhabi for a job. I manage the PR & Marketing department for two hotels in Abu Dhabi.
Living in Abu Dhabi
Q: What do you enjoy most about Abu Dhabi? How would you rate the quality of life compared to other places where you've lived?
A: I love how diverse Abu Dhabi is – it is home to many nationalities so you never really feel out of place. Whatever your interest is, you can easily find something new to learn or to discover, and you meet people from all paths of life. Having lived in first, second and third world countries, I can honestly say that the quality of life in Abu Dhabi is very high. Transportation is easily available, whether taxis or buses, and are cheap compared to other parts of the world, hospitals and clinics are equipped with top facilities and doctors, schools offer the best education, and from a professional perspective, salaries are much more attractive than what I would find at home.
Q: Any negatives? What do you miss most about your previous homes?
A: The most obvious one would be the summer heat, which rises up to 50 degrees Celsius; however this can easily be compared to the freezing winters of the northern hemisphere, which we don't have in UAE. Although there are parks and beautiful fountains in Abu Dhabi, I miss nature the most, forests, lakes and fresh air. And of course, homemade delights.
Q: What are the biggest adjustments you had to make when settling into expat life in Abu Dhabi? Did you experience any particular elements of culture shock?
A: My first culture shock was adjusting to the UAE weekend which is Friday and Saturday. Although it doesn't seem like a big adjustment, it did make me miss those lazy Sundays in Europe. The other one was my first Ramadan experience – however not in a negative way, rather it opened my eyes to a different religion and culture, and taught me how to respect different customs.
Q: What's the cost of living in Abu Dhabi compared to Serbia? What is cheap or expensive in particular?
A: I would have to say mixed. Transportation is definitely much cheaper than in Serbia, however, groceries and outings (like dinner in a restaurant or drinks at a bar) are more expensive. It is all a matter of how you organise your expenses. Abu Dhabi offers lavish experiences and products, as well as modest – there is something for everyone's pocket.
Q: How would you rate the public transport? What are the different options? Do you need to own a car?
A: I have never driven a car, nor do I have a license – so Abu Dhabi is ideal for me. Taxis are cheap compared to Europe and if you live downtown like me, it is only a short journey. I also heavily use the public buses, both within the city which are extremely affordable, most times I prefer the bus to a taxi to save cost – but also if I take a day trip to Dubai, for example. Both buses and taxis are very well maintained and are comfortable. Bonus tip for ladies – in buses, the first few rows of seats are reserved for women and children.
Q: How would you rate the healthcare in Abu Dhabi? Have you had any particularly good/bad experiences with regards to doctors and hospitals? Are there any hospitals you would recommend?
A: Healthcare in Abu Dhabi is one of the best I have experienced. I usually go to private clinics such as Advanced Cure Clinic, Intercare and Doctor's Medical Centre – the doctors are all educated from abroad and take on a more "family doctor" approach which we have in Europe as well. I did have some poor experiences in the large hospitals which is why I started going to the clinics – the good thing is that most insurances cover the private clinics, which is rare in Europe.
Q: What are the biggest safety issues facing expats living in Abu Dhabi or in the UAE? Are there any areas expats should avoid?
A: Abu Dhabi has been voted the safest city on the planet with the lowest crime rate in April 2017 – and I have never in seven years felt any danger or fear. As a single woman, I walk the streets freely without harassment, and any place I have visited, I have always felt comfortable.
Q: How do you rate the standard of housing in Abu Dhabi? What different options are available for expats?
A: Housing is definitely a high-cost factor for a lot of expats, including myself, and I know a lot of people who have moved to Dubai because rent is cheaper. Expats have a lot of options, whether it's an apartment or a villa, or they can purchase properties, and it all depends on one's budget and the location of the city they prefer to live in
Q: Any areas/suburbs you'd recommend for expats to live in Abu Dhabi?
A: I love living in the city centre - as I don't drive, it is convenient for me to walk around and get to shops, cafes and other places within a short timeframe, so I always recommend the city centre. However, a lot of expats prefer to live further away from the city in neighbourhoods such as Reem Island, Al Muneera, Saadiyat Island and Khalifa City.
Meeting people and making friends in Abu Dhabi
Q: How tolerant are the locals of foreigners? Is there any obvious discrimination against particular religions or women?
A: The Emiratis are very well accustomed to foreigners – I find them very interested in interacting with expats and interested in learning from foreigners' cultures. They are also very kind, hospitable, and generous people.
Q: Was it easy meeting people and making friends? How did you go about meeting new people?
A: YES! I work in hotels so it is a melting pot of people who are friendly, helpful and always interested to spend time together. Abu Dhabi has a great network of people and many groups such as InterNations and Meet Up – which connect people based on their interests.
Q: Have you made friends with locals or do you mix mainly with other expats? What advice would you give to new expats looking to make friends? Any social/expat groups you can recommend?
A: I have a mix of friends and acquaintances which I have built over the years. When I first moved to Abu Dhabi, I instantly made friends during a concert as people are very friendly, helpful and fun! I joined a Meet Up group for Yoga as that is one of my interests, and have made a good network of friends through that channel.
Working in Abu Dhabi
Q: Did you have a problem getting a visa or work permit for the UAE? Did you tackle the visa process yourself or did you enlist the services of an immigration consultant?
A: As I was recruited from overseas, my company has done all of the paperwork for me and I never had to apply for my own work permit. From that perspective, it is very easy and all of the HR offices are well accustomed to the laws and regulations. Just one strong word of advice for anyone planning to take up a profession in the UAE from abroad – make sure all your school diplomas (primary school, high school and university) are attested in your home country and the UAE's embassy, in case your company and position requires you to submit those documents for your visa application.
Q: What's the economic climate like in Abu Dhabi? Do you have any tips for expats looking to find a job there? Which resources did you find most useful?
A: The world market always fluctuates with jobs, and it really depends on what profession you are after, however, Abu Dhabi offers a lot of opportunities across the board. Websites such as Gulf Talent, Bayt and Caterer Global for hospitality are very helpful! It is also a great idea to contact companies directly when you seek employment, as it will leave a more personal impression.
Q: How does the work culture differ from home? Do you have any tips for expats doing business in Abu Dhabi?
A: People in Abu Dhabi, and the UAE in general, work very hard and much longer hours compared to the West – so make sure you prepare yourself for this. Some companies have five working days policy, while others have six working days – so make sure to clear this with your HR to avoid any surprises.
And finally…
Q: Is there any other advice you would like to offer new expat arrivals?
A: Abu Dhabi is an incredible place to live in, with a lot of opportunities and constant change which makes the move exciting – as you are part of the history! I would advise, however, that expats read as much as they can before moving whether it's a blog or a guide so they know what to expect, especially when it comes to the laws and code of conduct. Abu Dhabi is a very tolerant city, however, expats need to remember that it is still part of an Islamic country which highly values respect. Respect the laws, respect the code of conduct and you will not have anything to be worried about – however, that is applicable to every country.

► Interviewed July 2017