Padmaja Ganeshan-Singh is an Indian expat living in Seattle who moved to the USA as a trailing spouse when her husband was relocated for his job. Padmaja has a young daughter and is overcoming the challenges associated with being an expat parent. While she misses the hustle and bustle of India, Padmaja loves the options available to her family in Seattle and is making the most of her expat experience in the USA.
For further information on expat life in New York City take a look at the Expat Arrivals Seattle City Guide or take a look at more expat experiences of the USA.
About you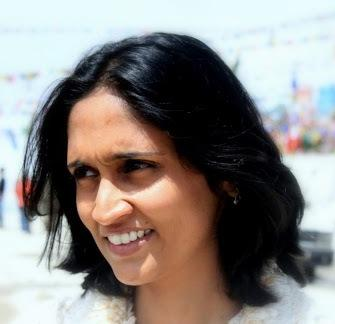 Q: Where are you originally from? 
A: Hyderabad, India
Q: Where are you living now?  
A:  Seattle, USA
Q: When did you move to Seattle? 
A:  We moved to Seattle in August 2012
Q: Did you move with a spouse/children? 
A:  Yes
Q: Why did you move; what do you do? 
A:  Spouse's transfer. I work in a non-profit and am a writer.
About Seattle
Q: What do you enjoy most about Seattle, how's the quality of life?
A:  I like all the greenery around and the rich options my daughter and I get to pursue our interests. 
Q: Any negatives? What do you miss most about home? 
A:  I miss the camaraderie of friends and the comfort in culture. I miss the hustle of an Indian city and of course, the Indian festivals.
Q: Is Seattle safe? Are there any areas expats should avoid?
A: Seattle is a safe city. But we've been told to avoid areas south of Rainier Ave S.
Q: How would you rate the public transport in Seattle? What are the different options? Do you need to own a car? 
A. Owning a car is the best option for expats in Seattle. Public transport is good, but time consuming and not well networked.
Q: How would you rate the healthcare in Seattle?
A:  Healthcare in Seattle is decent but expensive.
About living in Seattle
Q: Which are the best places/suburbs to live in Seattle as an expat?
A:  Expats with kids should decide where to live based on the school district, if going the public school route. Within Seattle, the Wallingford, Fremont, Greenlake neighbourhoods are recommended, while most would prefer the Redmond, Bellevue areas, outside of Seattle. For families without kids the downtown area is very convenient.
Q: How do you rate the standard of housing in Seattle?
A:  Accommodation in Seattle is affordable. If renting a house in Seattle, it's a bit more expensive than having to own a house. But with no credit history, when you move here as an expat, you may as well rent the place.
Q: What's the cost of living in Seattle compared to home? What is cheap or expensive in particular?
A:  The cost of living is higher here in Seattle than at home in India. However, electronics and gas (petrol) are cheaper.
Q: What are the locals like in Seattle; do you mix mainly with other expats?
A:  The locals are friendly. It's easier to connect if the family has kids as there are a lot of extra-curricular activities to be involved in. But Seattle is known for 'Seattle freeze'. Locals are comfortable with their established friendship and do not willingly welcome new social contacts immediately.
And finally…
Q: Is there any other advice you would like to offer new expat arrivals?
A:  Everything here works on credit history. From getting a cellphone connection to buying a house. It would help researching your best options before relocating. 

– Interviewed in August 2013