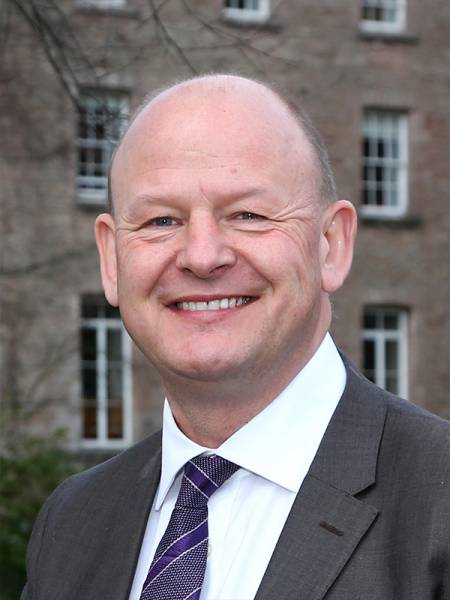 With more than 30 years of international education experience and a string of impressive accomplishments to his name, Paul Crute will be at the helm of the Nord Anglia Education group's new venture in Dublin, opening in September 2018. In this interview with Expat Arrivals, he talks about the ethos, teachers, curriculum, and facilities of the Nord Anglia International School Dublin (NAIS Dublin).
Tell us about your school. When was it founded, what is its ethos, and what are its goals for the future?
NAIS Dublin is due to open in September 2018. We aim to provide students with a world-class, transformational international education. An education that, in its wholeness, will nurture exceptionally rounded young people with a global and compassionate outlook. We will be a dynamic and vibrant environment offering outstanding music, drama, culture and sporting activities.
We will have outstanding teachers – not just imparting an academic curriculum. We must not forget or underestimate that teachers also impart who they are, their mindset, outlook and quality of being. All teachers will be impressively and exceptionally rounded internationalists who can lead extra-curricular activities and be wholesome role models. They will also benefit from the wonderful collaborations we have with the Julliard School, MIT and UNICEF.
We will also ensure that students are challenged academically by introducing them to highly innovative personalised learning experiences which have everything to do with bespoke learning systems, enabling technology, differentiation, self-evaluation and assessment for learning.
Where is the school located?
NAIS Dublin is located in South County Business Park, Leopardstown. We are well situated in the heart of South Dublin, just 6kms from the city centre and easily accessible from all parts of South Dublin. We are uniquely situated in a technology hub and next to the brand new Microsoft building. Technology and digital integration will be an important part in enhancing learning for students.
What curriculum do you follow?
Subject to authorisation, the school plans to offer the renowned International Baccalaureate (IB) Primary Years Programme (PYP) and IB Middle Years Programme (MYP) from 2018, expanding to include the IB Diploma Programme (IBDP) from September 2019, joining only 200 schools globally to fully offer this prestigious international curriculum. 
 
The aim of all IB programmes is to develop internationally-minded people who strive to create a better world for all in light of our common humanity and shared guardianship of the planet. Our objective is to create IB learners who are:
Inquirers

Knowledgeable 

Thinkers and communicators 

Principled 

Open-minded and caring

Risk-takers 

Balanced and reflective
The IB Programmes provide your child with the essential skills for lifelong learning and culminate in the world-respected IB Diploma Programme. At NAIS Dublin we will respond to each child's individual learning needs, helping them to develop essential learning skills while also playing to their own individual strengths.
Why is the IB so highly regarded?
The IB encourages your child to think for themselves, to understand concepts and build critical perspectives, to learn how to learn and to become self-reliant and self-motivated, to be ambitious and be inspired to develop an independence of thought unrivalled by other curricula. 
IB courses are recognised by the finest colleges and universities in the world. In the United States and the United Kingdom, IB students are 22% more likely to be admitted into 10 of the country's most respected universities including Harvard or Oxford. 1 in 3 of Nord Anglia graduates globally attend the top 100 universities worldwide and gain many scholarships. 
4,000 schools in over 140 countries around the world offer the International Baccalaureate, including many other Nord Anglia Education schools at the Diploma Programme Level. This means that wherever your child goes in the world, their education can continue uninterrupted.
When will admissions open and what is the process?
Admissions are now open. Our usual process is that parents enquire to the admissions team and ideally make an appointment to meet with me. Should they wish to proceed they will be invited to apply through our online application form. Further assessment may be required before a place is then offered. Once a place is offered then a registration fee is required to secure and guarantee the place. We welcome enquiries from students with or without previous experience of the IB curriculum. 
Do schools admit students based on any specific criteria? Is preference given based on nationality or company sponsorship?
We do not place any preference on nationality or company sponsorship. Whilst we are an academically non-selective school, our unique learning environment does require us to ensure that we can offer the best education available to children and so we review students' academic and personal progress as part of our admissions process.
How does the standard of education compare globally? 
We are offering a uniquely premium international education in Ireland that will offer unparalleled opportunities for students and teachers. 
Aside from taking part in the world-renowned IB programme, students will have access to Nord Anglia's exclusive Global Campus programme and collaborations with world-leading organisations, The Juilliard School, Massachusetts Institute of Technology and UNICEF. These programmes provide opportunities for students to undertake exchange visits to our sister schools which significantly enhances their learning.  
The school's personalised approach to learning and ambitious philosophy creates a world-class education which equips students with the academic success, key skills and global mindset to thrive in the 21st century. 
We recruit outstanding teachers from around the world. We have dedicated, experienced teaching staff who will deliver the highest quality of instruction. They will receive extensive professional development through Nord Anglia University which will ensure they are using the latest pedagogy and technology to enhance learning in schools.
Do expat children seem to have any trouble adjusting to their new school environment? Why would you encourage expats to enrol their children at your school?
Moving to a new location can be a very challenging process for families. We provide outstanding pastoral support for families and children to be able to have a personal network of support when they enter a new country. Additionally we have strong parent-based communities which actively help and guide new families to settle in to Dublin.
What kind of facilities will you have?
Our facilities and learning spaces will be cutting edge. Our Early Years environment will be specifically designed to enable students to explore, experiment, discover, take risks and apply their learning in different contexts. Our Performing Arts areas, designed in collaboration with The Juilliard School, include a 120-seat theatre, choral room, dance studio, as well as various keyboard and string laboratories to complement our exciting music curriculum. We are building modern and purpose-built Design Technology classrooms with CAD Lab Studios, 3D printers, as well as print media and laser printing studios. In addition, our technology suites and hubs will allow for interactive digital learning. Our students will learn about Biology, Chemistry and Physics in our Science Labs with laboratory spaces and student-centred forums fully equipped with cutting-edge technology and practical resources to engage students in experimental scientific investigations. The school will also have extensive outdoor sports facilities, purpose-built playgrounds and exploration gardens. Our sports facilities will allow students to enjoy a wide range of sports throughout the year.