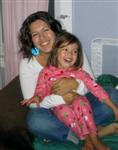 Paz is a wife, mother, and a resident of Guangzhou, China. Her family sold most of their belongings and moved from Wisconsin to Guangzhou to realise their dream of living abroad.
Read more about China in the Expat Arrivals China country guide or read more expat experiences in China
About Paz
Q: Where are you originally from?
A: Wisconsin, U.S.A.
Q: Where are you living now?
A: Yuexiu, Guangzhou, China
Q: How long you have you lived in Guangzhou?
A: 2 months 2 weeks
Q: Did you move with a spouse/children?
A:  Spouse and two children; Ages 3.5 and 14 months
Q: Why did you move to Guangzhou; what do you do?
A: We moved for many different reasons. The primary reason was because we wanted to experience the world and give our children a truly global education. I am working as an English teacher.
About Guangzhou
Q: What do you enjoy most about Guangzhou, how's the quality of life in China?
A: We have enjoyed many things in Guangzhou. However, our favourite is that everywhere you go, you feel as if you have entered into a completely new city. There is something interesting around every corner. It feels like every part of Guangzhou is its own city. You can spend days exploring just one small area. The quality of life is wonderful. We have been able to spend more time with our children and save more money on a monthly basis.
Q: Any negatives? What do you miss most about home?
A: We mostly miss our friends and family at home. We use Skype to call our friends and family about three times a week. It works wonderfully and is very cheap. Since we don't speak Chinese the language barrier has been the most difficult part of our move. Although we have found some translators, we have found that much can get lost in translation.
Q: Describe an ideal way to spend a weekend in Guangzhou?
A: We would recommend waking up early and going for a stroll. The city is beautiful in the morning. You should start your weekend at Chen Family Temple.  It has a beautiful ancestral home. Finish the day in Yuexiu Park. Make sure to try local cuisine along your way. Then finish the weekend at Chime long Safari. It is one of the largest zoos in China and has the most amazing activities. If you are travelling as a family you have to see this zoo. 
Q: Which are the best places/suburbs to live in Guangzhou as an expat?
A: It all depends in what kind of experience you are looking for. We have enjoyed Yuexiu district, but we also like Haizhu District. We were not interested in living among many foreigners.
Q: How do you rate the standard of accommodation?
A: Very acceptable. You can find many different levels of accommodation in all districts.
Q: What's the cost of living in China compared to home? What is cheap or expensive in particular?
A: The cost of living in China is much lower than a comparable city in the U.S., and food is incredibly cheap. Our monthly cell phone, internet, TV, and electricity bills are much cheaper. We have cut our monthly expenses by over 35 percent.
Q: What are the locals like; do you mix mainly with other expats?
A: We choose to live in a non-expat area because we wanted to interact with locals more. The locals are very friendly and help whenever they can. We have already made some local friends.
Q: Was it easy meeting people and making friends in China?
A: Yes. Our biggest obstacle has been the language barrier that separates us from the local population. However, we are picking up the language quickly and are already having more meaningful conversations.
About working in China
Q: What's the economic climate like in Guangzhou is there plenty of work?
A: I had four job offers to choose from. There are plenty of jobs in Guangzhou for foreigners.
Q: How does the work culture differ from home?
A: Mainly it is much less organized then the U.S. People do not speak directly at a situation, especially if it is negative. This can make it a bit difficult to discuss problems.
Family and children
Q: Did your spouse or partner have problems adjusting to their new home?
A: No, having each other makes adjusting much easier.
Q: Did your children settle in easily?
A: Our 3.5 yr. old had a hard time adjusting to her new school. We enrolled her in an all Mandarin speaking K-3 program. It took her roughly 3 weeks to adjust to her new school.
Q: What are the schools like, any particular suggestions?
A: There are many different types of school available to you. It all depends on how much you are looking to pay. I would suggest setting aside at least a week to look at schools. There are so many schools that it is difficult to look at them all in a couple days. I would also advise to have someone search in Chinese for schools. We found so many more schools that way.
Q: How would you rate the healthcare in China?
A: Very good and much less expensive.
And finally…
Q: Is there any other advice you like to offer new expat arrivals?
A: Our biggest regret was that we didn't start learning the language sooner. We came to China knowing three words. We have since started private Chinese classes that are very inexpensive. Another piece of advice is to be flexible. Things will be much different than you imagined and you have to learn to relax and enjoy the experience.
– Interviewed May 2011