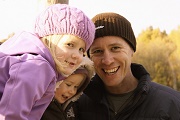 Phil Southward is a New Zealander who moved to Munich in Germany some 14 years ago, after meeting his German wife. His experiences of being an expat for more than a decade led him to write a book, called The Soaring Kiwi and the Sauerkraut, about the funny things that happen when trying to adjust to life in a new country. Read more about Phil at his website www.soaringkiwisauerkraut.com.
About Phil
Q: Where are you originally from? 
A: Wellington, New Zealand
Q: Where are you living now? 
A: Munich, Germany
Q: When did you move here? 
A: 2001
Q: Did you move here alone or with a spouse/family? 
A: I got dragged along by the Sauerkraut, who I'd made the mistake of marrying in New Zealand.
Q: Why did you move? 
A: I wanted to see a bit more of the world than just three little islands. 

Q: What do you do?
Nothing useful or easy to explain. I'm a freelance IT consultant specialising in the management of agile software development projects. Phew, makes even my head spin.
Living in Germany
Q: What do you enjoy most about Munich? How would you rate the quality of life compared to New Zealand? 
The beer.

Being able to (usually) drive as fast as I want – legally.

The hang gliding (great mountains and better weather than at home).

The skiing.

The friends I've made, both Germans and expats.
The quality of life in Germany is pretty good, but then it is in New Zealand too.
Q: Any negatives? What do you miss most about New Zealand? 
The negatives are the bureaucracy and the fact that Germans are more formal and not as laid-back as Kiwis
What I miss about home:
Friends and family.

The sea and mucking about in boats.

The coffee. Although Munich has got much better, it is still very difficult to impossible to find a decent coffee in the smaller towns. 

The sheep. New Zealand has over 40 million sheep. In Germany, sheep appear to be so rare, they even have them in zoos.
Q: What are the biggest adjustments you had to make when settling into expat life in Munich? Did you experience any particular elements of culture shock?
A: The language was pretty difficult (although fun) to learn. German grammar is, well at least to a non-language person, difficult. But the biggest culture shock at the beginning was the very poor service in shops and restaurants.
Q: What's the cost of living compared to home? What is cheap or expensive in particular? 
A: Cost of living is, still, higher than New Zealand. Beer is cheaper (and better) than at home, wine is cheaper (but not as good, at least in my totally unbiased opinion). Petrol is a lot more expensive, which for a petrol head wanting to put their foot down on the Autobahn is a disaster.
Q: How would you rate the public transport? 
A: The public transport is excellent, cheap and fast. Train, bus, underground train. I don't need to own a car, but do or rather own a campervan, more for going away in the weekend. During the week, the campervan doesn't get used at all.
Q: How would you rate the healthcare in Munich?
A: Healthcare is generally very good, although communication with doctors and nurses can be interesting to non-existent. I devote a number of pages in my book to my run-ins with the German health system.
Q: What are the biggest safety issues facing expats living in Germany?
A: Munich is a very safe city. Safer, I would say, than some parts of Auckland or Wellington. There is nowhere I'd really avoid.
Q: How do you rate the standard of housing in Munich?
A: Housing is generally of a high standard, but it's expensive and very hard to find. Munich is booming, so there's a shortage of flats and houses available, both to rent or to buy.
Q: Any areas/suburbs you'd recommend for expats to live in?
A: It depends what you want. The areas of Munich with (seemingly) the most restaurants and pubs are Schwabing and Glockenbach, both of which are also very central. I live in an area called the Au, which is also very central, right near the Isar, the main river. The Au is quieter than Glockenbach, but only a 10-minute walk away.
Meeting people and making friends
Q: How tolerant are the locals of foreigners in Germany? 
A: Generally the locals are pretty tolerant of foreigners. I haven't experienced any discrimination, sometimes more positive discrimination as Germans seem to almost universally love (the idea of) New Zealand. 
Q: Was it easy meeting people and making friends? Have you made friends with locals or do you mix mainly with other expats?
A: I made a few friends quite early, thanks to some people the Sauerkraut knew and also from joining a hang-gliding club and a ski club. I have made friends with both locals and expats. I think the best advice I could give would be to learn German. Germans are much more relaxed and friendly when speaking their own language, even when they speak English excellently. If you're into skiing and want to get to know a diverse group of people, then I really recommend joining the Munich International Ski Club – www.munichskiclub.com.
About working in Germany
Q: Did you have a problem getting a visa or work permit? Did you tackle the visa process yourself or did you enlist the services of an immigration consultant?
A: Well, getting the visa and work permit was an exercise in patience. And bureaucracy. I also write about this in my book.
Q: What's the economic climate like in Munich? Do you have any tips for expats looking to find a job there? 
A: The Munich job situation is very good. As I said earlier, the city is booming. In the beginning, when my German was very limited, I used an international job website where I could apply in English. Now I only use German-based sites to find new projects.
Q: How does the work culture in Germany differ from home? 
A:  I think the major difference is that Germans really separate work and their social life/home. There is (almost) never Friday night drinks with work colleagues. In 14 years here, I think I have gone out only a couple of times on a Friday night with colleagues. Having said that, I have socialised and even made friends with some work colleagues, but I would say this is more the exception than the norm. In New Zealand, I used to go out every Friday night with colleagues. 
Family and children
Q: Did your spouse or partner have problems adjusting to their new home? 
A: I think not being able to speak German can pose problems for a spouse who is not working outside the home because it's harder to meet people. We have also found that since we've had kids it is very easy to get to know other parents.
Q: Did your children settle in easily? 
A: My kids were both born here, so apart from them being as grumpy as the Sauerkraut on occasion, there were no problems.
Q: What are the schools like, any particular suggestions? 
A: The school hours are very frustrating. Most schools start very early, at 8am (or sometimes even 7:30am) and then finish at midday, meaning if both parents work, you have to organise after school care (or hort, as it is called in German). Also in primary school there seems to be very strong focus on academic achievement with homework every day, even for six-year-olds.
And finally…
Q: Is there any other advice you would like to offer new expat arrivals?
A: By all means, mix with other expats at the beginning (I have made a lot of friends that way), but don't stop there. Learn the language and mix with locals as much as possible. Germans can be distant at the beginning, but are great, fun people once you get to know them. Just don't, whatever you do, make the same mistake I did and actually marry one. Let alone a grumpy one.
~ Interviewed in June 2015