Stephen Patriarca is a retired headmaster from Britain who has been living in Austria for the past four years. Living in Vienna, he enjoys the cultural life and internationalism of the city, as well as the ease of access to the country's natural wonders, such as lakes and mountains.
Read more about the country in the Expat Arrivals Austria country guide or read more expat experiences in Austria.
About Stephen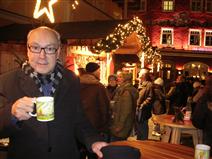 Q: Where are you originally from?
A: United Kingdom
Q: Where are you living now?
A:  Vienna 1050 (5th district Margareten)
Q: How long have you lived in Vienna?
A:  In Vienna for four years; in 1050 for a year.
Q: Did you move with a spouse/children?
A:  No
Q: Why did you move; what do you do?
A:  Headmaster/Principal, now semi-retired educational consultant.
About Vienna
Q: What do you enjoy most about Vienna, how's the quality of life?
A:  Cultural life, internationalism, good public transport, ease of access to lakes and mountains, living in the centre of Europe means nowhere is very far.
Q: Any negatives? What do you miss most about home?
A:  Friends.
Q: Is Vienna safe?
A:  As safe as most and more than many.
About living in Austria
Q: Which are the best places/suburbs to live in Vienna as an expat?
A:  Depends on whether you are single or have children. Vienna is fairly classless so that in many areas there is a mix of property for the less well off to the very rich. Some areas have attracted high numbers of migrants who are perhaps less integrated.
Q: What's the cost of living compared to home? What is cheap or expensive in particular?
A:  Property is a little cheaper than London. Public transport is cheap and public health care is of a standard to make private care redundant. Private transport is much more expensive and car insurance hugely costly. The poor performance of Sterling continues to make everyday life seem more expensive – so much depends which currency you are paid in! You must pay for a credit card here and mobile phone contracts can be tricky. 
Q: What are the locals like; do you mix mainly with other expats?
A: I know few UK expats but many from all over the world – that is one of the attractions of course. It is impossible to generalise about the Viennese as they are the product of a large Empire and the Vielvölkerstaat. This is NOT Germany! Viennese tend to speak several languages, and they may well see themselves as Central European rather than "Austrian" – many have a Czech, Slovakian, Hungarian, Italian or Balkan background.    
Q: Was it easy meeting people and making friends?
A:  Not really, the locals are quite private people.
About working in Austria
Q: Did you have a problem getting a work visa/permit?
A: For EU it's not required but for residency you have to prove you can support yourself.
Q; What's the economic climate like in Vienna, is there plenty of work?
A: Yes but the salary levels are relatively modest and tax is very high.
Q: How does the work culture differ from home?
A:  I think people here work harder but bureaucracy rules.
And finally…
Q: Is there any other advice you would like to offer new expat arrivals?
A:  Where to start….
(a) I made a lot of mistakes doing everything myself – the issue of income tax is crucial and I got this badly wrong, e.g. to decide where to have one's pension taxed.
(b) Double Taxation Treaty is important.
(c) Tax advisers are very expensive
(d) Use the new Vienna Ex Pat Centre – they were not here in my day but they are now and they are marvellous
(e) Act more quickly than I did to learn the language. I should have done this before I came.
– Interviewed June 2012