Expats coming from Western countries may find the Islamic public holidays in Qatar confusing when they first move to the country. The most important thing to understand is that the dates of the holidays are subject to change based on sightings of the moon
It is also worthwhile to note that the weekend in Qatar runs over Friday and Saturday, with Friday being the main day of religious observance.  Some businesses may only work half a day on Thursday and then shut for all of Friday. Smaller shops will either be shut all of Friday or only open after the afternoon call to prayer, while the larger shops will only be closed for Friday morning.
Furthermore, Qatar is a Muslim country, so it is only in rare cases that expats will get the traditional Christmas, New Year and Easter days off.  
 
Ramadan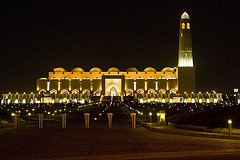 Ramadan is the ninth and holiest month of the Islamic calendar and, historically, it marks the period when it is believed that the first verses of the Qur'an were revealed to the Prophet Muhammad.  It is during this time that all healthy and able Muslims fast and refrain from eating, drinking and smoking from sunrise to sunset.  
In Qatar, most businesses open for a short period in the morning, then shut until sunset and then re-open until well past midnight. All restaurants remain closed until sunset and non-Muslims are asked to refrain from eating or drinking in public during the hours of fasting. There is also not a drop of alcohol to be sold or served in the whole of the country for the entire month.  

That said, many of the restaurants in the five-star hotels in Doha will cater to expats and will usually serve food during the day. 

Many employers may also adopt Ramadan working hours, so an eight hour day will be shortened to five or six hours.
 
Because Ramadan is based on the Islamic calendar, a lunar calendar, the date is not set (according to the Gregorian calendar) and it shifts approximately 10 to 12 days each year, and varies slightly in different parts of the world. The month begins when the first crescent of the new moon is sighted and this crescent must physically be seen in order to officially announce the start of Ramadan; something which can be the slightest bit tricky for people wanting to book a holiday.
 
For Muslims, this holy month is a time of reflection and a time to think of those less fortunate while fasting.  
 
During Ramadan, the day's fast is broken with the evening meal called
Iftar,
a communal/ family affair. Many hotels in Doha will put on special
Iftar
buffets, and charities often offer free
Iftar
meals for those less fortunate. The streets of Qatar are pretty quiet during the days of Ramadan, however, the country takes on a sort of party atmosphere after sunset with various special events and
Iftar
meals taking place.
For the past few years Ramadan has fallen in the summer months, so it coincided well with school holidays, and many expats and their families chose to take the month off as vacation. However, in coming years, Ramadan will fall in the middle of the school year during the cooler months, and it will no longer be possible for expats to avoid this period of time. 
►
Article:
Ramadan for Expats in the Middle East
Eid al Fitr and Eid al Adha
Both Eid al Fitr and Eid al Adha are public holidays in Qatar; although, the days that a person gets off from work may vary. As with Ramadan, both Eid holidays are based on the Islamic calendar so the dates change from year to year. 
 
Eid al Fitr - begins on the first day of the tenth month of the Islamic calendar (Shawwal) and it marks the end of Ramadan. The holiday celebrates the end of fasting, and most people will get three to five days off work.  Eid al Fitr is marked by family gatherings and celebratory meals with people decorating their houses and exchanging gifts with relatives and friends. Various shops, from grocery stores to car dealers, will also have sales during Eid al Fitr, so it may be a great time pick-up a bargain.  
 
Eid al Adha -  begins on the tenth day of the twelfth month of the Islamic calendar (Dhu al Hijjah) and it is approximately 70 days after the end of Ramadan. Also known as the 'Festival of Sacrifice', Eid al Adha commemorates Ibrahim's obedience to God and his willingness to sacrifice his son. As the story goes, God intervened and provided Ibrahim with a lamb to sacrifice instead, thus many families in Qatar often buy and slaughter an entire animal for the holiday. Eid al Adha is also marked with celebratory meals and family gatherings and the days off an individual receives can vary from three to five. 
 
National Day
National Day or Founder's Day marks the day, in 1878, when Sheikh Jassim bin Mohammed al Thani succeeded his father, Sheikh Mohammed bin Thani. Already having a great deal of influence since the days of his youth, Sheikh Jassim worked towards bringing together the many tribes of the region into one unified nation. This day is remembered every year on 18th December and is filled with celebrations. Expats can expect many special events, including parades and fireworks along the Corniche, lots of cars decorated with emblems and stickers, plenty of Qatari flags waving, and an enormous sense of national pride.
 
Christmas in Qatar
With few exceptions, Christian holidays (Christmas, Easter, etc.) are not actively celebrated in Qatar; however, even the "merriest" expats needn't worry, as they will still be able to find somewhere to take part in the festivities. For the bigger holidays, namely Christmas and New Year's Eve/Day, most employers will not allot any time off but expats can use their vacation days to take leave.  
 
Having said that, there are still plenty of places around Qatar to get into the holiday spirit, with malls and shops putting up Christmas decorations, and most of the larger hotels having tree lighting ceremonies, Santa's grottos, carollers and special meals (brunches, lunches, dinners) and parties for the occasion. And for those who don't fancy going out, some hotels and supermarkets have started to offer fully cooked turkeys for customers to order, take home and enjoy.    
 
Smaller, country-specific holiday celebrations, such as Thanksgiving, Valentine's Day, Bastille Day, Australia Day and July Fourth can also be found in Qatar, and these are usually hosted by a country's embassy or various sports clubs dotted around Doha.  
 
One may have to search a bit more for these, as the invites are given out to club members and by word of mouth, but they are worth making the extra effort for, as they are a great way to meet people and get a little taste of home.