Alexander Gorin is a British expat who moved to Saudi Arabia with his wife in 2012. They live in the city of Yanbu, on Saudi Arabia's Red Sea coast. Alexander understands Arabic and converted to Islam a few years ago, so the transition to expat life in Saudi Arabia has not been as much of a culture shock for him.
Read more about expat life in the Kingdom in the Expat Arrivals guide to Saudi Arabia, or read more expat experiences in Saudi Arabia.
About you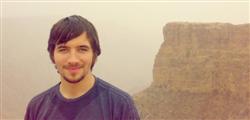 Q: Where are you originally from?
A: Manchester, United Kingdom
Q: Where are you living now? 
A:  Yanbu, Royal Commission, Saudi Arabia
Q: When did you move to Saudi Arabia?
A:  November 2012
Q: Did you move with a spouse/children? 
A:  Yes – with my wife
Q: Why did you move; what do you do?
A:  I work as an Advanced ITC Teacher of English at the Refinery in the Industrial Area. I teach general and technical English to regular employees as well as trainees. I moved here primarily for personal reasons.
About Yanbu
Q: What do you enjoy most about Yanbu, how's the quality of life?
A:  The best thing about Yanbu is its location. It's near Madina and Jeddah, as well as Makka. The Royal Commission area is also very clean and well-organised in stark contrast to most other Saudi cities. The Royal Commission act as a sort of council or municipality and regulate affairs such as infrastructure, restaurant quality inspections, hospital inspections, supermarket prices, etc. There is not much traffic and the roads are designed well and maintained for the most part. 
Q: Any negatives? What do you miss most about home? 
A:  The morning rush to work down the Jeddah Highway (King Abdal Aziz Road) is quite manic, as some people drive like lunatics, mostly those rushing from the downtown area. There seems to be a crash everyday on the road, but most aren't fatal. 
Q: Is Yanbu safe? Are there any areas expats should avoid?
A: The city is very safe, apart from the morning rush to work. There were some terrorist attacks in 2004 against Westerners, but that was due to tensions and anger arising out of the Iraq War. As long as our governments stay out of wars in the Middle East, it generally is very safe. The downtown area is a bit rundown and traffic is heavy there.
Q: How would you rate the public transport in Yanbu? What are the different options? Do you need to own a car? 
A: Public transport is almost non-existent. There are a few buses that run to malls and main areas. Most people without a car get around by private hire taxis. You call them and they come to your house. The streets are all clearly named, and each residential area has numbered entrances and houses, so it is relatively easy, unlike most other Saudi cities where you have to stand in the street to flag a taxi. A taxi to anywhere in the Royal Commission (RC) is 10 SR, between the RC and the Balad (downtown) is 30 SR, and from the RC to the Industrial Area where most work is about 20 SR. Still, having a car is necessary in Saudi Arabia, though perhaps a bit less so here than in other cities. If you have a family, then you most certainly need a car. 
Q: How would you rate the healthcare in Saudi Arabia?
A:  The hospitals here are quite good. The two best are the Royal Commission Hospital and Al-Ansari Private Hospital. Most of the doctors are Egyptians and the nurses are Filipinas. There are very few Europeans or Americans working in the health system here. 
About living in Yanbu
Q: Which are the best places/suburbs to live in Yanbu as an expat?
A:  The Royal Commission Area is the best place to live, though there is a housing crisis at present. If you are a single male, you will struggle to find a place and may end up living in a cheap hotel for some months. Families have more options. There are more properties in the downtown area and they are cheaper. A decent place in the RC may set you back at least 35,000 SR a year, paid upfront. If you wish, you could live in one of the two compounds – The Cove or Arabian Homes – but they are very expensive (150,000 SR a year at least). 
Q: How do you rate the standard of housing in Yanbu?
A:  In the RC it can vary. The older areas such as Camps 1-6, Radwah, and Sumayri can be quite squalid. Newer areas such as Al-Ayun, Khalid, Subh, and Bathna are decent. The quality of build is generally cheap though. They won't last a century, that's for sure. Downtown, the older places are really rough, but there are some decent newly built apartments for reasonable prices too. 
Q: What's the cost of living in Saudi Arabia compared to home? What is cheap or expensive in particular?
A:  It is cheaper than the UK. Petrol is dirt cheap. New cars are cheaper, but second-hand are more expensive! Bottled water is cheaper. Fruit and veg is cheaper. Meat is cheaper. Taxis are cheaper. Housing is cheaper. Utility bills are cheaper. Restaurants are cheaper, but not nearly as good as back home. The only things that seem to be more expensive are electrical goods and items. 
Q: What are the locals like; do you mix mainly with other expats?
A:  The locals are very amicable and most can speak English fluently. They tend to keep themselves to themselves and are quite private. The kids seem a bit rough and wild. They all wear football shirts too, which is at odds with other Saudi cities. I mix mainly with Saudis to be honest, as I have learnt Arabic and converted to Islam several years ago. 
Q: Was it easy meeting people and making friends?
A:  It is very easy if you know Arabic and/or are a Muslim. The Saudis will take you in and invite you to their home or on trips with them. Otherwise, your circle will mostly be expats. 
About working in Yanbu
Q: Did you have a problem getting a work visa/permit for Saudi Arabia?
A:  No – though processing my family visa has been a frustrating and laborious experience!
Q: What's the economic climate like in the city, is there plenty of work?
A: It is an affluent city with much work centred on the petrochemical industry. 
Q: How does the work culture differ from home?
A:  The hours are longer and there is a heavy emphasis on safety in the workplace and at home. 
Q: Did a relocation company help you with your move? 
A:  No, I sorted it out myself. 
Family and children
Q: Did your spouse or partner have problems adjusting to their new home?
A:  Not really, as she knows the language and culture well.
Q: What are the schools like, any particular suggestions?
A:  There is only one international school for English speakers, and it's not very good. The only decent schools in the country are one in Jeddah and one in Dhahran. 
And finally…
Q: Is there any other advice you would like to offer new expat arrivals?
A: Be open-minded and try to learn Arabic and the basics of Islam. Don't isolate yourself in a compound. Try to befriend Saudis as well as other Arabs, Indians, Filipinos, and Chinese. Be patient with the frustrations that will arise. They do things the way they want to here, not the way you want them to. Don't end up like a typical expat moaning all the time! 

~ Interviewed March 2013