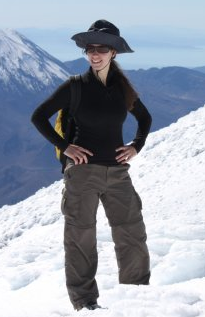 Diane is an American expat from New Jersey, USA. She has spent the last decade as a serial expat – first studying in Berlin and Amsterdam, and finally settling with her Welsh husband in Wellington, New Zealand.
Read more about New Zealand in the Expat Arrivals New Zealand country guide or read more expat experiences in New Zealand.
About Diane
Q: Where are you originally from?
A: Bergen County, New Jersey, USA.
Q: Where are you living now?
A: I live in Houghton Bay, Wellington.
Q: How long have you lived here?
A: I've lived in Wellington for five years now.
Q: Did you move with a spouse/ children?
A: I moved here with my boyfriend (now husband!). See answer below!
Q: Why did you move; what do you do?
A: I came to New Zealand with my boyfriend (now husband!) in 2007 because it was easier for us both to get work visas in New Zealand than it was to migrate to each other's countries! I am employed as a business improvement consultant.
About Wellington
Q: What do you enjoy most about your host city, how's the quality of life in Wellington?
A: My husband and I love Wellington because it offers an incredible combination of culture, wilderness and job opportunities. It's a relatively small city but still offers a great mix of restaurants and nightlife, yet there's a surf beach just down the road from my house!
Q: Any negatives? What do you miss most about home?
A: The hardest thing to get used to in New Zealand is the quality of housing, which is generally lower than that in other Westernized countries, by which I mean that Kiwi houses are very poorly insulated. It's hard to imagine what this actually means until you spend a winter here, but there's nothing like being holed up in an uninsulated Wellington house when a southerly is blowing in straight from Antarctica.
Q: Is Wellington safe?
A: Wellington is incredibly safe (knock on wood!). When my parents came to visit in 2008, my mom asked, "Where are the dangerous parts of town?" I couldn't really think of any!
About living in Wellington
Q: Which are the best places/suburbs to live in Wellington as an expat?
A: This depends on what you like to do. If you like being right in the city and your commute to work to take ten minutes on foot, then you should find a flat in Mt. Victoria or Mt. Cook. If you want a sea view with no cityscape in it, then you should move to the Southern or Eastern suburbs, which make you feel like you're out in the middle of nowhere with still only a 25-minute bus ride to the centre of Wellington.
Q: How do you rate the standard of accommodation in Wellington?
A: See my answer about the standard of housing above – in short, it's lower than most first-world countries, unfortunately!
Q: What's the cost of living in New Zealand compared to home? What is cheap or expensive in particular?
A: Compared to home, I find the cost of living in New Zealand relatively high. Food is definitely more expensive here than in the US, Germany and the Netherlands. Most other goods also seem to be more expensive as a result of them having to be shipped halfway across the planet. I especially find clothes more expensive – and the selection is not that great. Some women fly to Australia just to go on a shopping spree!
Q: What are the locals like; do you mix mainly with other expats?
A: The Kiwis are just as friendly as the Americans, so it's not hard to make new friends. That said it does seem that the majority of my closest friends here are mainly expats (Canadians, Dutch, and English).
Q: Was it easy meeting people and making friends in Wellington?
A: It was relatively easy to meet people and make friends. I think this is down to Wellington being a melting pot, so we haven't had any trouble finding like-minded people.
About working in Wellington
Q: Did you have a problem getting a work visa/permit for New Zealand?
A: I came over to New Zealand on a working holiday visa and then applied for permanent residency eight months later as my boyfriend's "de facto partner". For this, you need evidence of a stable relationship for 12 months. My permanent residency came through within four months.
Q: What's the economic climate like in the city, is there plenty of work?
A: At the moment, it's hard to say. Knock on wood I have a job and have had good employment opportunities over the past five years. However, there have been a lot of job cuts in the public sector for the past four years since the National Party was elected, so I think it depends on what type of job you're looking for. If you're able to work in a wide variety of industries or types of jobs, then I think your chances are good – but if you have a very narrow focus or field, it could be more difficult.
Q: How does the work culture differ from home?
A: Compared to working in the Northeast of America, I think the Kiwi work culture is definitely more laid-back. Hours are markedly shorter, but I've also been working in the government, so I can't provide a private-sector comparison. That said, I still take work home – business improvement work is hard to just leave at work! The other major difference is that Kiwis aren't as good at recognising exceptional work. Don't expect too much praise for a job well done. Google "NZ tall poppy syndrome" for further insight.
Q: Did a relocation company help you with your move to New Zealand?
A: No.
Family and children
Q: Did your spouse or partner have problems adjusting to their new home?
A: The only problem we had with adjusting is related to the poorly-insulated homes. Other than that, New Zealand is a super easy place to set oneself up and get on with life. There are plenty of second-hand shops to acquire furniture and other basics.
Q: How would you rate the healthcare?
A: Pretty good…? It's free! Yay! So as soon as you're a permanent resident, you are entitled to free healthcare. Please note you do have to pay a fee to see the doctor but then if you need to get referred to a specialist, that's all free. I love universal healthcare – thank you NZ!
And finally…
Q: Is there any other advice you would like to offer new expat arrivals?
A: Save up as much as you can before you move to give yourself a buffer for the transition. It makes things a lot less stressful if you have some extra funds stashed away, so you can concentrate on getting the job you want or ensuring your kids are doing well through the move. There are always unexpected costs when you move across the planet!
~ Interviewed September 2012