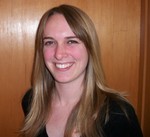 Whitney, an American expat living in New Zealand, is no stranger to relocation. She opted to settle into student life in Christchurch and has found simple pleasure in the pairing of small-town living and mid-sized city infrastructure. 
Read more about New Zealand in the Expat Arrivals New Zealand country guide or read more expat experiences in New Zealand.
About Whitney
Q: Where are you originally from?
A: I was born in Eugene, Oregon USA, but I moved around a lot when I was growing up, so there's not really any place I'd say I'm from.
Q: Where are you living now?
A: Right now I'm living in the suburb of Riccarton in Christchurch, New Zealand.
Q: How long you have you lived here?
A: Since January 2010.
Q: Did you move with a spouse/children?
A: I moved with my boyfriend.
Q: Why did you move; what do you do?
A: We came to Christchurch for school. My boyfriend is getting his Bachelor's degree, and I'm working on an MA at the University of Canterbury.
About New Zealand
Q: What do you enjoy most about Christchurch; how's the quality of life in New Zealand?
A: Christchurch is such a great city: it has a laid-back and friendly atmosphere like you'd find in a small town but with the resources of a medium-sized city. I really appreciate the slower pace of life here compared to the US.
Q: Any negatives? What do you miss most about home?
A: Probably the costs of things like clothing and household items. A lot of things have to be imported and the New Zealand dollar is pretty weak on the global market, so that translates to expensive goods.
Q: Is New Zealand safe?
A: I think so. I've never felt unsafe in Christchurch, anyway.
Q: Which are the best places/suburbs to live in Christchurch as an expat?
A: I live in Riccarton, which is great because it's close to shops, downtown and the university. However, I think the rebuild after the earthquake is really going to change the landscape of the city. It's hard to say what suburbs will be best to live in next year.
Q: How do you rate the standard of accommodation in New Zealand?
A: Accommodation is usually affordable and comfortable. The only real problem has been in the winter. New Zealand houses are not usually insulated or centrally heated, so it gets pretty cold in the winter.
Q: What's the cost of living in New Zealand compared to home? What is cheap or expensive in particular?
A: My rent is much cheaper than it was when I was living in the US; to be fair though, I was living in Washington, DC which is fairly pricey.
Q: What are the locals like; do you mix mainly with other expats?
A: I don't know any expats. It's been very easy to assimilate into New Zealand culture, but I do have an advantage coming from an English-speaking and culturally similar home country. I'm not sure if everyone would have the same experience.
Q: Was it easy meeting people and making friends?
A: Between school and work I didn't have any problem meeting people or making friends. In general, New Zealanders tend to be well-travelled and comfortable around foreigners. There's also not a huge cultural difference between the US and New Zealand, so that made it easier for me.
About working in New Zealand
Q: What's the economic climate like in New Zealand; is there plenty of work?
A: There was a major earthquake on February 22, 2011 and the full economic effect of that has yet to be seen, but I expect it will slow down the economy for a while.
Q: How does the work culture differ from home?
A: The work culture is much more laid-back in Christchurch than it is in the US. People work hard, but not with the sense that work needs to take precedence over all aspects of life. For instance, almost every business gives its employees a few weeks off over Christmas. It's very normal to see shops closed for weeks at a time while the staff are all given a break.
Q: Did your spouse or partner have problems adjusting to their new home?
A: Not really. The biggest problem, I think, has been adjusting to the New Zealand accent. It can be hard to understand at first, and definitely slows down the assimilation process when you can't understand the people around you.
Q: How would you rate the healthcare in New Zealand?
A: I've only had routine check-ups, but the doctors have all be courteous and professional.
~ Interviewed March 2011