Rhonda Albom, an American who relocated to New Zealand in 2003, shares her experiences. Having moved with her husband and young children, she talks about the advantages and occasional drawbacks she has experienced in the Land of the Kiwis. You can read more about her experiences on her blog Albom Adventures and follow her on Twitter at RhondaAlbom for tips and advice about living in New Zealand.
About Rhonda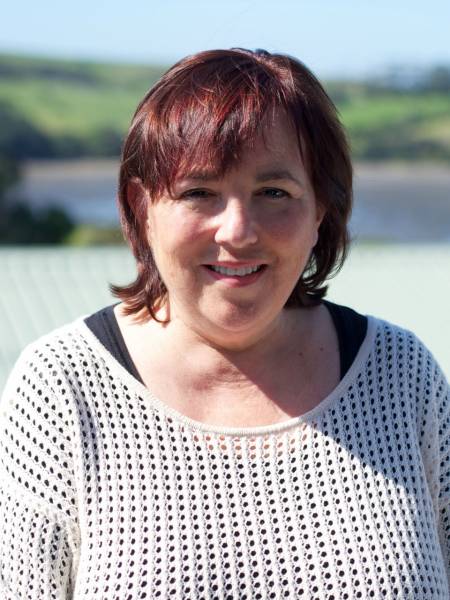 Q: Where are you originally from?
A: Chicago, although I lived in San Francisco for 15 years before leaving the US.
Q: Where are you living now?
A: Auckland, New Zealand (actually, I am about 45 minutes from Auckland).
Q: When did you move to New Zealand?
A: May 2003
Q: Did you move to New Zealand alone or with a spouse/family?
A: I moved with my husband and two daughters – then ages 3 and 5.
Q: Why did you move; what do you do?
A: We wanted a clean, green living and a better place to raise our children. My husband is a consultant, and I am a writer. We can work anywhere in the world, provided we have Internet.
Living in New Zealand
Q: What do you enjoy most about New Zealand? How would you rate the quality of life compared to America?
A: It is crisp, clean and beautiful here. Our money goes a lot farther, so we have a more comfortable home and far better view. In general, I would say New Zealand is a more relaxed and healthier lifestyle.
Q: Any negatives? What do you miss most about home?
A: Of course there are negatives. The biggest is being away from family and friends – even after 12 years.
Q: What are the biggest adjustments you had to make when settling into expat life in New Zealand? Did you experience any particular elements of culture shock?
A: As an American mum of toddlers, the biggest adjustment for me was getting used to giving my children substantially more freedom.
Q: What's the cost of living compared to home? What is cheap or expensive in particular?
A: Because we came from San Francisco at the height of the housing prices, it is actually cheaper for us to live here. We seem to be an anomaly, as many of the other American expats we know find it more expensive to live in New Zealand.
As for specifics, big-ticket imported items are way more expensive here, like computers, cameras, automobiles, and tools. American brands of clothing, shoes, books and food are also more expensive here. What is cheaper is anything out of China or anything that can be grown or produced in New Zealand.
Q: How would you rate the public transport? What are the different options? Do you need to own a car?
A: If you live in Auckland city centre, the public transportation seems to be pretty good, however out where we live it is spotty. From our house I can drive into Auckland in about an hour, take the ferry or a morning express bus for 50 minutes, or spend about 3 hours on a bus at other times of day.
Q: How would you rate the healthcare in Auckland? Have you had any particularly good/bad experiences regarding doctors and hospitals? Are there any hospitals you would recommend?
A: New Zealand has socialized medicine. Nearly all treatment starts with your family or general practitioner, who will send you on to a specialist if necessary. The wait to see the specialist can be quite long, but like many expats we know, we also carry private insurance that allows us to cut the queue. Also, New Zealand has a separate system that covers accidents, so if we get injured the expenses are minimal. To date we have had excellent medical care. As for hospitals, my recommendation would be to avoid them – anywhere in the world if possible.
Q: What are the biggest safety issues facing expats living in New Zealand? Are there any areas expats should avoid?
A: Personally, I have never encountered any threats to myself as an expat. However, being American I am often stereotyped, sometimes making it more difficult for me to meet people and make friends.
Q: How do you rate the standard of housing in the city? What different options are available for expats?
A: The current housing situation in the country reflects high prices, and it is generally blamed on expats coming over with money and driving up the prices. We were lucky that we purchased our home many years ago, before the boom. One thing I found quite different is that rental prices are generally calculated per week, rather than per month.
Q: Any areas/suburbs you'd recommend for expats to live in?
A: It depends on what you like. There seem to be fewer Americans here than other groups, and I have never heard of an American neighbourhood.
Meeting people and making friends
Q: How tolerant are the locals of foreigners? Is there any obvious discrimination against particular religions or women, etc.?
A: A difficult question that depends on your nationality. The overt racism in a country that is basically 150 years old is quite shocking. I run into occasional anti-American sentiment, but certain Asian and Island cultures seem to take the brunt of the discrimination here. I had some damage to my belongings when we moved here and one of the repair people recommended by my insurance company refused to help me because they "don't repair American furniture."
Q: Was it easy meeting people and making friends? How did you go about meeting new people?
A: After 12 years I have some fantastic friends here, both Kiwis and other immigrants. The easiest way to meet people here, and probably anywhere, is to get involved in something you are passionate about. Meet Ups are available in many areas, which bring together people of common interests.
However, when we first arrived it felt lonely for a while. As a generalization, Kiwis are one of the nicest groups of people I have ever met. However, I have talked with many expats who feel the same, it is a slow process to get beyond superficial friendships, but worth the effort.
Q: Have you made friends with locals or do you mix mainly with other expats? What advice would you give to new expats looking to make friends? Any social/expat groups you can recommend?
A: I estimate at least half of my friends are expats, a pretty high percentage compared to the overall population. Again, I would recommend Meet Ups, volunteering and joining clubs or sports in which you are passionate about.
About working in New Zealand
Q: Did you have a problem getting a visa or work permit? Did you tackle the visa process yourself or did you enlist the services of an immigration consultant?
A: I don't work for a company in New Zealand.
Family and children
Q: Did your spouse or partner have problems adjusting to their new home? Do you think there are any specific challenges for a trailing spouse?
A: I am the trailing spouse. As a mum of small children when we came over, I think I had an easier time than my husband, as I hooked up with other parents.
Q: Did your children settle in easily? What were the biggest challenges for your children during the move?
A: My children were 3 and 5 when we moved, and it was smooth and easy for them. They immediately loved the freedom they had in New Zealand, as well as the ability to be barefoot anytime and of course, they loved the ice cream.
Q: What are the schools like, any particular suggestions?
A: We have always home educated. However, many of our daughters' friends go to school. The best comparison I heard to US schools is that American schools focus on facts while New Zealand schools focus on problem-solving.
And finally…
Q: Is there any other advice you would like to offer new expat arrivals?
A: Remember you moved to a new county, so it is you that needs to adapt, rather than the other way around. I think the biggest problem expats often face is wanting things to be the way they were back home.